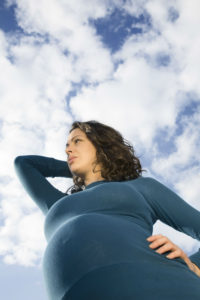 We often hear that parents-to-be take a trip south before their new baby arrives. Here you can relax and especially think about all the joys you have to look forward to as a family. Most pregnant women can travel on holiday without any problems. However, it is very individual what you can handle as a pregnant woman. It may be a good idea to find a travel destination that suits your situation, so that you have the opportunity to relax and approach the holiday at a leisurely pace. There can be a lot of good advice about flying when you're pregnant, but there are also some precautions you should take before you go on holiday.
If you're pregnant and you've booked a holiday that includes a flight, read on.
We give you answers to some common questions about flying while pregnant. We will also give you some advice on the flight itself and briefly mention some precautions.
Travelling during pregnancy: when is it best to fly when pregnant?
If you've had an uncomplicated pregnancy, you're usually allowed to fly until you're 4 weeks pregnant. However, airlines and travel companies may have different rules on this, so make sure you check this before booking your trip. In terms of how far along you can be in your pregnancy when you go flying, if you are less than 4 weeks but more than 2 weeks from your due date, there may be a rule that the flight cannot last longer than 4 hours. However, this can vary depending on which airline you choose, so check with them first. It's only when there are less than 2 weeks to go that airlines won't let pregnant women fly. There are also some airlines that require you to have a medical certificate from week 28. You should be aware that a medical certificate typically needs to be issued within the last 72 hours.
Good advice for flying if you are pregnant
Always remember to bring your water log with you when you are away from home. In case you need medical attention, it is a good idea to have documentation of when you have your due date in your luggage.
Remember to use a good high factor sunscreen, as you may react more strongly to the sun's rays when you are pregnant. You may want to buy sunscreen from home to make sure you get one without perfumes, parabens and endocrine disruptors.
Drink plenty of fluids as you may be at increased risk of dehydration during a flight when pregnant. This is because the humidity in the cabin is very low.
Remember to move regularly during your flight, as you are more likely to get water and blood clots if you sit still for too long during your flight. You can buy support stockings in many places, which can relieve swollen legs/feet and reduce the risk of a possible blood clot.
Eat small, frequent meals to avoid low blood sugar. Try to avoid peeled fruit and undercooked food to be on the safe side against stomach infections.
Vaccinations for travel
Talk to your doctor about vaccinations and the risks of getting sick on holiday. Some vaccinations are not given at all to pregnant women and there may be destinations that are not optimal to travel to when you are pregnant because of the risk of various diseases.
Travel insurance during pregnancy
Remember to check what your travel insurance covers on the trip itself, in case you fall ill on holiday. Many travel companies cover pregnant women for up to 4 weeks before their due date. But check the rules with your insurance company before booking your trip, as there are also rules about what you can get reimbursed for. It can also be very sensible to take out cancellation insurance if you have to cancel your holiday due to complications in your pregnancy.
The blue health insurance card
You should remember the blue health insurance card on your holiday, as it helps to cover the costs of necessary medical and hospital treatment if you are staying in an EU country, Norway, Iceland, Liechtenstein or Switzerland.