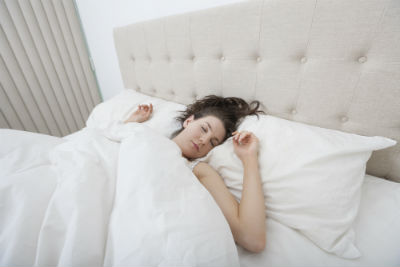 Once you've decided it's time for a new bed, the next question quickly arises: which one should I choose?
We spend about a third of our lives in beds, so it really pays to think carefully before investing in a new bed.
New bed? Find out which bed to choose
We've tried to make the choice easier for you by reviewing the different types of beds on the market and where you can buy them at a good price. So read on if you want a new bed but are not sure which one to choose.
New bed - what should I choose?
Which bed you choose depends on what you want from your bed and whether you have special problems or conditions that make your needs a little different from so many others. The typical things that Danes suffer from are back pain, headaches, pregnancy-related discomfort or generally poor sleep quality. Others, again, "just" want a good, sturdy bed at a good price.
Need a new bed? Consider these three types of beds
If you're looking for a new bed, you'll have to choose between these three types, all of which have their advantages and disadvantages. Click to read more.
Here you can buy beds online
When investing in a new bed, it is recommended to start by looking online. Here you can easily get an overview of what's on offer and at the same time get an idea of the price level and what you want to pay for your new bed. We have found these four retailers. Bedtime and Better Nights are both relatively new to the market, and offer some pretty favourable prices on usually expensive beds. So these two retailers are definitely worth a look.
Buy cheap beds from these online retailers

| Bedtime | Better Nights | Bed factory outlet | Wupti | Coop Shopping |
| --- | --- | --- | --- | --- |
| Large selection of all kinds of beds and mattresses. Danish-made beds in good quality. | Many beautiful beds, in Danish quality and design | Very cheap beds - Make a bargain! | Large selection of beds at very reasonable prices. Many cheap beds. | Traditional and affordable beds |
| | | | | |
Box mattress - a robust and affordable bed
A box mattress is the most common type of bed, and also the cheapest. A box mattress is available for as little as DKK 849 at Wupti. When choosing a box mattress, you should choose one with at least two layers of springs and a good top mattress, preferably latex.
Advantages of a box mattress
Disadvantages of a box mattress
Krone box mattress
Cheap box mattress - this box mattress is available for only 6.000 kr.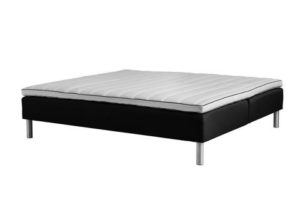 This bed is a cheap bed at the dealer Sengetid.dk. The box mattress is a good choice if you want a good standard bed that does not cost a fortune, but is still good Danish quality. The bed has two layers of springs, which provide a really good comfort than just one layer. The top layer is pocket springs with 5 comfort zones. The bottom layer is Bonell springs, which give the bed a good stability, so it does not sink in the middle. You can choose a firm or medium top mattress, depending on your weight. This is also a big plus for this box mattress.The top mattress comes with a washable cover. For the price you get a complete bed with optional top mattress, legs and delivery to the curb.
The bed is available in these sizes(cm): 80 x 200 - 90 x 200 - 120 x 200 - 140 x 200 -180 x 200
Continental bed - a bed with three layers of mattresses and good support
The continental bed design originated in the USA, but has gradually become a popular choice of bed in Denmark too. The bed is made up of three layers: a box mattress at the bottom, then a spring mattress and a top mattress on top. With the three layers you get a bed that is slightly higher than the bed height we know from the box mattress. This gives you a feeling of being "up out of bed" instead of "out of bed". The continental bed looks great in the bedroom because of its construction. Especially if you choose a model with a bed base. When in doubt about which bed can provide the best support for you, you should definitely take a closer look at the continental bed. On average, a continental bed costs around €20,000, but you can often find it on offer at a significantly lower price at Better Nights.
Advantages of a continental bed
Disadvantages of a continental bed
 Venus Nova 2.0 continental bed
180 x 200 cm | Appears nice with furniture cover and bed rail

Venus Nova 2.0 is available at Bedre Nætter and costs 26.999 kr. Interest - is often on offer
Venus Nova 2.0 is a very popular bed at the retailer Better Nights. The price is a bit higher than buying a box mattress, but in return you get a bed where you can really lie like a king or queen. To ensure the bed provides maximum support for your individual needs, each side can be adjusted if the weight of you and your partner is different. There are a whopping 504 individual support points in the mattress, which support and relieve your body very effectively. In addition, the bed has a temperature-regulating effect, so you won't feel too hot or cold when you sleep. The strength of this continental bed is its multi-pocket springs, which provide increased comfort and an extra long life. In this continental bed, attention has really been paid to detail and it a great choice of bed if you are after something of the best. You can choose from several colours and types of bed frame, which helps to personalise the bed. This isn't a bed you need to hide away under a bedspread!
Elevation bed - if you want different resting positions
If you like to read or watch TV in bed, you'll probably get a lot out of a lift bed. If you suffer from back pain or aching legs, an elevating bed can reduce your pain. Pregnant women are another large group that can benefit greatly from an elevating bed, as raised headboards and legs can relieve both heartburn and water retention.
Elevating beds are available in many price ranges and qualities. However, if you are considering an elevation bed, it is important to keep in mind that just because a bed has elevation, it is not necessarily the best bed for you. Unfortunately, there are many bad elevation beds out there where the mattress is not necessarily suitable for different positions. What determines the price of an elevation bed is the top mattress. It should be made to be in different levels. Next, the motor and the size of the bed and other details also have a big impact on the price.
Advantages of an elevation bed
Disadvantages of an elevation bed
Jupiter No. 1 elevation bed
180 x 200 cm
Here we have chosen to highlight an elevation bed from the brand Jupiter, which can be purchased at Better Nights. The bed has a silent motor that only uses power when you set the bed. It is therefore power efficient. The bed is made in Denmark and meets high quality standards. Jupiter has long been among the best-selling beds at Bedre Nætter, as you get a really good bed for the money. The mattress has 5 comfort zones, so you get the best support and comfort when you sleep. In addition, both mattress and top mattress are made to be adjustable in many positions. It is recommended that you choose a medium mattress if you weigh less than 75 kg, and a firm one if you weigh more. In this elevation bed, you have the option to choose the firmness to suit you.
Jupiter elevation bed costs 17.999 kr. at Bedre Nætter. You have the opportunity to try the bed for 30 days.