What does a newborn play with: Welcome to our big guide of toys for baby and newborn. 🙂
Lamaze toys have great colours, are easy to grip and can squeak and rattle.
Get 10% discount on Sophie Giraph by using code sophiestartpakke.
Best in test baby toy - Oball is easy to grasp and develops the senses!
Much more baby toys further down in the text
Babies under 1 love colours, shapes and grabbing different things. This is the age when everything needs to be explored and put in the mouth. Good toys for babies under 1 are therefore toys that can be bitten into. That's why it's a good idea to look for toys that are approved and free of nasty chemicals like phalates or other harmful chemicals. Toys help your baby develop motor skills and stimulate the senses.
Good toys for baby and newborn
Easy to grab
Suitable for chewing (i.e. without chemicals)
Beautiful, bright colours like green, yellow, red and blue
Contrast colours
Preferably with eyes
Toys that can say sounds
Read on if you're not sure which toys are best for a baby under 1.
The best toys for newborn and baby
Get a unique discount on a great walking trolley from Viga - with lots of fun activities
Use the code STARTPAKKE when you buy Viga stroller and get discount! 🙂
Here you get a good wooden stroller from the popular brand Viga. The pushchair offers many hours of fun and activities, as it is filled with fun buttons for baby to explore. The walker supports baby's motor development, especially balance and strength.
An activity blanket, or play blanket as it is also called, is a blanket with lots of colours and fun things on it for baby to play with. It's a great way for baby to entertain themselves for a while. All play clothes stimulate baby's senses and help baby develop.
Fisher Price play blanket
Colourful play mat with bright colours, mirrors and faces: all the things babies love to look at! The rug has hangers for baby to lie on and look at.
Click here - and see more activity blankets ↓
Tiny Love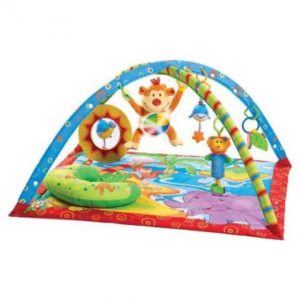 Tiny Love play blanket for baby
Lots of colours to stimulate baby's senses. The lion can play a tune, the whale can vibrate and the monkey makes sounds and lights up. Lots of hours of fun and learning for baby. The hangers can be removed so the blanket is easy to wash and maintain.
---
Done by Deer play blanket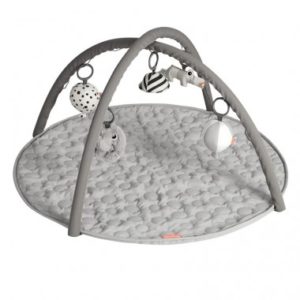 Here is a less colourful play blanket from Done by Deer. It's lovely and soft to lie on, and there are fun hangers with nice toys for baby to reach for. Done by Deer makes great quality products.
---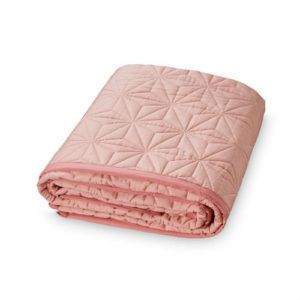 Cam Cam play blanket
The very popular, beautiful Cam Cam blanket. It's super soft for baby to lie on and can also be used as a changing mat. Choose from several great colours.
---
Luxury carpet from Moulin Roty - with wild animals
Super soft and delicious play blanket for baby from the exclusive Moulin Roty. The play mat features pictures of colourful wild animals for baby to look at. The blanket is a real luxury play blanket in beautiful, delicate colours.
---
Nice Play mat from Roommate
A wonderful base for the play corner, on the swing or as a bottom in the play tent. The cover can be removed and washed. A really lovely mat with a cute face.
---
Playmat with car track
A nice car track that is both nice as decoration in the children's room and can of course also be used to play with cars.
---
Playmat with monkey playing music
Beautiful play mat with lots of colours and a funny monkey that can play different music. Removable hangers and washable blanket.
[collapse]
Sensory toys are toys that focus on stimulating baby's senses. Sensory toys come in different colours and materials, which develop baby's sense of touch and sight. Therefore, sensory toys are almost always a good gift for a baby. It can be a maternity gift, a birthday present or perhaps a Christmas present.
Bababall rattle from Manhattan Toys
Award-winning sensory ball made of solid ribbons with a soft surface that are interwoven to form a ball. The braided and soft surface makes the rattle easy to grasp for small hands. Inside the ball there is a bell, so the ball rattles when shaken. It encourages baby to move and develops the sense of hearing. The ball has lovely satin ribbons that are fun to rub.
Award winning motor skills sensory ball
Stimulates sense of touch and sight
249 kr.
Much more sensory toys ↓ Click here
Unrest - movement stimulates the sense of sight
A baby crib is a great sensory toy as it encourages baby to look up at movements. Hang the cradle over, for example. the playpen or changing table. Some babies can also calm down by looking at their crib, and therefore have it hanging over the bed. A crib also looks decorative in the nursery.
---
Marca's rattles - fobedrer coordinaton ability
Read also: 
When does baby crawl? Find out when baby can crawl
These cute marcas rattles are a great way to introduce your child to music and singing. Can be used as soon as baby learns to grasp (2 -3 months)
---
Activity box - many functions
A fun activity box from Hape, with many educational features. Baby can spend a long time exploring this box.
---
Baby mirror with funny owl 
Baby can spend a long time looking in the mirror, studying the many facial expressions. Baby develops by studying the movements in the mirror. Of course, it's completely free of phalates and other boring substances or chemicals. Organic cotton.
---
Cute stable ducks
Colours and shapes develop the senses of touch and sight. These cute ducks are fun for babies to collect and can delight up to the age of 3.
[collapse]
Bobles toys are durable figures in different shapes, produced in the durable EVA foam. The toys can last for many years of play.
Bobble toys work well in combination with each other. Then they can be stacked, or you can make an obstacle course. The sky's the limit. The toy is good to tumble on and therefore develops motor skills.
The best thing about Bobbles is that it can be used by children of almost all ages. So although a small baby will get a lot of pleasure from it, lying on her tummy on it etc, the child can still play with it a lot when she gets older.
Bobbles Crocodile
This fun crocodile can be used for a myriad of games. For example, you can practise walking on stairs. The crocodile is among the most popular toys from Bobles. Available in several colours
Bobbles elephant
Little babies strengthen their bodies when they lie on their tummies. This is where they learn to crawl and walk. Bobbles are great for making tummy time more fun. This elephant is great for lying on top of on your tummy. Or it can be turned over to become a swing. There's lots of opportunity for play and development!
Bobbles roller board with car
The fun rolling board can be used as soon as your baby has longer periods of wakefulness. Lay baby on his tummy on the rolling board and gently roll back and forth. . Keep eye contact with your baby during this time. She'll be stimulating her sense of balance while strengthening her back and neck muscles while lying on her tummy. There are hours of fun and play.
As your child gets older, he or she can move forward on the skateboard by lying on their tummy and pushing forward with their arms. The car can be used as a walker when your child is strong enough to get up into a sitting position. The car with a skateboard costs DKK 1,199 at Lirumlarumleg.
Play tunnel - teaches baby about space and direction
A play tunnel is a fun and developing motor toy. Crawling is healthy as the criss-crossing movements strengthen the whole body. Even if the child has learned to walk, crawling is still healthy. A play tunnel also teaches the child about space and direction. The tunnel is good for the youngest children, but continues to be fun throughout childhood. A play tunnel is therefore a good toy that the child can enjoy for many years.
The play tunnel shown is easy to open and pack up again, and is therefore also an obvious toy to carry around. Especially if you're visiting someone who doesn't have toys in the house. The tunnel is great for babies as it encourages them to crawl. The tunnel comes in a handy storage bag.
Lamaze toys are probably the most popular baby toys. It is designed and developed especially for the very youngest. For most babies, Lamaze toys are their first toys. All products from Lamaze are in bright, strong contrasting colours, which are the ones baby can see first.
The Lamaze toy is always easy to grasp as it is filled with small rings that fit perfectly in a baby's hand. On some of the toys, the ring also functions as a hook, so it can be hung up in, for example, a wall. pram, lift or over the changing table.
Lamaze toy
Very cute elephant from lamaze that can play music when you press one foot. You can record and play back tunes that baby makes himself using the keys on his trunk. The elephant is filled with rattles and fun effects, making it a wonderful toy for baby that is sure to be spent a lot of time. The ears are designed to be perfect handles for a little hand too.
Click here - and see much more Lamaze toys ↓
Goodnight owl with big eyes
Babies love to look at eyes. It's their way of getting to know the world, which is why this cute goodnight owl is sure to capture baby's interest. The owl is perfect for bedtime as it can play quiet music and be mounted on the cot. The owl can also be lit up in bright colours for baby to enjoy studying. Buy the cute goodnight owl here.
Butterfly garland from Lamaze
Very cute butterfly from Lamaze in great colours. Features a hook so it can easily be hung on the pram seat or hung up in the playpen or cot. The butterfly rattles when shaken and is filled with fun strings and gadgets for baby to play with.  Buy the butterfly garland here for only 199,95 kr.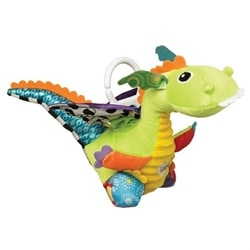 Beautiful dragon that can flap its wings
When you pull the handle, the kite starts flapping its wings. The dragon comes in bright colours and is made of different materials that are exciting for baby to touch and explore. The dragon also has a hook so it can easily be hung up somewhere. Buy the fine dragon quickly and easily right here. 
Read also: 
Best sensory swing
Hand and foot rope
Super fun rattles that can be attached to baby's feet and hands. So it rattles when baby moves. It will stimulate baby's senses and make him jump and move even more. Lots of fun for baby! The cute rattles can be bought here for only DKK 149.95. 
Cute hedgehog with teething ring
Fun hedgehog with a teether mounted on the front paw, great for soothing baby's sore gums. The hedgehog has fun fabric "spikes" for baby to play with. It develops baby's sense of touch. Buy the adorable hedgehog right here for 169.95 kr. 
[collapse]
Children get a lot of pleasure from a pushchair. When they can stand up, it is a great victory for them to be able to move forward with the help of the pushchair. It develops both confidence and motor skills to move forward under their own steam. As baby becomes more stable on their feet, the walkers can be used to carry toys around.
There are many great strollers, and you're sure to find the one you want on our list of the best strollers.
Stroller from Viga - with many fun activities
GET EXTRA DISCOUNT ON VIGA STROLLER AT SUNDLEG.DK WITH THE DISCOUNT CODE: STARTER PACK
Here you get a good wooden stroller from the popular brand Viga. The pushchair offers hours of fun and activities, as it is filled with fun buttons for baby to explore.
See more fun strollers here
Brio Stroller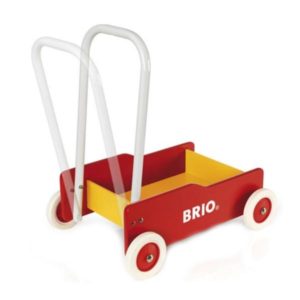 The classic Brio stroller with multiple settings. A fun and stable pushchair that children can learn to walk on and stand up from. The Brio Stroller is available in red and black.
---
Wonder Walker from Hape - test winner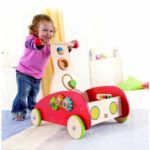 The Hape go-kart was voted best in test by Our Children. It's both a trolley, but at the same time it's full of fun details, so there's plenty of opportunity for play and fun. It's quite stable and easy to ride. t. It's the cheapest stroller, but it's definitely worth the extra money.
You can see and buy Wonder Walker from Hape here
[collapse]
Oball is another award-winning toy. The balls don't weigh much and are super easy for baby to grab because of the holes. The ball can be curled up and completely flattened, so it's great fun for baby to play with. Oball teaches baby to grip.

Fun Oball that shakes, plays and moves
Catch the ball! The ball encourages baby to crawl for it, or reach out for it. The bright colours will catch baby's attention. The ball costs 249 kr. Buy it here.
Skwish key and other rattles
Rattles are especially a hit with little babies. Rattles are a really old concept and it's stuck around over the years as babies really love toys they can make say sounds. Rattles are one of the best toys for babies 0-1 years.
Skwish key
The fun Skwish key has won awards for being a super toy for little babies. The thin rubber bands are easy to grip and the colourful design makes it exciting to look at. It's not the cheapest of baby toys, but on the other hand it almost always gets played with a lot, especially by babies in their first six months. The little balls at the end are great for putting in your mouth. Babies investigate everything by putting it in their mouths, and it's their way of learning about the world. You can see much more about the popular skwishn key here
The Skwish key is also available in a natural version if you're into the more neutral look, but of course it won't be as exciting for baby to look at.
CLICK HERE - and see more fun rattles ↓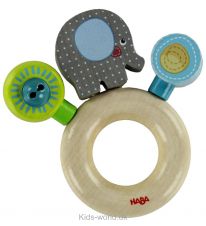 Rattle in wood - with cute elephant
Cute wooden rattle with elephant. The rattle is easy to grasp and makes rattling noises when moved. The rattle costs only DKK 99.95, so it's a pretty cheap rattle. Buy the cute elephant garland here
Crochet rattle with rabbit
A cosy crochet toy from Naturezoo. The rabbit here is in light grey, but is also available in a nice blue colour. The crochet rattle is easy to grasp and the rabbit ears are great to suck on. Buy the cute crochet rabbit garland here. 
Read also: 
4 Advent Gifts for Children 2017 | Four great advent gifts for children 0 - 3 years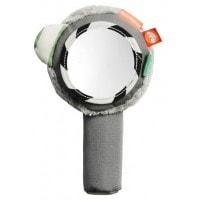 Done by Deer rattle
Cute rattle with a mirror so baby can see himself. The handle is designed to be easy to hold and rattle. The black/white pattern is obvious to even very young children, so the rattle will quickly catch their interest. Buy the cute rattle here for 129 kr. 
[collapse]
Sensory swing - use from newborn upwards
Use the sensory swing from newborn upwards.
Your baby can enjoy his sensory swing from the very beginning. The swing is great for an extra place to lay baby if she needs to rest. The rocking movements soothe baby.
At first, the swing can be hung in the living room from a hook in the ceiling, and later it can be hung in the garden and used to play with
Krea sensory swing
A sensory swing can swing and spin, and children can lie or sit on it. It's great for newborns, but also fun for older children. The many movements develop baby's balance and sense of maze. The sense of maze is the awareness of the movements of the head. The Krea sensory swing measures 100 cm in diameter and is of course safety approved. Maximum load: 100 kg.
Sensory swing from Krea is one of the most popular sensory swings. The base is covered with a durable fabric that is easy to wash and also ensures that little fingers cannot get caught. It can be used both as an indoor swing and an outdoor swing.
See more great sensory swings here - click here ↓
Sensory swing - for indoor use
An indoor swing has cords that fit the ceiling height of most Danish homes (about 240 cm).
The 100% is safety approved for play in the home and is completely safe for baby to use. The swing can withstand a load of up to 200 kg, and several children can therefore safely sit on the swing at the same time. The sensory swing is fitted with only one hook, so it turns, spins and swings back and forth. It can turn around like a carousel, which really stimulates and develops the child's sense of balance. And it's fun for the kids too.
Sensory swing - for outdoor use
An outdoor swing can be hung in the garden. An outdoor swing allows for nice fresh air, and room for a lot of play. The swing is a great way to include baby in the play of older children, as the swing can be used from newborn. .
The swing can be hung in a tree without hitting the ground, the strings are shorter than on an indoor swing. The round shape of the swing blends in well with the garden landscape. Even adults will be tempted to enjoy the peace and quiet of the swing under the tree - the swing can hold up to 200 kg! Price: 699 kr. Buy outdoor swing here
[collapse]
HappyHello Toy Box - Receive toys every month - try for only 19 DKK per month
New toys for baby that are always packaged for your baby's developmental stage.The toys in the popular Happy Hello suitcases match your baby's age, gender and developmental stage. The toys are chosen by experienced educators. When you sign up, you a baby package that also includes a gift for mom. You get great value for a small monthly fee.
Doll - good toy for small children
When babies are around 8-12 months old, dolls start to get interesting. That's why dolls are almost always good toys for babies. Another thing about dolls that makes them good toys is that you can later buy more accessories for them, such as a doll's pram, doll's bed, doll's clothes, etc.  You can buy cute dolls for baby here.  If you're not sure which doll is right for you, see a list of dolls here.
Stableblocks
Stacking blocks are great toys for baby as they develop both coordination and motor skills. These blocks also have beautiful pictures that baby will surely enjoy looking at. The blocks are both fun for baby, and also great toys for slightly older children up to 2 years.