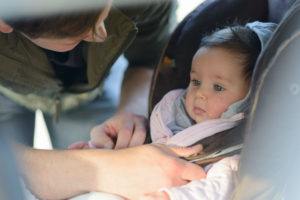 How long can baby stay in a car seat? Many parents ask themselves this question. Because newborns don't have strong backs or necks, sitting upright in a car seat is hard on their bodies. Time spent in the car seat should therefore be limited to around 20 minutes a day.
Baby can sit in car seat about 20 minutes a day
If you have more than 20 minutes home from the hospital, you will of course have to make this trip. Baby's safety will always come first. But if you want to go on a road trip to Italy or visit family in Jutland, you should consider whether it can be postponed until baby is a little older.
How to have a good ride with baby
Here are some easy tips for a good drive with baby, so you can avoid a stressful trip with a sad baby.
Bring baby's toys (preferably something new and exciting) and water in a cup or bottle
Take breaks to breastfeed/attend to baby
Create shade with a sunshade or fabric sheet.
What to consider when choosing a car seat
Safety comes first when choosing a car seat for your newborn. Here we've put together some tips for choosing a car seat. You can see recommended car seats for newborns right here.
Rear-facing car seat
The chair must be approved up to 9 kg.
Safety approved
Good support