In 2018, Cyper Monday falls on 26 November. It's a wild day with really many online offers! On the day itself, there will be many Cyber Monday deals, so it's an obvious day to get those last Christmas gifts.
Here at Startpakke.com, we've spent a lot of time gathering all the best discounts and offers, so you can hunt for deals at home.
Go to the big list of Cyber Monday deals here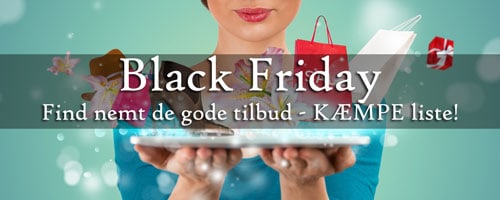 Cyber Monday 2018 - 26 November
Cyber Monday is the Monday following Black Friday. Cyber Monday originated in the US just as Black Friday does. In the US, Cyber Monday falls on the Monday after Thanksgiving, when many Americans have the day off anyway. Therefore, many stores have chosen to hold Cyber Monday as an extension of Black Friday and Black Week.
What is Cyber Monday?
Cyber Monday is in many ways the same as Black Friday or Black Friday. It's a day with lots of great deals on products in almost every category. If you're a hero, you can even find prices on Cyber Monday that are even lower than Black Friday, because stores simply have to get rid of the last of their stock.
Like Black Friday, deals are primarily online on Cyber Monday, which in 2018 falls on 26 November.
On the day itself, there's plenty of opportunity to look for just what you're looking for. It could be white goods on sale, a new bike, computer or something else entirely. There are plenty of opportunities to save good money on Cyber Monday. It's a day when you can buy what you didn't have time to buy on Black Friday. There are loads of opportunities to go crazy and get those last Christmas presents. However, it's also a great time to buy things you've been planning to buy for a long time and are missing in your everyday life. It could be a new computer, washing machine, bike, laptop or something else entirely. The whole Black Friday concept is built around shops getting rid of this year's electronics to make room for the new. This trend has continued, and it will therefore be in electronics in particular that you will find the really wild discounts.
Cyber Monday in Denmark is not yet as widespread as Black Friday, but it will undoubtedly grow and become bigger and wilder with the years. This is good news for us consumers, who enjoy buying things at low prices.
Cyber Monday has been in the US since around 2005, where it is clearly a somewhat bigger phenomenon than in Denmark. However, it's on the rise here, so it pays to keep an eye out for Cyber Monday deals that come after Black Friday.
Because Cyber Monday is the Monday after Black Friday, it's also the last chance to really save big on your Christmas shopping. That's because there are rarely any great deals and discounts in December. So just get to the keys and get searching for some great deals. Another thing is to be ready to pounce, without thinking about it for too long. After all, when it comes to bargains, they're often in short supply and often limited because they're just being sold so cheaply. It's therefore a good idea to have your credit card ready so you can buy the things you want to invest in.
Where can I find the best Cyber Monday deals?
To find the best Black Friday deals, use the overview of the different offers available in the different online retailers. Shopping online for deals is definitely recommended, as this is where you'll find the lowest prices.
You can use a comparison list to find the best Black Friday deals and the best Cyber
Once the weekend is over, the hyped Cyber Monday sales kick off, fostering online rather than in-store shopping. This year, Cyber Monday starts on 27 November.
In the following years, Cyber Monday falls on these dates:
Cyber Monday 2018 will be on Monday 26 November 2018
Cyber Monday 2019 will be on Monday 2 December 2019
Cyber Monday 2020 will be on Monday 30 November 2020
Cyber Monday 2021 will be on Monday 29 November 2021
Cyber Monday may be as big as Black Friday
In just a few years, sales on Cyber Monday have shown a marked increase, and it's a trend that looks set to continue. Here at Startpakke.com, we've long worked to round up the stores that offer the best deals. If you click through to the different retailers, you'll find the best deals available on Cyber Monday.
Consider what you need before Black Week & Cyber Monday
Before we approach the time when it's November and soon Christmas, it's a good idea to consider what you need. In fact, it's a good idea to wait to buy what you need until we hit Black Friday, Cyber Monday and all. In fact, these are often the days people shop for this year's Christmas gifts. It's not just the Christmas presents you can buy on sale these days. It is also possible to buy clothes for both Christmas and New Year. You'll avoid the obligatory clothing crisis, as you'll already have this year's outfit in place and even bought it on sale.
What should I buy on Cyber Monday?
Of course, it's up to you what to buy on Cyber Monday. However, it's a good idea to go for big ticket items that would normally be too expensive for you to invest in right now. In fact, these are usually the types of items that are discounted the most on Cyber Monday. So if you need a new TV or computer on sale, for example, it's a good day to look for wild discounts and the best deals on electronics. It's also a good day to buy, for example, a bike on offer, as many bike retailers are running big discounts online and in store.