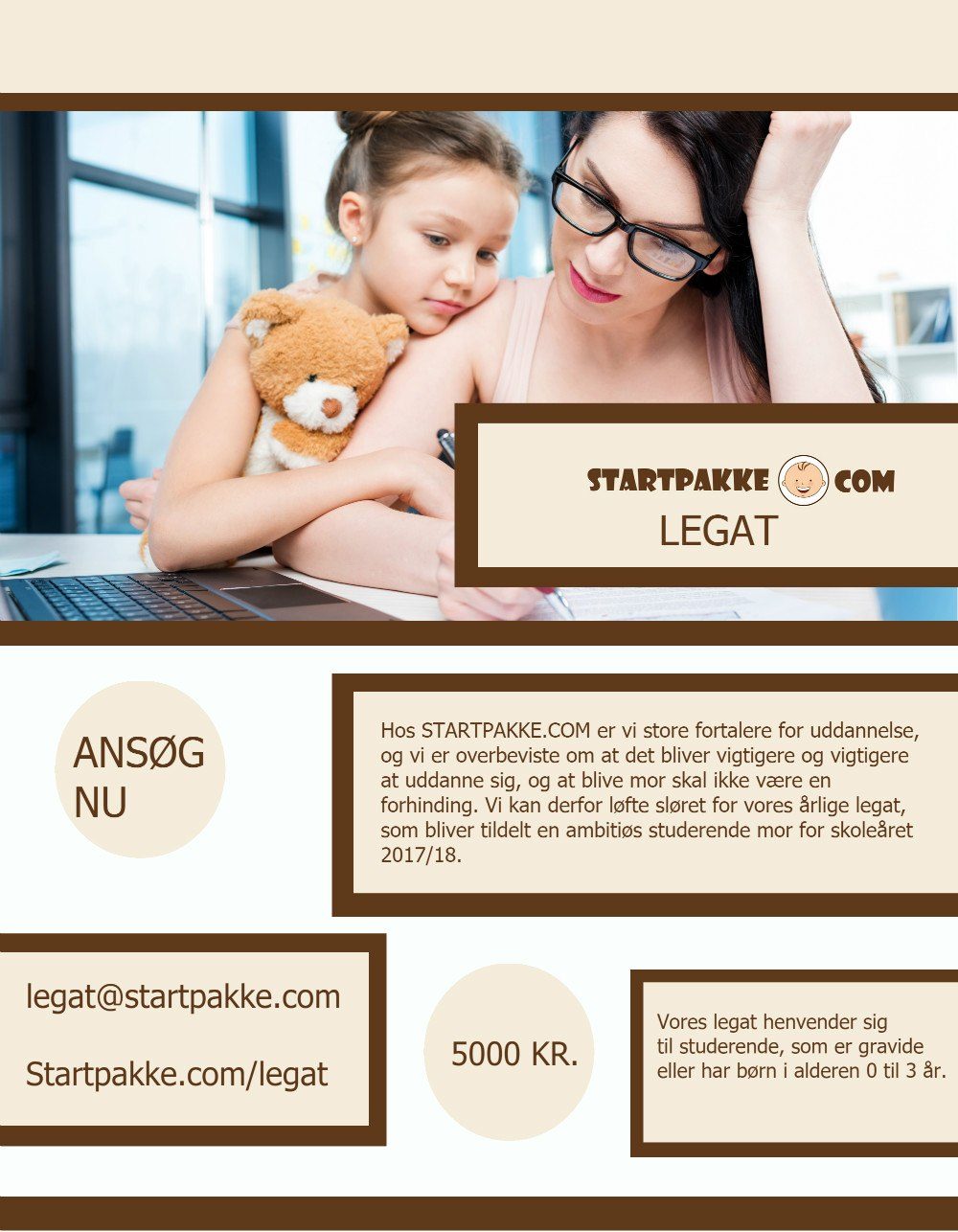 At Startpakke.com, we're big advocates of education. We are convinced that education is becoming more and more important, and becoming a mother should not be an obstacle to this. We can therefore unveil our annual scholarship, which will be awarded to an ambitious student mother for the 2017/18 school year.
Our scholarship is aimed at students who are pregnant or have children aged 0 to 3 years.
Participation requirements
If you are pregnant or have young children, are a student or starting a course in 2017, and think you have what it takes to be considered for the Startpakke.com Grant, we look forward to receiving your unique application.
The deadline for applications is 1 September 2017 and the winner will be contacted and announced on 1 October 2017
How to apply
To be considered for our scholarship, please send an email to legat@startpakke.com attaching a one-page application (maximum 2400 characters) with the following information:
General information about you
What makes you the perfect candidate
A good experience you've had as a pregnant woman or mother
In the email it is important that you include:
Name, surname, telephone and address
Which educational establishment you are studying at
Which study you are attending and a short description
Copy of ID or letter of admission as proof that you are a student
The pregnant woman/mother who makes the best description will be the lucky recipient of our grant of 5.000 kr.
The amount will be given in the form of various gift vouchers to shops and webshops where it is possible to buy baby equipment and other relevant items that can improve the life of mother and baby. The grant cannot be exchanged for cash.
Your application should be creative and unique. It should clearly communicate why you should receive our scholarship.
Send the application to
The application and any questions can be sent to: legat@startpakke.com