A wrap is more or less a large piece of fabric that you tie around yourself and baby so that baby sits on your back, hip or tummy. When you wrap your baby properly, he or she sits ergonomically correctly and you can use the wrap from day 1 until your baby doesn't want to be carried anymore.
Would you like to start winding, but are unsure if it's too complicated?
Or are you wondering if a wrap is worth the money at all?
So read on, where we talk about what's good to know before you invest in your own wrap.
Fixed wrap vs. stretch wrap
When choosing which wrap you would like, you can choose between either a stretch wrap or a fixed wrap. Here, we will very briefly review what the two different wrappers can do.
The Stretch Wrap
En stretch wrap is a very soft wrap that can stretch in the fabric. It is easy to tie and you can easily tie it properly as a beginner. It's not expensive to buy either. On the other hand, it can only be used for the first 3-4 months, after which baby will be too heavy. On the other hand, you may not need to carry your baby at all after that.
What you need to know about a stretch wrap
The stretch wrap is cheap and easy to tie
Perfect for newborns
It can only be used for the first 3-4 months, when the need to carry is probably greatest
Fastviklen
En fastvikle is more expensive, but can be used for all the time you carry. Another great thing about wrappers is that they come in all sorts of colours and patterns, so you can really choose one that suits you and your baby.
In addition, you can choose between different materials - or "blends" as it is called. The cheapest is probably 100% cotton, but you can also get blends with silk, wool, bamboo and others.
The fixed wrap can be tied in many different ways. You can carry your baby on the front, on the side and on the hip. As the name suggests, the wrap is "fixed" - meaning it can't stretch in the fabric like a stretch wrap can.
The fixed wrap is available in different sizes. If you only need it for back binding, you can use a shorter wrap, for example size 4. The most common sizes are 5 or 6. Which size is best for you depends on your body shape.
You can find lots of examples of fixed wrap bindings on youtube or you can seek advice from the huge group on Facebook called "The Sling Gallery".
What you need to know about the fixed wrap
Fixed wrappers are generally more expensive to purchase than stretch wrappers
They can be used from day 1 until your child no longer wants to be carried (typically 2-3 years of age)
Choose from a myriad of beautiful colours, patterns and blends
Advantages of wearing your baby in a wrap
There are so many benefits to babywearing, as long as both you and your child are happy with it. The very young will often settle down when they are completely close to their mother or father, as they have been used to being inside their mother's tummy. When they're in the wrap, they can hear the heartbeat and get that all-important skin-to-skin contact that also helps milk production.
Plus, you'll have your hands free to make yourself a sandwich, take care of any big brother/big sister, and it's actually really nice to have your little one close by.
Baby gets skin-to-skin contact
You have your hands free
It's nice
Your baby rocks naturally and will often settle down to sleep in the wrap
Disadvantages when you have to carry your child
As with everything else, being a womb-mum brings its disadvantages and challenges. If you choose the wrap over the baby carrier, it's not always easy to get baby tied up so he or she sits properly. If your baby really loves sitting in the wrap, he or she may want to sit there all the time to settle down, which can be hard on the back. For some, it can also be hard to never be alone for the first few months of your baby's life.
Another challenge is when it gets cold outside. In a pram it's easier to put baby in a duvet or sleeping bag, but if you're wrapping you'll have to think creatively. You may well need to invest in baby leg warmers, a warm wool wrap or even a carrier jacket to keep your little one warm.
When you're on the move, it's both easy to carry baby in the wrap, but hard to carry on the changing bag too. This can be solved with a backpack, but then there's also the load on.
Your baby may only want to sleep in the wrap
Keeping baby warm in the wrap in winter may require new equipment and outerwear
Difficult to carry around baby, changing bag and your own small items when you're on the move
Carrying your baby all the time can hurt your back
These advantages and disadvantages are probably the reason why most people choose to use both a wrap and a regular pushchair. Then you can use whichever makes the most sense in the situation. Fortunately, one does not exclude the other.
Is a baby carrier for you?
If you don't like slings at all, you can also use a good ergonomic baby carrier. A baby carrier should not be tied like a wrap, but clipped on with buckles and straps.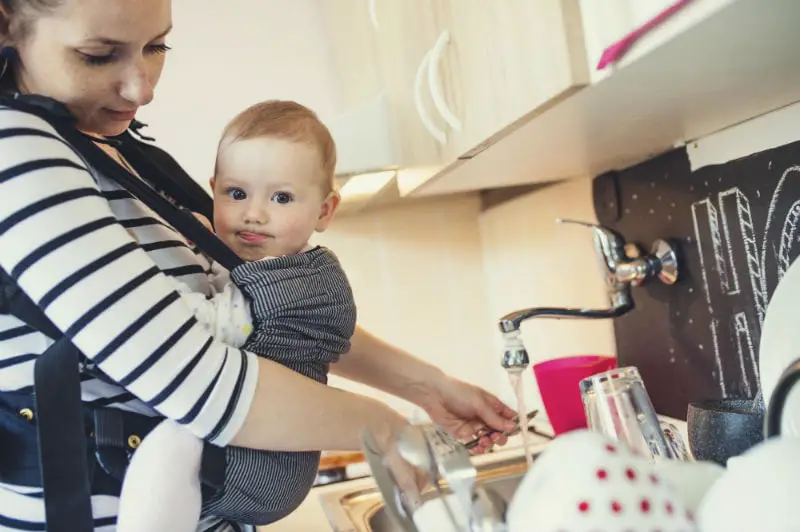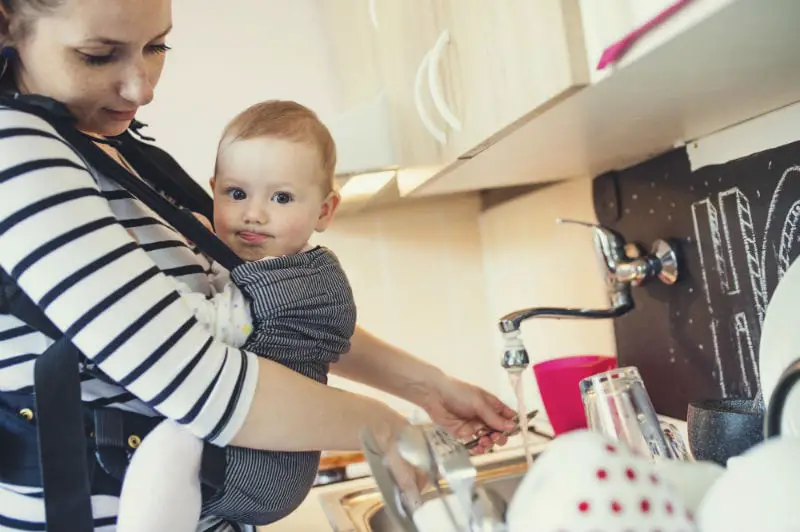 In recent years, there has been a lot of focus on the ergonomics of baby carriers. In previous models, the child was sitting incorrectly, with their whole weight on the crotch and their legs hanging loosely, which is not an ergonomically correct position and therefore the carrier should ideally only be used for 20 minutes at a time. This is the case, for example, with the old "Baby Björn" baby carrier.
But there are also many good ergonomic carriers where the child sits comfortably and can sit there for an unlimited time. Ergobaby, Manduca and Tula are among the ergonomic carriers. See much more about these here.
https://startpakke.com/wp-content/uploads/2017/03/logo.jpg
0
0
Maria
https://startpakke.com/wp-content/uploads/2017/03/logo.jpg
Maria
2019-02-15 08:22:35
2019-02-15 09:03:21
Vikle-mom? How to carry your baby