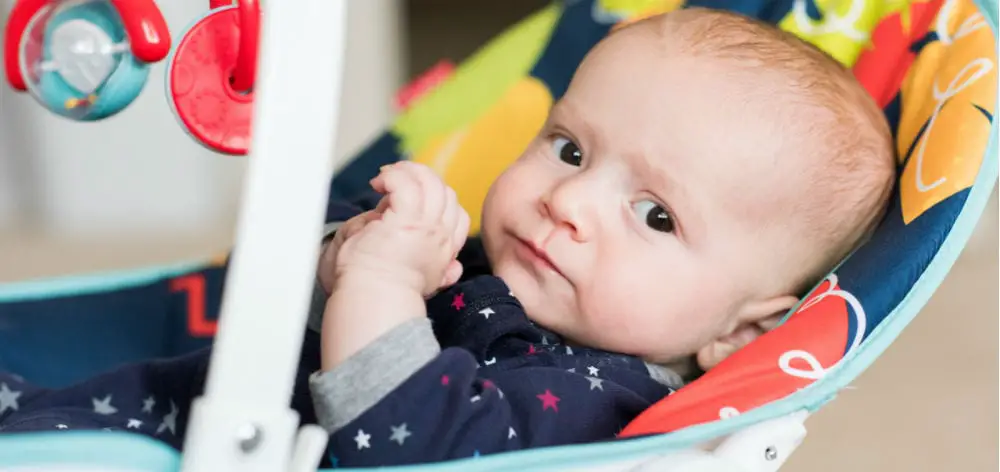 Many parents are happy to use baby bouncers. In a bouncer, the baby sits slightly upright, so it's easier to follow what's going on. It can be used from birth, typically up to 8-9 months. Most children will eventually prefer to play on the floor rather than sit in their bouncer, and of course they need to be allowed to do so.
Baby bouncers are also useful when baby is about to eat porridge and mash.
On this page we have collected the best baby booster seats.
MamaRoo luxury baby booster seat
The ultimate baby booster seat. The bouncer can move in 5 different ways and can play four different tunes. Your baby will get the best comfort in this nice bouncer.
The slanted chair is seen for 2.599 kr. at Coop.
---
Tiny Love Bouncer (also a lift)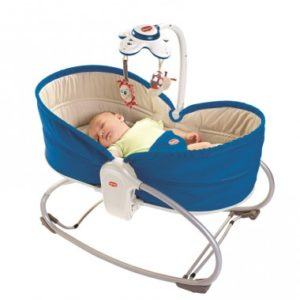 Very useful chair from Tiny Love. Here you get 3 products in one:
High chair, cradle and lift.
At the same time, the bouncer has a cradle that can entertain and stimulate baby. It can play up to 9 melodies and vibrate soothingly.
The Tiny Love slant chair is great value for money and has received good reviews. Set for DKK 749 at Pixizoo.
---
Baby bouncer
The Baby Bear slant chair has become one of the most popular baby slant chairs. It can be adjusted in three positions: play, rest and sleep.
The slanted chair is of good quality and the seat is nice and soft for your baby. Price: 1.149 kr.
---
Chicco - super comfortable bouncer
The Chicco slanted chair comes with a cushion specially designed to give baby just the right support.
The chair has a hanger with toys that stimulate baby's senses while he or she enjoys the chair.
The chair costs DKK 799.95.
---
Baby bouncer from Tiny Love
A chair with lots of colour that baby is sure to love.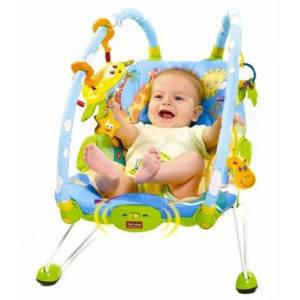 The chair can vibrate, which soothes many babies.
It can be adjusted in two positions depending on how upright baby is to sit.
You get a great bouncer for the price of 699,95 kr.
---
Doomoo Seat - the slanted seat that can be used up to 7 years!
Super soft beanbag chair that, unlike other slanted chairs, can be used for many years. A comfortable three-point harness is included to ensure baby doesn't slip. Buy the beanbag here. When your child grows up, the slanted chair turns into a fun beanbag chair where your junior can sit and relax, read books or watch TV.
The filling consists of balls that mould to the body and therefore provide good support. The chair is naturally free of harmful phthalates and the cover is easy to wash.
If you're looking for a chair that will last, the Doomoo Seat is a great choice. You can choose from several different designs.
---
Cheap rocking chair
This model from BabyTrold belongs to the cheap slanted chairs with a price of only 349 kr. However, that certainly doesn't mean it's a bad chair.
The back can be adjusted in many levels. At the lowest level, the chair lies almost completely down, minimising strain on baby's back. The cover is easy to wash and maintain.
As baby squirms and moves, the toys start rocking back and forth because the chair has a rocking function. This can be switched on and off by stop blocks on the legs.
All in all a very good highchair for the money!
---
Fun bouncer for baby (can also swing!)
An extra smart bouncer that also swings. The rocking motion reminds baby of the time spent in mummy's tummy and is therefore soothing. The rocker is automatic.
The toy bar has 3 toys and the alarm clock can play 15 different songs. The price is 1.299 kr.
---
When can baby sit in a booster seat?
Your baby can sit in the booster seat right away, that is from newborn. However, most parents only start using the bouncer when he or she is around 2 months old.
At 2 months of age, many babies start to have more wake time during the day and want to keep up with what's going on around them. The reclining seat allows baby to sit comfortably and allows parents to have time to drink their coffee, take a bath or do something else without baby in their arms.
Baby seat - how long?
The National Board of Health recommends that the child only sits in the chair for 10-15 minutes at a time. This is because the child is held in a passive position and cannot develop its motor skills. The reclining chair is a place where baby can rest and sit comfortably, but he or she also needs to lie down on his or her stomach on the floor and practise moving forward.
→ Do easy motor exercises with your child

A help for babies with reflux
If your baby has reflux, it is advisable to wait 20-30 minutes after each meal before lying down on your stomach or back. This is because the milk runs back up, which is uncomfortable and inconvenient for baby. This is where a bouncer can help. They can be adjusted so that he sits upright, which reduces reflux.
How to use baby bouncer
Always place the inclined chair on the floor. The Health Authority does not recommend placing the chair on a table or high up, as there is a risk that it could fall.
The inclined seat works well for putting the child in, for shorter periods. For example, you can put your child in the chair on the bathroom floor while you take a bath. Then baby sits in a safe place and can see you at the same time. Many parents also like to use the slanted chair when they need to eat by themselves, or if they need to take care of big sister or big brother.
When baby starts to eat porridge and mash at 4-6 months, the slanted seat is also a good place for baby to sit.
https://startpakke.com/wp-content/uploads/2017/04/Depositphotos_130522300_Udvalgt-Billede-1.jpg
472
1000
Maria
https://startpakke.com/wp-content/uploads/2017/03/logo.jpg
Maria
2018-02-21 11:52:55
2018-12-06 10:47:32
Baby bouncer: here are the best baby bouncers!