Children love to be outside playing with outdoor toys. These can be smaller outdoor toys like games, balls or sandbox toys that can be used for many hours of fun. If you have a large garden, you can have some of the bigger outdoor toys like bouncy castles, sandboxes or trampolines.
Table of contents
Click to read more about the different outdoor toys for children.
Fun outdoor toys for kids
Here you'll find a list of exciting outdoor toys to help you spend many pleasant hours playing outdoors.
Children love to play outside all year round, but spring and summer in particular are great for getting out in the sun and fresh air. Outside, children have the opportunity to use their bodies and have their senses stimulated. If you don't have a garden, it might be a good idea to get some outdoor toys that you can take to a playground or park. It could be a running bike or a ring game.
Foldable trampoline
Trampolines have become one of the most popular outdoor toys for children. Kids love to jump and do tricks on the trampoline. There are really many different trampolines to choose from. This model is not so big and therefore does not take up much space in the garden. This trampoline can be used by the whole family as it is very stable. At the same time, it doesn't take up much space - and it even folds up for easy transport. With this trampoline you get a lot for your money.
Cheap outdoor toys that don't take up much space
If space is at a premium in your garden, or you already have plenty to fill it, it's nice to have some outdoor toys for kids that don't take up much space but are fun to play with outside. Here we have collected a number of smaller items that are also cheap outdoor toys for kids.
Large truck with load
A large toy truck made to play with outdoors. The truck has large, solid wheels and a tilting load. It can drive well over both grass and sand. Great outdoor toy for children of all ages.
Small green slide
A small slide is a fun outdoor toy for children that can provide many fun moments in the garden in spring and summer. Kids can climb up and slide down the fun green slide that looks like a crocodile. Because it's made of plastic, it's not very expensive and even easy to move around. It's handy if the grass needs mowing or it's winter.
Cosy picnic table for children
Everyone can use a break and a rest. This cosy picnic table for children is the perfect place to do just that. The table is easy to wipe and keep clean. It's a perfect place to have lunch on a nice summer day.
Ring games - fun for the whole family
A ring game is great because you can be together about it. Both adults and children can join in. It trains coordination, colour recognition and balance. The ring game is fun to bring to a barbecue or other summer party.
Balance stone - can be used both indoors and outdoors
The balance stones can be used by children of almost all ages. It's a really great piece of mototics that also works as an outdoor toy for kids. Put them on the ground and play earth is poison or trap game. There are lots of possibilities with the fun balance stones. Price: 479 kr.
Crayons - creative play outside
Drawing with chalk on pavements and roads is one of the most creative outdoor toys. Who doesn't remember the bucket trains of childhood? Chalk doesn't cost much and children can play with it for hours. These chalks can be bought for only 39.95 DKK.
Kongespiel - fun outdoor games for the whole family
See who can topple the king first in this classic game that dates back to the Viking Age. Games are great outdoor toys as they can be played by several people and keep children and adults physically active. Price 199 kr.
Trampolines - the most popular outdoor toy for kids
There are trampolines for almost every need. You can get small and cheap trampolines that don't take up much space in your garden. It is also possible to buy mini trampolines for children as young as 2 years old. If the trampoline is to be used by older children, you will benefit most from a large trampoline with some really good springs, such as a Berg trampoline.
and the large professional trampolines that really allow you to jump and bounce at a higher level. When choosing a trampoline, consider:
How much space do you have?
Is the trampoline for indoor or outdoor use?
How much can the trampoline cost?
Is your child a beginner, or is more practiced?
On this page we have listed a variety of trampolines.
Foldable trampoline
This trampoline is quite popular as it does not take up much space in the garden, but still offers plenty of jumping possibilities. It can be used by the whole family as it is very stable. The trampoline folds up for easy transport or packing away in the winter. With this trampoline you get a lot for your money.
Large trampoline with safety net
Diameter 427 cm, max load 150 kg.

This large trampoline is from the brand Salta. This is a trampoline that can easily accommodate several children and adults at once, due to the high maximum load of 150 kg. The Salta trampoline for children has a sturdy powder-coated steel frame that makes the frame rustproof, extending its lifespan. The trampoline can therefore be left outside all year round without any problems.
Good safety for children
The Salta trampoline has a wide and strong edge mat that is 29 cm wide and 25 mm thick. The mat is extra long and ensures that it is not possible for children to come into direct contact with the springs. The safety net has proven to be very effective in preventing trampoline accidents, as you cannot fall off.
Trampoline for children in super good quality
Size: medium trampoline of 244 cm in diameter | Maximum load: 100 kg.
Here's the perfect trampoline for you if you're looking for a good quality one without taking up too much space or costing the tip of a jet fighter. The trampoline is great for kids; it has thick and sturdy steel parts and 48 springs, which makes for a great jumping experience. Danish assembly instructions and manual are included, and you get free shipping when you buy the trampoline at Sundleg.
Mini trampoline with Thomas Tog
A cute mini trampoline that is ideal for the youngest children up to 2 years. The trampoline has a picture of the popular Thomas the Train, known and loved from TV.
Rocking chair with slide / outdoor playground
A swing set with a slide is probably every child's dream to play on in their own garden. It's a real opportunity to burn some fire. However, if you don't have the space or the money, smaller ones will do just fine. A small baby swing for 200 DKK can create many fun moments for the children. See examples of both below.
Large swing set with slide
Here is a luxury swing set for parents who want an oasis in the garden for their children. In addition to two swings, the swing set also has a slide and a staircase. The swing set is a great investment in outdoor toys for the kids, who will no doubt enjoy it for many years. The swing set is of great quality and can last for generations.
Baby swing
Great beginner swing that babies can use as soon as they can sit upright. Your baby will enjoy being outside playing and swinging on the fun swing. Price 200 kr
Sensory swing for baby and children
A sensory swing is especially useful for the little ones. They can lie down on it and enjoy the swinging movements. The swing can be used outside during the summer months. Older children also enjoy it as an outdoor toy, as they can sit on it and swing together.
Beautiful swing stand with slide
A playground that really allows for fun and play in the garden. On the swing set you can climb up a ladder that leads to the upper platform. From here, you can slide down the slide again and again.
Good to know
The wood is delivered sawn to size, so no further adjustments to the wood are needed to assemble the play tower.
Playing with sand in a sandbox is a wonderful and fun game for children. A sandbox doesn't have to be very expensive or take up a lot of space, but it can still be lots of fun. Here you will find examples of different sandboxes for children.
Sandbox with lid
Beautiful and practical wooden sandbox. The seats used as a lid when the sandbox is not in use. It prevents cats from defecating in the sandbox and keeps dirt and leaves out. It is made of larch wood, which is the best type of wood for sandboxes.
Set for 996,90 kr. at 10-4 byggemarked.
Sandbox in wood
Sandbox in really good quality. The sandbox is made of strong pressure-treated boards. These have a long durability, even in the Danish weather. They require very little maintenance, and stay nice for up to 20 years.
The corners are made of robust UV resistant plastic so they won't be bleached by the sun. On all sides of the sandbox there are comfortable seats for the children to sit. All corners are rounded.
- Height: 28 cm.
- Length: 60 cm.
The best outdoor toys for kids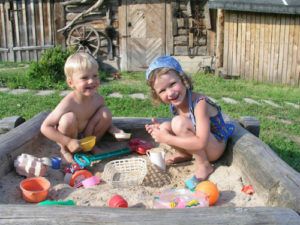 Children have always loved to play outside. There's a real opportunity to run fast, get dirty and so on. With outdoor toys for kids, hours can go by making sand cakes or playing on the swing set. Often it takes no more than a bucket and a shovel to entertain the kids outside. Fun outdoor games help children develop and learn a lot about nature while using their senses. The best outdoor toys for children are of course of good quality and durable, as outdoor toys need to be able to withstand getting wet and dirty more than the toys you use inside the living room or in the children's room.
On this page we have listed outdoor toys for children for every need. Even if you don't have a garden, you can still get a lot of enjoyment from outdoor toys. Then it's just a good idea to buy some outdoor toys that don't take up too much space and are easy to take around. Then you can easily bring the toy to a public sandpit or similar and play lots of fun outdoor games.