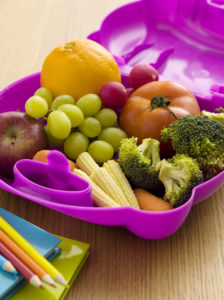 Fun packed lunches for kids are an easy way to make lunch a little more inviting. Some children actually eat more if the food is served in a fun and inviting way. At nursery or school, a fun lunchbox for kids is the perfect way to do this!
Here we have collected a number of ideas for fun lunch boxes for children, so that lunch becomes a good experience for the children.
Check if the food box is free of BPA and phthalates
Space for both breakfast and lunch
Let your child choose the colour of the lunchbox
While it's tempting to choose a cheap lunchbox that has funny pictures on it, there are several things you should check before you buy. First of all, check if the product is free of BPA and phthalates, which are not nice substances to have around food. If it doesn't say anything, that's usually a bad sign, and maybe you should look further.
Also consider the size of the lunch box. There should be room for both a morning meal and a good lunch. For the afternoon, most children have fruit in a bag.
If you have found a good lunchbox, there are often many colours to choose from. Here it's a good idea to include your child and let him or her choose the colour. This can mean that your child is more happy with their lunchbox, and may even eat their lunch more happily.
See a selection of fun lunchboxes below this text ↓
Yumbox lunch box with funny pictures
A super delicious lunchbox divided into compartments with lots of pictures and inspiration!
This lunchbox from Yumbox is fun and practical because it is divided into several compartments. Inside the compartments, the lunchbox has pictures to inspire parents about what to put in, and the pictures are sure to be fun for the child to look at. The lunchbox is made for school-age children. There are a multitude of colours and sizes to choose from. Here is a 4 compartment version, but it is also available with 5 or 6 compartments.
It is not a cheap lunchbox with the price of 299.95 kr., but on the other hand it is delicious in quality and stands out from the crowd.
Paw Patrol lunchbox
Is your child also a fan of the cute dog patrol? Then this lunchbox is sure to be a big hit. Now your child can look at the popular dog puppy every time the lunchbox is found at lunchtime.
Lego lunchbox - for the child who loves Lego bricks...
The vast majority of children are familiar with the classic Lego bricks, and will immediately recognise this fine Lego lunchbox. The lunchbox will be fun for children who love building with Lego. At Only4Kids you can choose from many different colours.
A lunchbox that's also an owl
This lunchbox is shaped like a cute little owl. Inside the owl there is room for a tasty packed lunch for the baby, which will be fun to open at lunchtime.
Beautiful green tractor for the lunchbox
Most children love tractors. With this lunchbox, you can store your lunch in a cool green tractor that's sure to get envious looks from the other kids at nursery or school.
Fun lunchboxes for kids
Many children love their fun lunchbox, as it helps to make eating lunch a bit more fun. At the same time, it gives them something to talk about with the other grown-up children. Which lunchbox is fun for your child will of course depend on your child's interests, favourite colours etc. If your child likes animals, there are several lunchboxes with cute animals on them that they can look at and talk about.
Something else that can make a lunchbox fun is if it is shaped like something the child recognises, for example a tractor or an owl. You can also get lunchboxes with practical compartments that make it easier for children to keep track of their lunch. It also makes it easier for parents to grease the pack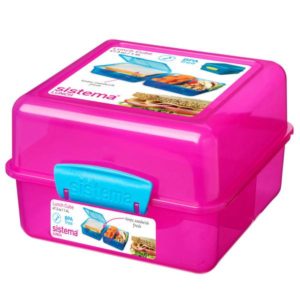 one, as you can be inspired by the small spaces in the lunchbox.
If you're into the more practical lunchboxes, check out the popular system lunchboxes, which are widely used for both children and adults. See Sistema lunchboxes here.