Bed storage is a smart and space-saving solution that many people love. As well as being practical, a bed frame with storage options also looks great in the home. Especially if you'd like more storage space for sheets or bedding, for example, you might want to take a closer look at this solution.  
Scroll down to read more about bed storage and the solutions you can choose from  
Before you buy a bed frame with storage, however, it's a good idea to check what you're actually getting for your money. The bed frame should be a good, durable material, and of course it should match both your mattress and the style you want in your home.  
See also junior beds with storage at the bottom of the article - a very popular solution for the children's room.
Once you've decided you want a bed with storage, there are two main options to choose from: a practical option, which is a regular bed with storage underneath, or the more aesthetic, but also more expensive, option of a wooden bed frame.
Here we have highlighted two examples of each of these solutions for a bed with storage.
Beautiful bed frame in solid pine - the aesthetic solution
Here is a nice solution for bed storage. The bed frame costs DKK 7,499 in size 180 x 200 cm, but is also available in a smaller size - see here.
This bed frame gives your bedroom and home an elegant and aesthetic solution to bed storage. For an extra complete look, you can purchase both matching bedside tables and shelves. The bed frame consists of solid pine, and is Danish made in really nice quality. Here you get a bed with storage that is very durable. What you should especially be aware of with this solution is that there mattress not included. So use your existing mattress if you can, or buy a new one. For this bed frame you can use a spring mattress, box mattress or foam mattress. Better Nights recommends their  BN 300 Latex or Airpur Senses mattresses. These mattresses are produced with an extended comfort layer that means you don't necessarily need a top mattress. This makes the bed look nicer, as the mattress itself will be flush with the edge of the bed frame.
Bed with storage - the cheap and practical solution
If you simply need extra space for your bedding or similar and you live in a small space, you should take a closer look at the bed storage solutions at Wupti. For a reasonable price, this is a bed that can be tilted to provide plenty of storage space underneath. If you choose this option, you get a total "package" for the price - you don't need to buy a mattress as everything is included in one solution.
The bed is delivered assembled and you don't have to bother with a lot of tools. The bed is available in two sizes: either 120 x 200 cm. or 140 x 200 cm. This bed is ideal for a dorm room, a small apartment, or perhaps as a guest bed. It's easy to fold up the bed and store away bedding during the day. There is good ventilation in the room. The mattress itself is a standard box mattress. If you want extra comfort for this bed, it is recommended to buy a nice top mattress to put on top. Get inspiration for choosing a top mattress here.
Other bed storage options
In addition to the two solutions we have shown, we have highlighted a number of other solutions that are worth considering if you need storage space.
Bed with storage 140 x 200 cm.
This bed from Wupti is ideal if you want bed storage. It can be easily "folded up", which allows you to put for example duvets, pillows and sheets the space under the bed. The bed measures 140 cm in width, which is enough for two people if they don't take up much space. Many parents are happy with a solution like this, especially if they sleep in the living room if the children have their own room. However, the bed is also very practical in a dorm room. It's an affordable bed at just £3,999. Supplement with a good top mattress for extra comfort.
Wooden bed frame - beech heartwood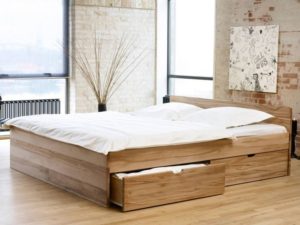 Bed frame in hornbeam for 11.399 kr.
Another really nice bed frame from Better Nights with ample bed storage in the drawers under the bed. It looks great and has a very long durability. Simply wipe with a damp cloth and re-wipe with a dry cloth or towel to keep it looking good.
Bed frame with drawer
Beautiful bed storage in beech in size 80 x 200 or 90 x 200 cm.
The price of this bed frame is 2.395 kr. If you have a single bed, this is a perfect way to make it look really nice in the room. It's made from beech wood, which is both pretty and easy to maintain. There is a drawer under the bed which is easy to slide in and out. This bed frame is available at Bed factory outletwhere you can find great prices on beds and other accessories.
Bed storage: a good solution for many
The bed frames have actually been on their way out of the market, but are now on their way back with full speed. They give a nice look in the bedroom, and also have the great advantage of having plenty of storage space due to the drawers in the bed frame. If you choose a wooden bed frame, with plenty of space and bed storage, you will have a beautiful solution that will give your bedroom and bed a beautiful and aesthetic touch. The bed frame is a beautiful piece of furniture in your home, so it's much more than just a bed.
However, if you're looking for bed storage for more practical reasons like lack of space, there are plenty of good options here too. For example, many parents choose to sleep in the living room for a while so their children can have their own room. This is where a bed with storage is really ideal, so bedding can be packed away quickly and easily. It's also a popular solution for small apartments or dorm rooms. It is also worth mentioning here that a sofa bed can also become a solution for bed storage, as there is often space for storage in a sofa bed. Sofa beds don't have to be miserable to sleep on, as they've had a reputation for - see much more about sofa beds right here.
If you can't find a bed with storage that's right for you, the solution may be smart bed drawers made to slide under the bed. This is a very popular solution for many, as it is both easy to cheap and you get plenty of bed storage that way. See bed drawers here.
Ordinary plastic bedrolls have been a great solution for many years, as they are really cheap and also provide plenty of storage under the bed. Bedrollers are an inexpensive solution - see more and buy here.
Junior bed with bed storage - very popular solution
We have also chosen to take a look at junior beds with storage, as this is a popular solution in many children's rooms. Children spend time in their room both when they are sleeping and when they are playing and having fun. Older children in particular spend more time in their room when they start bringing friends home from school. In children's rooms, the bed also functions as a sofa, which is why it's extra nice to have bed storage so that duvets and pillows can be packed away quickly and easily. Bed storage can also accommodate bed linen and sheets, which otherwise quickly take up a lot of cupboard space. In addition, a junior bed with storage space looks cosy, as it creates a setting around the bed that most children will love.
Here we have highlighted some examples of junior beds with storage.
Junior bed with drawer
Beautiful junior bed with drawer underneath, which provides space for storing either toys or bedding. You can choose from many more designs at Wuptiso you can find just the right junior bed for your child.
Cute junior bed with flowers and butterflies
Junior bed with bed storage - perfect for children's room
A junior bed with two drawers underneath for extra storage space in the nursery. The bed is beautifully decorated with flowers and butterflies, which many children will love. This junior bed is made of sturdy MDF with lacquered surfaces. The bed is suitable for mattress size 140 x 70 cm.