Looking for the many beautiful Schleich animals? Then you've come to the right place! 🙂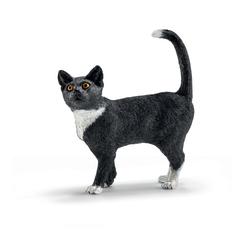 Contents
Click to see the different figures.
Why Schleich animals are so popular
The beautiful animals and figures from Schleich are hugely popular with children of all ages. The animals are really good quality and can stand up to lots of play, even if it's a bit rough. The animals are made of soft plastic so they won't break or shatter easily. They're flexible.
You can choose from virtually any animal on the planet. No animal is too small or too different, and that's one of Schleich's great strengths. It's not just cute rabbits and beautiful horses, but also scorpions, snakes, dragons and dinosaurs. Schleich animals are therefore a really great opportunity to teach your children about the world's different animals and animal species.
Hand painted and unique
All the animals are hand painted and therefore unique. It is beautiful and good craftsmanship, where a lot of work has gone into it. Prices range from around £9.95 for a small cat, up to £9.95 for a large dinosaur, such as the dangerous T-Rex.
Healthy materials
Schleich has only used materials that have been selected and tested as safe. They are under quality control and comply with all national and international safety regulations. The materials are tested by independent laboratories.
Here you can buy Schleich animals
The beautiful animals are traded here and here.
Schleich horses
Choose from many breeds among Schleich horses.
Schleich horse stable | Large horse stable with lots of accessories
Beautiful and realistic horse stable, where the horses can stand when they are not being ridden. All schleich products are designed to look incredibly realistic. Everything is hand painted. Here you get a really nice toy that can last for many years. The best gift for the horse-loving child. Schleich horse stand costs 999,95 kr.
Schleich stable contains
horse stable with stalls

2 horse

fence for enclosure

a rider with saddle, grime and equipment and

different kinds of feed

Icelandic pony
Very nice Icelandic pony. Schleich horses are hugely popular and there really are many different breeds to choose from. It is also possible to get stables and various accessories for schleich horses.
Arabian stallion
Big and nice schleich horse. Here is the breed of an Arabian stallion. There are many breeds to choose from among schleich horses.
Schleich horse wash
Now it's time to get the horse ready. The set contains 9 parts and includes both horse and riding girl. There's plenty of scope to let your imagination run wild.
Schleich animals
Among Schleich animals are almost all kinds of animals...
Large schleich elephant
A big male elephant. Just one of the many Schleich elephants to choose from. All Schleich animals are hand painted, and incredibly durable.
A scorpion
A nice scorpion on with stones that costs only 39,95 kr. A really great way to teach kids about all kinds of animals that live in nature.
Schleich fairy on horse
Let the adventure begin with this beautiful fairy on a schleich horse. The fairy has both wand and wings.
Schleich andrik
Rap rap! A cute duck that kids know from their own everyday lives.
Schleich bird | A toucan
A beautiful exotic bird. Hand painted and super durable toy from Schleich.
Schleich dinosaurs
Beautiful prehistoric animals - all schleich animals are hand painted and lifelike.
Schleich dinosaur | Brachiosaurus
Long-necked herbivore, probably one of the most classic dinosaurs. Dinosaurs interest many children as they are particularly large and, of course, quite different from the other animals we know that live today.
Schleich dinosaur | Tyrannosaurus Rex
Really big predator. This T- Rex is the cause of many speculations and stories. Now you can have your very own T Rex as a Schleich dinosaur, here in medium size. The dino is incredibly lifelike, and even appears a bit scary.
Schleich dinosaur | Allosaurus
Another dinosaur with big teeth. This Schleich dinosaur is sure to delight dino-loving children. It's hand-painted and can last for years of play and fun.
Schleich dragon
The big imaginary animals are very exciting for children.
A big red dragon
A fearsome dragon! The animal is hand painted and has the most beautiful details. It will look great as a decoration, but it can also be played with. A really nice Christmas or birthday present.
Schleich dragon
Another nice dragon from Schleich. Here with wings out, and in attack position. The dragon is superbly made, and will certainly let your imagination run wild.
Schleich dragon with blue shades
All schleich animals are hand-painted, including this handsome dragon in beautiful shades. A great gift for children who love everything to do with dragons.
Schleich Christmas Calendar
New Schleich animal every day until Christmas.
Schleich Christmas calendar with wild animals
24 fun toys from Schleich. Some of the gifts are wild animals such as panda and tiger. Others are slightly smaller items that are also fun to play with and fit in with the wild animal theme. A really fun idea that makes the month of December much more exciting.
Schleich Christmas calendar with farm theme
Another Christmas calendar that will bring lots of new content to the farm. There's a dog, a cow, a hen and much more to fit in perfectly on the farm. This wonderful Christmas calendar can provide hours of play!
Schleich Christmas calendar with farm animals and farm accessories
Lots of new animals and accessories for the farm. A wonderful Christmas calendar, which is a really good alternative to the chocolate Christmas calendar. Every day, the child can open a new door and get a new animal or nice accessory for his farm.