Playing with sand is fun, no doubt about it! A sandbox table can be the perfect place for your little golden nuggets to play with sand. They don't sit on the ground, but on a bench, and even better, the sandbox isn't just a box in the corner when it's covered, but becomes a nice picnic table that can easily fit into the garden design, whether you have a small or large garden.
Bench sandbox from Plum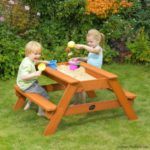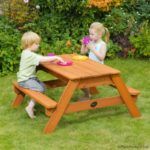 We simply couldn't stand this sandbox table. A sandbox is hundreds of fun hours of play, but many people fail to purchase a sandbox because they don't know about options like the sandbox table. It's a handy sandbox that super easily turns into a picnic table when not in use. That means it can be used for outdoor dining, and when the kids are done eating, you can easily remove the wooden top and a glorious sandbox emerges. The sandbox is made with premium FSC® certified wood with rounded corners for better safety.
If you have one or more children who are around 18 months or older, we recommend that you buy a sandbox table. It is easy to assemble and the amount of sand needed for one is 15-30 kg.
A perfect sandbox for the small patio or garden where you just want something more design-friendly than a wooden box in the corner when not playing in the sandbox.
You can read more about a healthy sandbox here.
Buy sand for your sandbox online
It is a good idea to have good clean sand in the new sandbox table. It is also possible to buy the sand online. One option is HERE.
A bag of sandbox sand, seen for 27 kr (+ shipping), will fit nicely with your children's new sandbox table 🙂
https://startpakke.com/wp-content/uploads/2017/03/logo.jpg
0
0
Start package
https://startpakke.com/wp-content/uploads/2017/03/logo.jpg
Start package
2017-03-26 08:42:34
2017-08-22 11:38:12
Sandbox table - Picnic table with built-in sandbox is a hit