As the warm season approaches, it's time to find sandals for kids. On this page, we've highlighted some of the best sandals for kids of all ages, with different designs and features.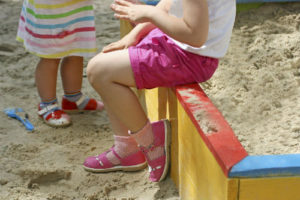 When buying sandals for your child, it goes without saying that the child's individual needs and foot should be taken into account. Many children need a sandal with extra support in the form of a good heel cup, and luckily the vast majority of children's sandals have a heel cup. Beyond that, you should choose the sandal according to whether your child has wide or narrow feet, and of course according to age. Smaller children, under 5-6 years of age, generally benefit most from closed-toe sandals.
See much more about this, and see suggestions for great sandals for kids below
When you buy sandals for children online...
Nowadays, many people choose to buy their children's sandals online, where it is possible to get a quick overview of the range and easily find the best price for the sandals. When buying shoes for your child online, it's nice to know that they can be returned if they don't fit. You always have a 14-day right of withdrawal when shopping online, so if the sandals have just been tried on inside, you can easily return them and buy another model or size.
Find the right size of sandals for children
Before you buy sandals for the kids, you obviously need to consider what size. Be aware that sizes can vary within brands, so your child may not need to wear the same size in all brands. So when you're looking for the right size of sandals, always look at each brand's size guide. As there is no room for thick woollen socks, you may end up choosing a pair in the same size as the winter boots, even if your child's feet have grown.
As a rule of thumb, there should be about 1 cm from the toe to the edge of the sandal.
Best sandals for baby and toddlers | Closed toe sandals
Sandals for babies and small children should preferably have a closed toe. This protects little toes from bumps and pain if something hits the foot or the baby falls over. It also helps them stay on the foot a little better, as the feet can't 'slip' out of the sandal itself. A pair of closed-toe sandals will typically be the best choice until children are 6-7 years old, but of course there will be some who do better with an open toe. This is where you need to assess your child's individual needs.
Pom Pom sandals with closed toe
Great leather sandals from Pom Pom. The sandals have a smart Velcro closure across the instep, so they are easy for the child to take on and off. These sandals cost 549,95 kr. at Kids - World.  Pom Pom is a popular brand, and many children do very well in sandals like these. There are several colours and designs to choose from.
Suggestions for sandals for wide feet
If your child has slightly wide feet, shoes from Bundgaard or a few models from Angulus are a good idea. They have a good width, and will therefore fit well on most wide feet. In fact, many children need sandals for wide feet, as they have a little more "fat" on their small feet, and therefore need these sandals for wide feet.
We've highlighted a few examples of sandals for wide feet below the text here.
Bundgaard sandals for wide feet
Many children with slightly wide feet do well in shoes from the Bundgaard brand. Shoes and sandals from Bundgaard are generally a bit wider than many other models on the market. This model costs 599,95 kr. at Kids World. The sandals have two velcro straps across the foot, so they can be adjusted and fit snugly. The sole is very soft and comfortable to walk on. They have a closed toe, which is the most popular choice when it comes to children's sandals.
Angulus sandals for children with wide feet
When looking for a pair of sandals with wide feet, avoid sandals that taper slightly towards the toes. This can quickly cause pressure on the toes, which impedes the child's movement and is generally unhealthy for the feet. This model from Angulus has a closed toe, and is nice and wide in the toe, and will therefore fit well on many children who have wide feet. They can be bought for 749,95 kr. at Kids- World.
Sandals for narrow feet
If your child has narrow feet, it is important that the sandal can be tightened with a wide Velcro strap. Some sandals are fastened with a regular strap with holes in it, like a belt, and this will rarely be the best sandals for narrow feet as they cannot be fastened as tightly to the foot. In a pair of sandals for narrow feet, it is particularly important that the child can run, jump, etc. without the feet sliding around inside the sandal. Therefore, make sure you let your child wear the sandals at home for a few hours before putting them to real use. If the child gets chafed or trips, this is a sign that they may be too wide. The solution may be to choose a size smaller, or simply a different model altogether.
Here are a few examples of sandals for narrow feet:
Sandals for children with narrow feet: primigi sandals
These sandals are sold at Good Shoes, which has a range of shoes and sandals for children who need good support. This model has a fixed heel cup, which gives the foot a good support. The wide Velcro strap across the ankle ensures that the sandal stays firmly in place. Notice the soft piece at the top of the heel cap, which prevents the sandal from rubbing or feeling uncomfortable against the child's foot. The sandal costs DKK 499.95. here.
Move by Melton sandals for kids
These sandals from Melton would suit most children with narrow feet. They have two velcro straps across the ankle which allow them to be tightened securely. They have a closed toe, and a firm heel cup which makes the shoe sit really firmly on the foot. These shoes cost 449,95 kr. at Kids-World
Sandals for children with high instep
All baby feet are different, however there are some small children with high insteps. This means that the foot is quite high "on top". This can make it difficult to find proper shoes for your child, as narrow shoes can sometimes be almost impossible to put on. Sandals for children with high insteps should be flexible and soft, and not the narrow models. Feet with high insteps are often also wide, so you can start by looking at the wide models when looking for a sandal for children with high insteps.
Memo Dino sandal with extra support
Nice sandal, which is good for children who have a high instep. The sandals can be adjusted on all three velcro straps, so they can be loosened over the instep if needed. The sandals also have an extra high heel cap, which provides really good support. Many children with high insteps may find that their sandals actually fit too loosely, as they need to be a little too big. This sandal will sit extra firmly due to the high heel cup. The sandal costs 599,95 kr- at Good Shoes.
RAP sandals for feet with high instep
This sandal from RAP can be adjusted in three places and provides good support with the firm heel cap. It is a wide model, and will therefore often fit well on wide feet or feet with a high instep. The sandal costs DKK 599 at Good Shoes.
Sandals for kids - which sandals for kids should you choose?
Sandals are a must-have in children's summer wardrobes. Typically, sandals will be needed sometime during May or April, but it all depends on the weather. It often gets hot overnight, so it's actually a good idea to buy sandals as soon as they appear in the shops, which is typically in March or April.
It can certainly be difficult to decide which sandals are best for children, as all children have different feet and therefore individual needs. If your child has had shoes or sandals in the past, it's a good idea to go for those shoes and maybe even choose the same brand again if you're happy with the shoes.

When choosing sandals for children, it is of course also relevant to consider how much money they may cost. Sandals for children can cost as much as around 750 DKK, but that doesn't mean they have to be the best sandals for children. You can easily choose some cheap sandals that just fit well on your child's feet. Sometimes you are lucky to find a pair of cheap sandals for kids that are on sale. If you're willing to compromise on colour choice, for example, you can save a lot of money this way on your budget in children's sandals.
Sandals for boys and girls
There are a multitude of different colours when looking at sandals for children. If you're after some specific sandals for boys or sandals for girls, then there's plenty of opportunity to choose some pink ones with flowers, or maybe some blue ones with footballs for example. Superfit sandals in particular have many great colours and designs to choose from. However, you can also easily find a pair of sandals for children that can be used for both boys and girls. This could be, for example, some brown ones in leather, which can be nicely used as sandals for both girls and boys.