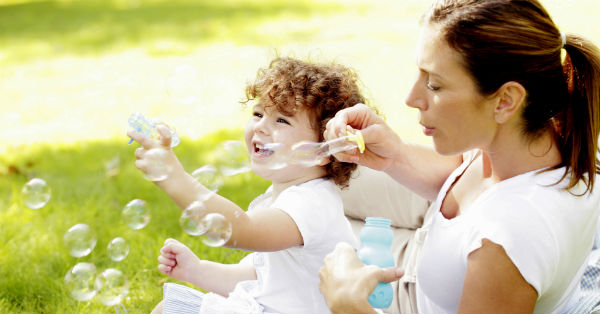 The sun is shining and you are going to play in the garden. But is your garden or outdoor space ready for play and movement? Get 10 ideas for games that make playing outside extra fun!
Here we list 10 undoored games with the cheapest first. Finding fun outdoor games doesn't have to be expensive or difficult.
1. Blowing soap bubbles
Blowing soap bubbles is a hit with kids big and small. The little ones try to catch them and the older kids can blow them themselves. A great game that's easy to take to the playground or garden.
Lirumlarumleg sells this special soap bubble water, where you can hold the soap bubbles with a flat hand. It makes the game extra fun! Buy soap bubbles here for 23,95 kr. 
2. Drawing with chalk
Remember the bucket trains of your childhood? Drawing with chalk challenges creativity and hopping on one leg is a motor skill. And the kids think it's fun. Chalk doesn't cost much and it's a great game on a spring day.
A whole bucket of chalk costs DKK 39.95 at Lirumlarumleg. Buy kidt HERE.
3. Explore nature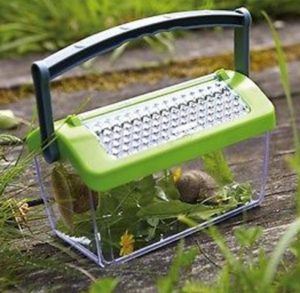 Nature is a great place to learn about animals and plants. Put animals in this box and let children observe them. They are a great opportunity for children to learn about animals and how they live.
They'll love looking at the animals and then putting them back where they belong.
For example, buy an insect box with handle for DKK 99.95 at Børnenes Kartel. Buy it here. 
4. Swimming pool
When it's really hot, it's great to cool off in a pool. It doesn't take up much space and is easy to inflate and fill with water. Children love splashing around in the water.
Choose the best pool for children and babies
5. Kongespil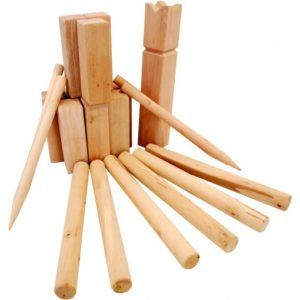 Here's a game the whole family can enjoy together. The game is also popular for summer barbecues.
Set at Sundleg for 199 kr.
6. Running bikes
Bicycles can be used by children as young as 2 years old. Children love to get around on their own and they develop their balancing skills on a treadmill.
See the best racing bikes here! 
7. Take the kitchen outside
Sand, grass, dirt and mud have suddenly become play food in the pots. Kitchen play becomes even more fun outside! Give the kids pots and spoons and they'll be whipping up delicious dishes from the fun things they find inside.
8. Playhouse
A playhouse invites you to many hours of play. Here you can hide away from the adults and have fun.
This playhouse is made of sustainable materials. The playhouse is made of cedar wood, which is resistant to fungus and rot. Children will no doubt spend many hours in their playhouse!
The playhouse is seen at Sundleg for 2.999 kr.
9. Rocking stand
Swinging and sliding on the slide is a wonderful game that children can play throughout their childhood.
This swing set is of great quality and can last for many years.
Price: 4.249 kr.
Buy swing set with slide here. 
See more fun swing sets for kids here
Here are the 3 best baby swings!
10. Trampoline
Trampolines are becoming increasingly popular, and with good reason. Jumping is healthy and children develop their balance and motor skills. Children can play for hours on a trampoline.
 See the best trampolines here.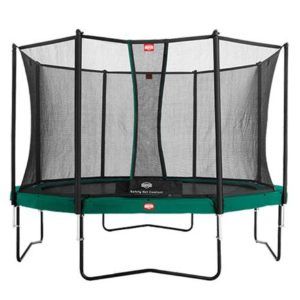 This trampoline from the Berg brand is extra safe, and with good springs that provide a good jumping experience. Price 6.499 kr.
Outdoor play - why it's healthy
When children play outdoors, they get to use all their senses. They can run around freely and have more space to move, which develops their balance.
A child's ability to balance not only determines their ability to walk and run, but also improves their learning, language development and allows them to better participate in social games. Outdoor play can therefore be easily integrated as an important part of children's development.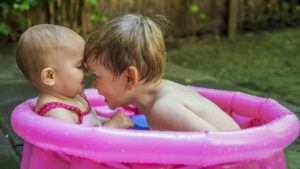 Balance is developed when the three main senses are stimulated:
The sense of the labyrinth
The sense of labyrinth is the position of the child's head in relation to the body. A good way to stimulate this sense is, for example, by swinging, hitting somersaults or hurtling down the slide.
Sense of touch
The child will naturally "see with his hands". While this may be less exciting for mum and dad to study the oatmeal, it's really good for mini's development. Outdoor play offers great opportunities to feel sand, grass, pick flowers and more. Swimming in a pool on a hot summer's day is also good for this sense.
Kinæstesisansen
All movement is good for this sense. Sense is about being aware of your body and feeling the different muscles and parts of your body.
Outdoor games: here it all comes naturally
If you don't want to think about your child's development when you go to the garden, don't worry: it will come naturally. All children are naturally curious and love to move and run around. Maybe you can use some of the 10 ideas for outdoor play on this page to encourage kids to get out and play, get red cheeks, and become healthy and happy kids!
https://startpakke.com/wp-content/uploads/2017/04/udvalgt.jpg
314
600
Maria
https://startpakke.com/wp-content/uploads/2017/03/logo.jpg
Maria
2017-04-07 07:31:37
2017-08-22 11:43:13
How to get the kids out and playing - 10 fun outdoor games kids will love!