If your child loves all things polite, you've come to the right place! We've put together a small selection of police toys for kids of all ages.
Scroll down and see police toys for children
Handcuffs - to catch robbers
Fun handcuffs for kids who love to play policeman. Keeps robbers in check. The handcuffs are made of hard foam, so they won't get stuck or hurt in any other way. Can be used for both play and dress-up. Set at Lirumlarumleg for 69,95 kr.
Police "motorcycle" in wood
If your child loves to play police officer, this racing bike aka motorcycle is perfect. It's made of wood and decorated like a real police motorcycle. There can be full speed ahead with this cool bike. It can be used both for play and for everyday transport. The running bike is suitable for children from about 3 years, depending on the height of the child. You get a really nice bike of good quality that doesn't cost a fortune. Seen at Cycling partner.
Large Lego City police station - from 5 years
At Legen.dk you can get the cool and realistic police station for 899 kr., but is often on offer for a lower price. The police station is built from a cell wall that can explode, which most cop-loving kids will think is cool. Included are a police helicopter, police car, police motorcycle and bad guy truck, seven minifigures and police dog. Lots of opportunity to play and build with police. Really cool police toys for kids!
Lego City police helicopter and cars
Here's an example of police toys for children aged 5 and up. With this fine set from Lego, there is plenty of opportunity to play police and at the same time challenge fine motor skills. The set is an addition to the Lego City police station, but can of course also be used on its own. You get both the police helicopter and two cars, which allows for lots of play. Younger children may need an adult to help them assemble the set. Like everything else from Lego City, this is very good quality with lots of realistic detail. Seen cheaply at Legen.dk.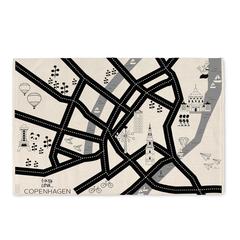 Playmat with roads - perfect accessory for police toys
A beautiful carpet that is perfect for police play. The carpet has drawings of other things on it, making it fun to drive around the countryside. Can also be used to drive small metal cars.Buy the carpet with the car track here
Police toys for children
Does your child also like WiiU WiiU and BANG BANG! Is the most fun thing in the world? Then police toys for kids are definitely for your child! Police toys for kids come in many shapes and different toy series, where your child has the opportunity to simulate the wildest police chase or enforce the law on their own with a real police costume! Police toys for kids are super popular with boys' kids in particular, with realistic toy cars being one of the coolest things around and perfect for toy car collecting!
Miniature police toys for children
Police toys for children are available in different size toy cars, where some are quite small and others larger, where some are completely stationary toy cars that can be pushed across the floor on its wheels, and others can open doors and even have sirens with sound. In addition, of course, you can get toy motorcycles in true police style. Police toys for children in the form of miniature cars are toys that allow children to really play police, where all effects can play a role, such as teddy bears that are captured. Police toys for children are also available in a number of series where, among others, LEGO has developed police toys where your child can build their own police station and chase thieves in police cars.
Full size police toy
Your child can also play police officer with a real police costume for kids, which makes chasing bad guys in the garden extra fun, and maybe with their very own police dog. In addition, police toys for children are available in the form of fun and child-friendly vehicles, such as a plastic scooter marked as a real police motorcycle, which only makes it easier in the hunt for villains and thieves. Police toys for kids come in a multitude of species and styles where one thing is for sure, the law will be enforced in the game of police.