A 3 year old child has become more independent and wants to do everything for himself. This also means that parents need to be patient because it is healthy for children to learn from their independence. A 3 year old loves dancing, singing and all motor play. However, girls' toys for 3 year olds can also include fun books, as children at this age like to listen to stories. At age 3, play becomes more social as the child's solitary play turns into social play with other children. These can be games that start and suddenly end. The child is also alert to anything new and a game is usually very unstructured.
Read below for great ideas for girls' toys 3 years old. Here you will find good inspiration for different interests. Read along here.

 Interesting girls toys 3 years
A hit with 3-year-old girls are toys such as finger paints, colouring books, beads, puzzles, modelling wax and motor toys to challenge balance. Girls' toys are therefore both toys that the child can play with alone, but sometimes also with other children and adults. Children at the age of 3 have both a lot of imagination, but the safe people and environment in the child's life are also something that the child focuses on in the play itself. See our suggestions for exciting girls' toys 3 years below.
                                             Modelling wax starter set from Krea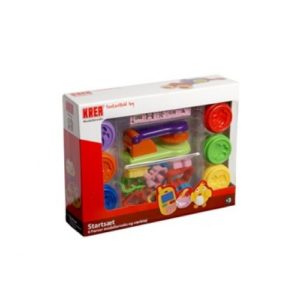 This box of modelling wax contains 12 moulds and 6 fun colours of modelling wax, 56 grams per tin. Here the child can spend many pleasant hours being creative. Afterwards, the modelling wax can be left to dry so that the nice things the child has created can be saved. A great gift idea and an ideal toy for girls aged 3. Find the nice starter set with modelling wax from Krea for 99 kr. at retailer Sundleg here.
River Stones from Gonge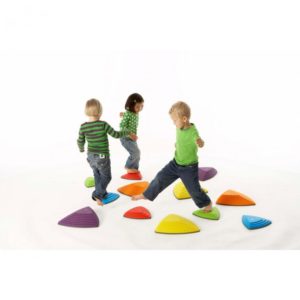 River Stones are balance rubber "stones" in great colors. They can be used to challenge and stimulate balance alone and with others. The possibilities are many, as the child can play stop play, earth is poison, obstacle course, balance training and jumping from stone to stone. With River Stone, your child can build an entire obstacle course and have hours of fun. It is brilliant girls' toy 3 years as River Stones help to strengthen balance, distance judgement, coordination and gain control of the body. River Stones are made with a rubber edge for a non-slip surface that also leaves no marks on the floor. They can be used for both indoor and outdoor play. Find the fun River Stones for € 395. at the retailer Children in Balance here.
                                                             Nice coloring book for the creative girls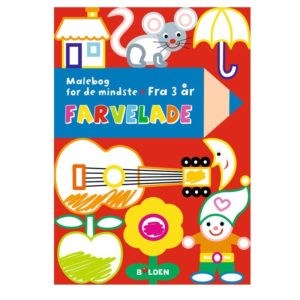 Cute little colouring book adapted for the little ones. Here the child can colour according to the coloured outlines of the drawings, which show which colours the child should use. These are cute and manageable drawings that the child can have fun with, depending on how much interest they have at any given time. The colouring book is a great gift idea and super entertainment. Find the cute colouring book from the publisher Bolden for 39,95 kr. at the retailer LirumLarumLeg here.
Mini colouring pencils for the beginner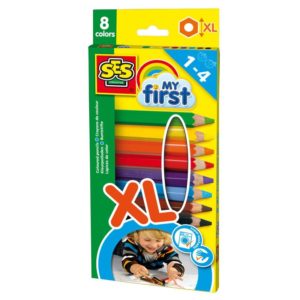 The colouring book comes with crayons, of course. These crayons are specially designed for the little ones. This means that the box contains 8 thick mini crayons that are ergonomically designed so that it is easy for the child to hold on to them to colour. The crayons are hypoallergenic. These mini crayons can be found for 44,95 kr. at the retailer LirumLarumLeg here.
                                                          Puky scooters for active girls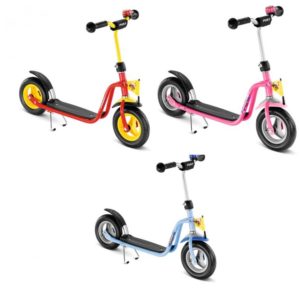 Cool scooter with 2 large wide foam wheels, height adjustable handlebars, safety handlebars, toecap, bell, foot brake, non-slip running board and support legs. Smart scooter that is perfect as part of girls toys 3 years when the active girl needs to be challenged motorically. The scooter is available in light blue, pink and red and costs DKK 629. at the retailer Children in Balance here.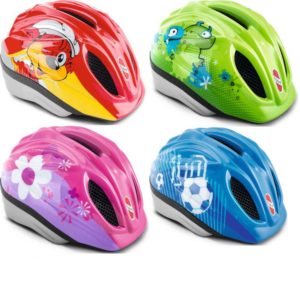 A 3-year-old child who has been given a scooter should also be equipped with a bicycle helmet, so that the safety equipment is in place. This smart bike helmet from Puky is lightweight and very comfortable. The bike helmet is available in several colours and can be found for 249 kr. at the dealer here.
                                           Doctor set in wood from Hape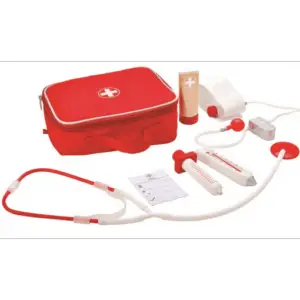 Nice wooden doctor's set with stethoscope, temperature gauge, syringe and ointment. All parts are packed in a practical doctor's bag that can easily be carried around. Ideal girls toy 3 years, for the youngest who like to play hospital or doctor. The doctor's set is also a good toy to make the child aware of the equipment a doctor has. You can talk to the child about the different parts so that he or she can be prepared for a doctor's consultation. Find the doctor's set from Hape for 199 DKK. at the retailer Sundleg here.
Nice tea set from DJECO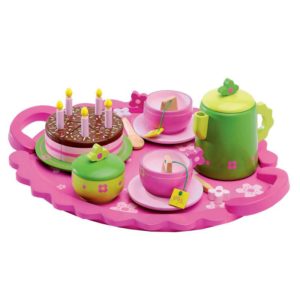 This tea set includes a tray, teacups, teapot, sugar bowl, tea straws, spoons and a layer cake with candles. All the pieces are made of wood with a super cute and colourful design. This lovely tea set is an ideal girls' toy for 3 years old to invite dolls and friends for a tea party. There is room for many cosy hours in good company. Find the nice pink tea set from DJECO for 339,95 kr. at the retailer LirumLarumLeg here.
                                                       Wooden dollhouse from Le Toy Van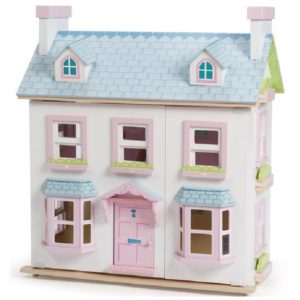 Super nice 3-storey dollhouse with beautiful attic windows, chimneys and interior staircase. The doll's house is decorated with fine details in cute colours both outside and inside. The door and shutters can be opened and closed. An ideal toy for girls aged 3 and a great gift idea. The front of the dollhouse can be opened and the roof can be lifted off completely so the child has plenty of opportunity to play properly with the dollhouse. The doll's house is not assembled on delivery and is exclusive of furniture. Find the cute feminine dollhouse from Le Toy Van at retailer Børnenes Kartel here.
Wooden dollhouse furniture from Le Toy Van
For the dollhouse from Le Toy Van there is here the possibility to buy the matching dollhouse furniture in wood. It is a beginner's furniture set that has furniture for the most important rooms in the child's play with the doll's house. The set includes beds, bedding and toys for the nursery, kitchen with oven and sink and table, chairs, bookcase, plates, flower and more for the dining room. Find the cute wooden dolls house furniture from Le Toy Van at the dealer here.
https://startpakke.com/wp-content/uploads/2017/03/logo.jpg
0
0
Maria M
https://startpakke.com/wp-content/uploads/2017/03/logo.jpg
Maria M
2017-09-18 12:03:05
2017-09-18 12:03:05
Girl toys 3 years - Interesting girl toys for 3 year olds