Did you know that 10,000 Danes are diagnosed with contact allergy every year? These include young children, adolescents, women and men. Contact allergy does not belong to a particular age group or gender. Contact allergy can affect anyone, young or old. Unfortunately, more and more children are starting to suffer from contact allergies.
Once your child has a skin allergy, it's not something they'll outgrow. It is therefore important that you consider from the beginning of your child's life what products he or she should be surrounded with. If we are to think about our children's skin and know that they will be carrying it around for many years to come, what is best?
Read on to find out how to protect your child from developing allergies.
As parents, many think about what products will go home on the shelf. Some think a lot about ecology, some think soap should be fun, green and smell like chewing gum, and others would like to have as many brands on their products as possible.
As consumers, we trust the products that surround us. Because why should they be put on the shelves if they can be harmful to us?
Unfortunately, we do not live in a perfect world or country and some products are harmful to us in the short or long term. Nevertheless, there are organisations doing their part to ensure that the products that surround us are good for us. That is why it is good to look for the different allergy labels that exist, such as the Asthma and Allergy Label or AllergyCertified.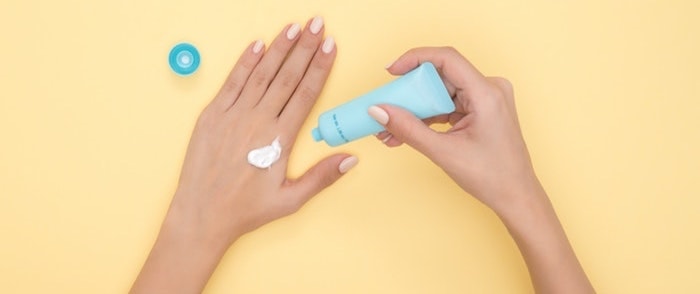 Be kind to your skin - The safe choice

At AllergyCertified, different products are examined in depth to see if they can be allergy labelled. When you have a product that is allergy labelled, you need to feel confident that you are helping to look after your skin and that of your family.
AllergyCertified is a Danish initiative started by Lene Stiil and Ewa Daniél. This is an allergy label that is not only available on the Danish market, but goes beyond the Danish borders. AllergyCertified is based on the Danish standards for what substances a product may contain.
For you as a consumer, this means that you can look for this allergy label when you are on holiday in the south, for example. This gives us greater confidence in the product we buy and take home. Be Kind to Your Skin is a campaign AllergyCertified ran in September to raise awareness of contact allergies.
But is there a need to raise awareness of contact allergy? We asked Lene Stiil, CEO of AllergyCertified and her answer is:
"We know that people still think natural is better than synthetic. That's not true. We know that people still think that there are natural perfumes that are not allergenic. That's not true. We know that people still believe that rinse off (shampoo etc.) is harmless precisely because it cleanses the skin quickly. That's not true."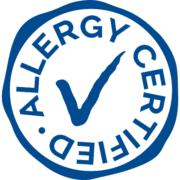 There is therefore still a lot of ignorance about how the skin is affected by the products we use. That's one of the reasons why they decided to create a campaign like Be Kind to Your Skin. They know it won't result in here and now behavioural changes, but by repeating the message enough times, more consumers will become better at looking after their skin. "It's a long, hard haul - but we'll get there," says Lene Stiil.
How to avoid contact allergy
Do you find it difficult to find products that are not harmful to your child's and your own skin?
As consumers, it would be nice to have a list that told us which ingredients to avoid, so we could better know which products to avoid. Unfortunately, it's not that easy. Here's what Lene Stiil has to say"In principle, all ingredients can cause contact allergy. However, there are a large number of ingredients that have a higher allergy potential than others. For example, it is extremely rare for someone to develop an allergy to water."
But if in principle anything can cause allergies, what can we do to best protect our children's skin and our own? "As a good rule of thumb we can say: Always avoid direct skin contact with fragrances, whether natural or synthetic. Always avoid the preservatives formaldehyde and formaldehyde donors as well as Methylisothiazolinone (MI)."
Always avoid the following products for your child and yourself:
Fragrances - Both natural and synthetic
Formaldehyde
Formaldehyde donors
Methylisothiazolinone (MI)
You can see if the ingredients are in your products by closely reading the contents on the back.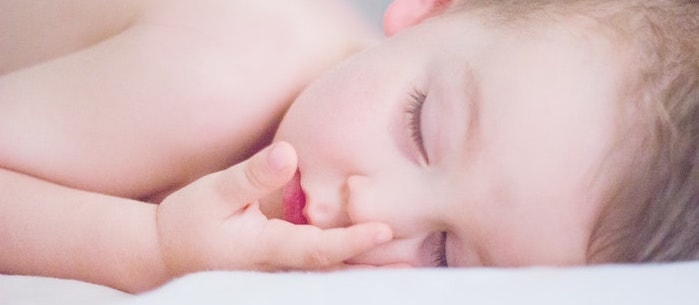 A perfectly skin-friendly life
If you ask Lene Still, her goal with AllergyCertified is clear.
"The goal is that within the next five years, consumers will be able to live a completely skin-friendly life. This means that when you buy clothes, you can choose allergy-certified. When you buy toys, you can choose the allergy-certified version. When you buy glasses or make-up, we have checked the contents for allergies."
It's a good idea to prevent allergies. If your child gets allergies at one year old, they will follow you for the rest of your life. Skin allergies are not something you grow out of, but rather something you're more likely to get more of if you're already allergic to one ingredient. Unfortunately, there is an increasing trend of children developing skin allergies at a younger and younger age.
Many people have the idea that we should use as many and as fine products as possible. In the baby world, there are fashion products that don't necessarily have to be good for your baby. Therefore, it is important to be critical when choosing a product for your child.
"We can all help to question the claims that different brands make when selling their products. For example, a phrase like 'paraben-free'. What does that mean? Well, it means that the product has not been preserved with parabens. But what preservatives have been used? And what else is in the product? The term 'paraben-free' says nothing about that, but it does mislead consumers into thinking 'I'm home free'." says Lene Stiil.
Tips for the changing table:
We cuddle and care for our little ones from the moment they are born. But you don't really need that many things on the changing table, even if the shops are full of different products for your baby.
Cloths to wash the baby with
Clean water
A fat cream at 50-70 percent fat and WITHOUT perfume
For the bath, it is enough to use a few drops of oil in the water, as long as they are babies. Only when they start playing in mud etc. will soap be necessary. But here you can choose a fragrance-free soap to protect your baby's skin as much as possible.
This is what you need to be aware of when buying products for your child:
Eco-labelled products (Swan and EU Flower) are good for the environment, but don't necessarily protect your child's skin from contact allergies.
Organic products should not contain perfumes, for example, which can cause your child to be allergic to perfumes.
If you have become allergic to one ingredient, you are more likely to become allergic to several.
There is no such thing as allergen-friendly, allergen-free or allergen-controlled perfume.
If in doubt about a product, choose one that is certified.
https://startpakke.com/wp-content/uploads/2017/03/logo.jpg
0
0
Anette
https://startpakke.com/wp-content/uploads/2017/03/logo.jpg
Anette
2018-11-28 08:40:58
2019-01-10 08:02:59
Are you taking good care of your child's skin?