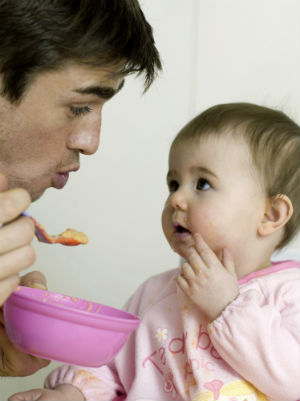 It's a big day for your baby to go from living on milk to eating porridge.
Later, baby will eventually eat the same as the rest of the family. It's a long process that will only be successful with patience on the part of the parents.
Read here how to prepare and make the start of porridge a good experience for both you and baby.
Table of contents
Scroll down to read more about starting porridge and mash.
Starting porridge: 4 -6 months
What time of day?
How much and which porridge should baby have?
Good accessories: Baby china, baby plate and bib
🥄 When is baby ready for school meals?
Baby should be introduced to bowl feeding, at the earliest when he is 4 months old, and at the latest when he is 6 months old. The baby should be able to hold his head and eat from a spoon, which is a completely different technique from sucking on a bottle or breast.
Every child is different, and as a parent you need to assess your child's readiness.
According to the National Board of Health's recommendations, it's best to wait until baby is close to 6 months of age before starting solid food, if he's growing and thriving as he should.
Is your baby ready for spoon food? Look for these signs
The child can hold its head, looks curiously at the food and opens its mouth for the spoon.
The child can sit with support and begins to lean forward in the high chair.
The child can start to take the food from the table with his hands and try to put it in his mouth.
The child can show that it is full, for example by turning its head away.
Source: National Board of Health (2016)
When should baby have porridge?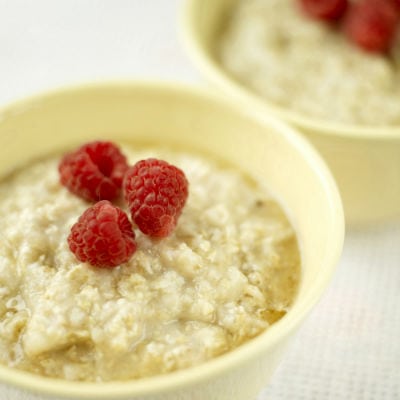 The first time you offer your baby porridge, she shouldn't be too full or too hungry. Preferably after a nap, when baby is alert and fresh.
If your baby is very hungry after a nap, it can be difficult for her to bother with the bowl. Give some milk first to take the worst of the hunger, then offer some porridge.
The time of day doesn't matter much. The most important thing is that baby is fresh and ready.
Which porridge is best to start with?
When your baby is just starting out on porridge, it's best to offer mild and creamy porridge. As your baby gets better at eating, you can give him some coarser porridge.
👶 Porridge for baby
These porridges are mild and creamy and therefore very good porridge for baby. They are as similar as possible to the milk that baby already knows and is comfortable with. When giving porridge to baby for the first time, remember that a few spoonfuls may be enough to start with.
Rice porridge
Corn Porridge
Millet porridge
Buckwheat porridge
Quinoa porridge
To sweeten the porridge, or for dessert, you can offer fruit porridge. From the age of 6 months, she can have all kinds of fruit.
Introduce vegetable puree to your child too. The more different kinds of vegetables she gets before she's 1, the more different she'll eat at 3 and later in childhood, studies show. Porridge for baby can therefore be much more than just oatmeal with sugar.
How much porridge should baby have?
How much children eat varies. It is therefore not possible to set a fixed amount for how much porridge is enough. For some, a few spoonfuls is enough, and others have almost no stopper.
Only if your child is not gaining enough weight may it be necessary to measure how much food he or she is getting. However, this is almost always done in consultation with a doctor or health visitor.
Give it time
It takes time for baby to get used to a whole new world of food. So don't be disappointed or worried if your baby only wants 2 spoonfuls of your homemade oatmeal. Some babies also get tired of baby porridge quickly and would rather have something to gnaw on. Alternatives to porridge for baby could be a cucumber stick, morsels or a banana pancake.
If your baby isn't interested in porridge at all, consider reading more about the BLW method, which many mothers and babies love.
In the beginning, you can only expect small samples. And the baby still has a great need for milk until the age of 1.
Good accessories: What you need
When you start giving porridge to baby you will need some equipment if you don't already have it.
A small pot or saucepan for porridge and mash
A hand blender
Plastic tubs for storing baby food
Deep plate and soft baby spoons
A small glass or drinking cup for baby
Good bibs (buy plenty)
Washcloths
High chair
Tablecloth and possibly office chair mat to protect floor and table.
When you shop at Babygear, you get free shipping - regardless of order size. They have a great selection of both dining sets and bibs.
References
Danish National Board of Health (2016). Food for young children - from milk to family food.
Lyng Hansen, Helen (2015). Helen's book on Children and Food - How to get your child to eat.
[yasr_overall_rating size="small"]
https://startpakke.com/wp-content/uploads/2017/03/logo.jpg
0
0
Maria
https://startpakke.com/wp-content/uploads/2017/03/logo.jpg
Maria
2017-06-08 12:28:44
2019-01-22 12:32:48
Starting porridge - How and how much?