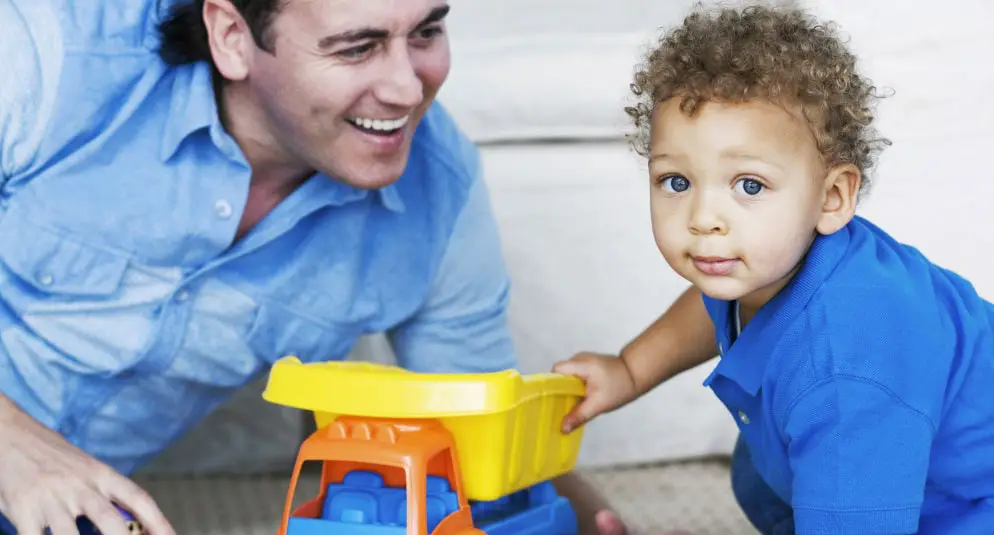 It's worth having good solutions for storing toys at home. It makes it easier for children to find what they want to play with and creates a more calm and tidy home. Read on to see the best ways to store toys.
One thing many parents discover after having children is that the home quickly becomes filled with toys. Day after day the kids play with legos, dolls, play kitchen and many other toys. And at the end of the day, the toys are everywhere. That's why proper toy storage is so important.
Most children want to play where mum and dad are, which is usually in the living room. But that doesn't mean the living room has to look like a playground. There's also good reason to look for good ways to store toys in the nursery, otherwise it can quickly become cluttered.
Baskets for storing toys
Baskets are great for storing toys. They can hold a lot, and can also accommodate teddy bears and dolls, for example. Most children like to be able to pick up and empty the basket themselves. At the same time, it's easy to put everything back in the basket.
---
Large spacious fabric basket
The basket from Liewood is in a nice quality and appears elegant with its two leather handles. The basket measures 62 cm in height, so there is plenty of room for toys. Also available in black. Price 500 kr.
---
3 Baskets from Done by Deer
Here you get 3 baskets that go well together for 249 kr. The baskets come in three different colours. The baskets have plenty of space for toy storage. The height of the sturdiest basket is 33 cm. Choose between 3 different colours.
---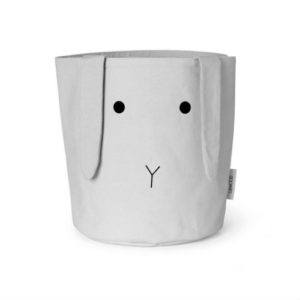 Super cute baskets from Kanvas
The cute rabbit fabric basket from Kanvas is decorative in itself. You can choose from several cute items here.
The baskets measure 30 cm in height, so it can be used for the slightly smaller toys. Price: 199,95 kr.
---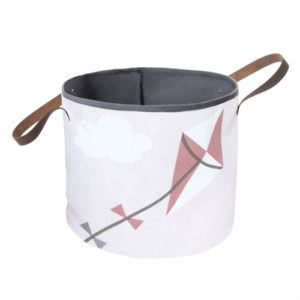 Sebra fabric basket
This nice fabric basket from Sebra will decorate any children's room. Like most of Sebra's products, the basket is kept in pastel colours and adorned with cosy illustrations. This one is from the "Farm Girl" series, but is of course also available for boys. A lovely fabric basket for storing toys. Set at 299,95 kr.
---
Boxes for storing toys
Boxes are great for storing toys. They're easy to clean and they're really handy if they have lids and can be stacked. Toy storage boxes are available in many different qualities and prices. Here we review the best boxes.
If price is important to you, you may want to consider whether the boxes need to be designed for toys. There are many other fun and attractive options if you know where to look.
Lego boxes
Lego is a classic toy, and is found in most families with children in different varieties and designs. However, you need a good place to store Lego bricks, otherwise you'll have them all over the house. And what parent doesn't dread stepping on a Lego brick with bare toes in the middle of the night?
The Lego boxes are great for storing Lego, but can of course also be used for other toys.
The best thing about the boxes is that they can be stacked. In fact, they can be stacked on top of each other just like real Lego bricks. Moreover, the boxes are very decorative and look nice when stacked. The boxes are available in many colours and sizes.
---
Funny info! Why it hurts so much to step on a Lego block
One of the things that comes with becoming a parent is the sharp pain that shoots up through the foot when you unknowingly step on a merry-go-round. The reason the pain can bring tears to the eyes is that our feet are a very sensitive area on our body. In addition, a Lego block is hard and abrasive, and in no way yields to pressure. In fact, a Lego can withstand 423 kg of pressure before it gives way.
All the more reason to clean out those boxes 🙂
Source: todayifoundout.com
---
Decorative boxes from Ferm Living 
Four beautiful boxes from Ferm Living. The boxes are made of strong cardboard and can easily withstand lots of play.
The normal price is 249 kr.
---
Rustic old-fashioned beeraxis
If you're looking for something a little different, store your children's toys in a beer crate. Made from recycled wood, it's available in a range of colours. The price is DKK 199.
---
Large box in felt - perfect for room divider or shelf
Beautiful felt box that helps keep the look clean and tidy. Perfect for the kids' room divider, but can also easily be used in the living room for toys or other items.
The price is DKK 149 without lid. A lock can be purchased for DKK 75.
The boxes are available in several colours. They can be purchased at boxdelux.dk, which specialises in smart storage solutions for the home.
---
Beautiful wooden coffin
A nice way to store toys is in a wooden crate. This wooden chest in solid beech can be bought at My Own World for 2569 DKK. A quality piece of furniture like this can be used for many years to come, and it doesn't just have to be used for toy storage, but can be used for many other things too.
---
Get your toys under control
If you feel your home is drowning in toys, it's a good idea to see if you have the optimal toy storage or if you need something new. Sorting toys can also bring more peace and create better space for them in your home.
Sort the toys into boxes or bags.
Clean up every day - it's a good habit
Review whether any of the toys need to be packed away or sold
Create a play corner with space for storing toys
It is a good idea to create a small area where the toys belong. This makes it easier to keep track of for both mini and her parents. If you like, mark off the area with a foam floor or play mat that's nice to sit or lie on.
Sort the toys
If you have chosen some good toy storage solutions, it is easy to sort the toys into categories. Then your little one can choose what he wants to bring out and play with, and you might avoid having to get it all out every day. Sort toys into boxes or bags.
Make a habit of cleaning up every day
Make it a habit to clean up together every day before bedtime. It helps keep the mess down and is a good habit to give your child.
Are the toys age-appropriate?
If it's been months since your little one has played with the stacking blocks or the button puzzle, it might be time to pack it away, sell it or donate it. Then there'll be more room for the next Christmas or birthday present.
https://startpakke.com/wp-content/uploads/2017/04/1693079-online-1.jpg
535
994
Maria
https://startpakke.com/wp-content/uploads/2017/03/logo.jpg
Maria
2017-04-20 11:06:16
2017-08-23 12:17:45
Storing toys: good solutions for storing toys in the living room or room