Milestone baby cards, or as they are also called, baby milestone cards, are popular when we need to remember the biggest moments of baby's first year.
The concept is that you take a picture of the baby with the card, saying for example "Today I crawled for the first time" or "Today I slept through for the first time".
So you never forget what date your baby reached his milestones.
Table of contents
Click to read more.
---
What are milestone baby cards?
As the name suggests, the cards mark milestones in your baby's life. That is, the days when your baby learns something new.
The cards were initially only available in English (Milestone baby cards), but now you can choose between several versions of milestone baby cards in English.
The baby milestone card images are fun to share on social media or send directly to friends and family so they can follow baby's progress.
How to use milestone cards?
With milestone baby cards you can remember all the great memories from your baby's first year.
On the milestone cards there is a space for the date that matches the text on the card. You therefore write the date baby turns 4 months, or the day baby says mum for the first time.
Once you have written down the date, you can place the card on your baby, or next to it and then take a photo. You can save the photo as a lovely memory.
The picture is suitable for sharing on social media, where friends and family can see what has happened to baby today.
Benefits of milestone baby cards
The cards capture the biggest moments in your baby's life. When your child is older, you can look through the cards and pictures together and look back at when they learned to crawl and walk. There are lots of milestones in baby's first year, and milestone baby cards help you remember them all.
Remember all the anniversaries
Share the photos with family and friends
Choose from great designs on milestone cards
When you take pictures of your baby with a milestone card, it becomes a really great memory to look back on. The photos are also ideal for sharing on social media, where friends and family can keep up to date with baby's progress.
Examples of baby milestones could be: Today I turned from tummy to back, Today I ate porridge for the first time, Today I slept through the night for the first time or Today I learned to crawl/ or walk.
As milestone cards have become more popular, there are now many great designs to choose from. Some are colourful with lots of pictures on them, while other milestone baby cards appear in muted colours. You're sure to find just the right baby milestone cards on our list further down the page.

Project images in photo book
The pictures of our children are the most precious thing we have. So remember to keep some of the photos coming so you don't suddenly lose them.
A good way to preserve the photos is to develop them in a photo book. There are many sites where you can easily make your own photo book. For example, you can make one of your baby's first year, the baby's christening, or something else entirely.
With a photo book, you don't have to bother with putting photos in folders or keeping them loose in the envelope. They're already printed in a beautiful book that both you and your child will enjoy for a lifetime.
Free photo book!
Design your own personalised photo book with pictures of your baby. Get a small photo book for free, or get 80 kr discount on one of the other photo books with the discount code: MINFOTOBOG
The best milestone baby cards
Follow these links and find the best milestone baby cards in English. There are different variants. Maybe you can find the right milestone cards for baby on these pages.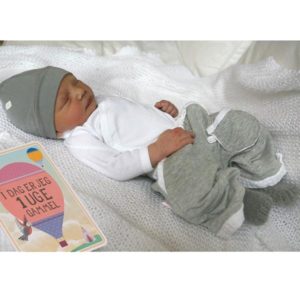 ---
Lirumlarumleg milestone baby cards
Here you will find really cute cards, kept in delicate colors and black. On the pictures there are owls and other cute animals. These are the perfect cards for those who don't want cards in bright colours. All text is in English.
You'll also find a variant with more colours, and vibrant illustrations to match the tea light. With these milestone cards, you can commemorate your baby's milestones in the most beautiful way.
---
Babygear baby milestone card
Here you will find several different kinds of baby cards. There are some with illustrations of the cute famous rabbit, Miffy. The cute rabbit will adorn any picture of your baby.
There is also the possibility of Junior cards (1-4 years). Why not continue marking the milestones after the first year? These cards should be used for children aged 1-4 years. There are lots of milestones for children after they turn 1. For example, the first time they sat on the potty, or their first drawing.
Milestone card pregnant - remember milestones in your pregnancy
Milestone cards can also be used in your pregnancy. Take pictures of your belly with the cards so you can always remember what you looked like when you were 28. On milestone cards for pregnant women, you can also note what day you found out the sex of your baby, what day you found out you were pregnant and more.
Milestone cards help you remember the best and most important milestones of your pregnancy. It's fun to look back on, both as a parent and as a child. Really nice cards for the pregnant woman, and for the first time with a little baby. The cards have great pictures and colours, and
How to take good pictures of baby
Small legs and arms that are in constant movement, and a cuddly cloth that must always be up by the face. Capturing the best moments with your camera can be an almost impossible task when taking pictures of your baby. Luckily, with a few tricks, you can improve your chances of capturing your baby's sweet smile.
Timing is everything
Getting your photos taken is an experience for baby. The light and bright and baby doesn't quite understand mum's efforts to coax a smile.
So choose the time of day when your baby is most ready for new impressions and experiences. For most babies, this is after a nap and some food.
Baby doesn't have to look at the camera
With even the best camera, it can be almost impossible to capture that split second when baby is both smiling and turning his blue eyes to the camera.
Accept that a good picture can capture a unique moment when baby is exploring his toy or looking at an ugly.
You can also take good pictures of your child sleeping. Here, baby lies still and you can capture a calm moment.
Be in the picture
Sit with your baby on your lap while the other parent nips away. The photos of you with baby often become the most meaningful later on.
When mum or dad is involved, it also helps baby to feel comfortable in the situation and it all becomes fun and games.
Be patient
Last but not least, you need to be patient. Maybe your baby is just not in the mood to pose today. There could be many reasons why it didn't work out. Take a break or try again another day to make sure your baby has a good time being photographed.
https://startpakke.com/wp-content/uploads/2017/03/logo.jpg
0
0
Maria
https://startpakke.com/wp-content/uploads/2017/03/logo.jpg
Maria
2017-06-06 08:45:03
2018-10-01 11:34:07
Milestone cards | Milestone baby cards