If you need new inspiration for delicious recipes, here are eight bloggers who all offer a personal universe, including many recipes. Here you will find both the classic dishes, but also inspiration for vegan and sugar-free recipes.
Inviting recipes, also vegan and sugar-free
Sydhavnsmor is about life with children for better or worse. Food is a big part of the blog. If you're up for trying vegan and sugar-free alternatives, there are recipes to be found here. On the blog, May also gives ideas for different dishes and baked goods. The recipes are very inviting and quite easy to go for. An inspiring and clear blog with a personal touch.
Sydhavnsmor recommends
From here, a delicious recipe for vegan spring rolls is recommended. The kids are crazy about them. They're easy to make - even with the kids if anyone prefers - and then they're healthy because they're bursting with veggies and are made in the oven, but still get that crunchy crunch 🙂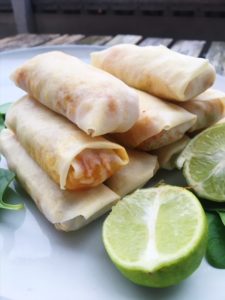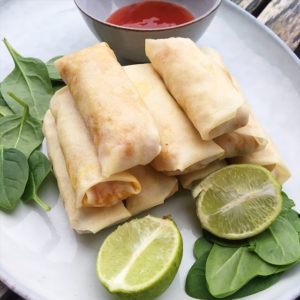 Vegan and plant-based recipes
Cellina Martinna is a mother of two, and emphasises both health and sustainability in her vegan food universe. On Cellina's blog, readers are inspired with delicious vegan and gluten-free recipes. The family eats plant-based food, and it must be said that Cellina knows how to find delicious alternatives in both healthy and "unhealthy" cuisine. If you are vegan like Cellina, or just want to get new ideas for cooking, the recipes can provide great inspiration for a busy day with or without children. On the blog, Cellina also gives readers tips on how to live a healthier lifestyle, including how to live plant-based. A cosy and very personal inspired blog that focuses on a vegan lifestyle.
Celinna Martinna recommends: vegan ice cream
Celinna Martinna recommends a healthy vegan ice cream that's both easy to make and a hit with the kids. The ice cream contains only three ingredients. It doesn't get any easier than that!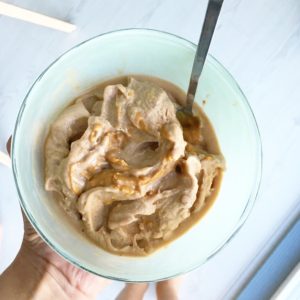 Delicious recipes for the busy family
Lisbeth is the mother of two children aged 6 and 9. On the blog Lisbeth gives good ideas for cooking in a busy everyday life with children. There is plenty of inspiration for child-friendly dishes and delicious cakes. A perfect balance that inspires readers to try their hand at cooking and hot and cold drinks for everyday and special occasions. Inviting recipes and a very clear blog.
Recommendation for families with children - meatballs that are always a hit!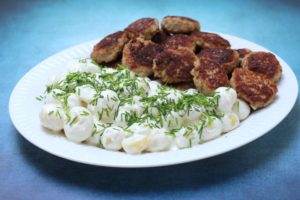 Child-friendly recipes and lots of vegetables
Mie has two boys, and she regularly updates her blog, which bears the stamp of her interest in food. She likes to use vegetables in her food, often from her own garden. You'll also find inspiration for packed lunches here. The blog is included here because the recipes are easy to follow and can be made with ingredients you often have at home.
Mie recommends
It must be this recipe for delicious rice cake. It is a dish that all four of us really like, and it is also a dish that is nice to gather around.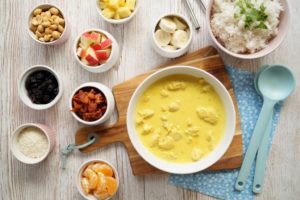 Good and manageable recipes for everyday favourites and child-friendly dishes

There's hardly a dish you can't find at Valdemarsro. On the blog, Ann-Christine shares delicious recipes that include family favourites, everyday favourites, grandmother dishes, sweets and various cold and hot drinks. The recipes are very manageable, and useful for the family with children. The blog's strong focus on cooking, among other things, gives readers ample opportunity to find recipes for the busy everyday life. Ann-Christine's food blog really knows how to create a motivation for good and easy cooking. There is also a large selection of vegetarian dishes as well as delicious baked goods.
Ann-Christine recommends
For families with children, curry balls are always a hit.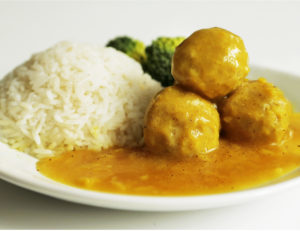 Life Unscripted (formerly Copenhagen Kiddo)
Inspiring and child-friendly recipes for both everyday and celebrations
Signe is the mother of three children from 2007, 2009 and 2015. Everyday life with children therefore takes up a lot of space on the blog. Often there are posts on the blog with recipes for easy food for the kids. Signe's blog inspires with delicious recipes and good ideas for a varied diet. There are many child-friendly versions that readers can afford to try out on their own. An inspiring blog with recipes to spice up busy everyday life and exciting desserts for special occasions.
Signe recommends veggieballs - healthy and easy dish!
Veggieballs are a vegetarian version of meatballs. It is a really healthy and easy dish to make in everyday life. Youngsters can help with everything from chopping the vegetables to shaping them.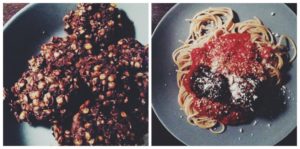 Lots of new inspiration for everyday kid-friendly dishes
Lea's blog shares recipes and ideas for both healthy and unhealthy cuisine. Lea is a master at making food appetising and fun for children and she is especially good at involving children in the cooking process. On the blog you can find great inspiration in various DIY projects, and also cooking in all forms because Lea has a special passion for it. The great ideas are super inspiring and as a reader you really get a motivation to go in the kitchen with the kids.
Manageable recipes for everyday and parties
Annemette Voss won Den Store Bagedyst on DR in 2013, and can now call herself a TV presenter, blogger, cookbook author and Youtuber. The blog offers lots of cake recipes. Annemette has three boys, so there's also room for child-friendly dishes and cakes. Annemette's blog offers super inspiring recipes for food, drink, baking and delicious desserts. On the blog, the recipes are divided by topic, so readers get a very clear overview. Each recipe is then carefully thought out, so that you are inspired from the first glance. The focus is on recipes that are easy to access with children at home and that children in particular can help with.
The vegan kitchen

If you eat vegan, or supplement your diet with vegan dishes, this blog is definitely worth a look. It offers lots of inviting food that is primarily vegan. Among them are many kid-friendly dishes and snacks such as smoothie pindis or healthy spreads for rye bread.
Recipes for baby food for 0 - 3 year olds
According to this blogger, baby food doesn't just have to consist of corn porridge and boiled vegetables. Here on the blog, you'll find a world of delicious recipes for the littlest ones in the house. Make introducing your baby to food a little more fun with blueberry pancakes or tasty soups, among others! The blog is on the list as it is really obvious if you have a baby. Next to each recipe is a recommended age for the baby to eat the food.