A play mat for baby is indispensable. Babies don't have to be very old before they need to get down on the floor, lie on their tummies and play while trying to move forward. Babies love looking at toys in lots of bright colours, and exploring the toys with their hands.
Playmat - when?
Many parents buy the play blanket before birth, so it's ready for when baby is in the mood to play. It can be difficult to put an exact age on when babies find it fun to lie on their baby blanket.
In the first few weeks, most babies are not awake for very long at a time, so most of the time is spent talking to him or her.
Typically, a baby play mat can be put into use when baby is around 1 month old. If the play mat is exciting enough, you might be able to drink a cup of hot coffee while baby is snuggling on the play mat.
Playmat - how long?
Watch your baby's signals as he or she lies and plays on their play mat. Some children make noises when they want to get up. Others look away from the toy, or close their eyes.
These are signs that baby wants to get up and away from stimuli. At first, 5 minutes on the play mat may be enough for your baby. Gradually it will get longer and longer, and soon baby can play for longer on his play mat.
Best play blankets for baby
Here we have selected some of the best baby play blankets you can get. There are both ones with lots of colours and sounds that baby will definitely find fun. The advantage of such colorful blankets is that there is an opportunity for lots of fun and learning. On the blankets, there are animals with big eyes as small children usually find eyes fun to look at.
Below you'll find baby blankets in more neutral colours. Maybe you prefer a rug that matches your style of home or you want to be able to change the toys yourself, so there's always something exciting and new on the rug.
Tiny Love play blanket for baby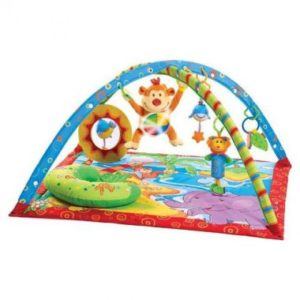 Lots of colours to stimulate baby's senses. The lion can play a tune, the whale can vibrate and the monkey makes sounds and lights up. Lots of hours of fun and learning for baby. The hangers can be removed so the blanket is easy to wash and maintain.
Fisher Price Playmat for baby
Fisher Price is known for producing high quality baby toys that challenge baby and give rise to lots of play and development. This lovely play rug from Fisherprice has lots of great colours that baby is sure to find fun to look at. There are pretty characters hanging around for baby to grab onto and feel. Price: 477 kr.
Done by Deer grey play blanket 
If you're looking for a less colourful play rug for baby, consider this one from Done by Deer. It's in grey tones, and won't take up too much space in your living room.
Price: 800 kr.
Cam Cam play blanket
For a raw, stylish look, choose the popular Cam Cam quilted blanket and use it as a play blanket for baby. The blanket is incredibly soft and comes in the finest colours.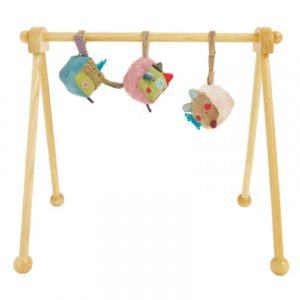 Beautiful wooden activity stand
Replace the toys on the activity rack to keep it exciting. This wooden activity stand will look beautiful on the Cam Cam play mat for baby.
Cute play blanket from Roommate
Here you get a rug with a cover that's easy to take off and put in the washing machine. The play rug is perfect for under the play frame as it is nice and soft.
Price: 449 kr.
Playmat with car track
A slightly different play mat that can be used for many years to come. The car track is fun as a decoration in the children's room and can also be used to play with cars. '
Price: 599,95.
AActivity blanket from Moulin Roty with wild animals
1.299,95 kr.
Playmat in delicate colours
Very soft and delicious play blanket from the exclusive brand Moulin Roty. The play mat is sewn with fun and colourful wild animals for baby to look at. Here you get a real luxury play mat for your baby. Removable hangers are included.
Play blanket for baby
A play mat for baby is great to have to lay baby on when he or she wants to play by themselves. A play mat, or activity mat as it's also called, helps baby develop and hear her more able and better at playing. It's a good idea to lay baby on his tummy as it really strengthens his neck and back.
If you buy a baby play mat with hangers or an activity stand, it will also be great fun for baby to lie on her back, as she can look at the toys and try to grab them with her hands. If it has lights or sounds, it will be even more fun for baby.
Toys for baby
To make the play mat even more fun, it's a good idea to put some toys on it. As baby gets older, you can add more toys to the collection. Many people enjoy having some of their toys packed away for a while and then unpacked again. That way you don't have to buy as many toys either, as the current ones will stay exciting.
Skwishnøgle - Award winning toys for baby
Award-winning, fun rattle that babies love to play with. The elastic bands are easy for little fingers to grasp and the balls make a lovely rattling sound as they rattle back and forth on the rubber bands.
Skwishnøgen is also good to suck on for babies who love to put things in their mouth. Choose between a nice colourful version, or the more neutral wooden one.
Looking for more toys for baby?
If you need inspiration for exciting and educational toys for baby, you can find plenty of inspiration in our big toy guide.
https://startpakke.com/wp-content/uploads/2017/03/logo.jpg
0
0
Maria
https://startpakke.com/wp-content/uploads/2017/03/logo.jpg
Maria
2017-03-27 12:46:52
2018-12-06 09:44:27
Play blanket for baby: the best play blankets