A play kitchen for children is a really fun toy. Here we've taken a look at the most popular and best play kitchens for kids.
First of all, think about how much space you have for the play kitchen. It's possible to get large kitchens that have both a sink and cupboards, while others are just a cooker. Of course, the most fun kitchens are those with the most play options and accessories, but there are certainly hours of fun to be had in a smaller play kitchen too. Fortunately, children use their imaginations to create play, and the kitchen is just part of that.
Size
Equipment and accessories (sink, cooker or both?)
Price
Specific brand or retailer (wooden kitchen, ikea play kitchen or something else)
When choosing the best play kitchen for children, you also need to consider how much equipment the kitchen will have. Some play kitchens have a kitchen, sink, cupboards and wall units, while others are simpler but with the option to buy more equipment. Few play kitchens include play food. So that has to be bought on the side.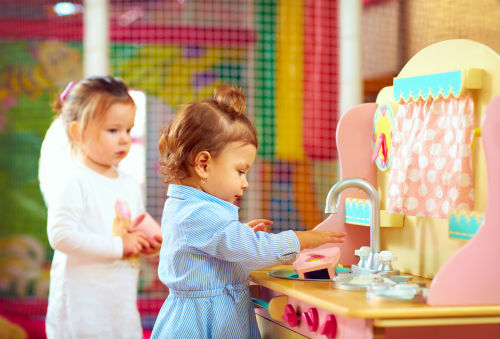 A play kitchen is one of the most popular toys. Children love to imitate adults, and kitchen games are perfect for that. A play kitchen provides hours of play and fun. There are many different types of play kitchens, of varying quality and size.
You can buy lots of accessories for a play kitchen to make play more fun and realistic. For example, play pots, play food, aprons and potholders are great accessories for the play kitchen.
See also our advice on how to choose the best play kitchen - click here to go to the guide
Best play kitchens
Check out our long list below, where you're sure to find the best play kitchen for the lucky child who needs one.
---
Kitchen from Mamamemo
Realistic play kitchen for children with stove, sink and kitchen cabinet. The kitchen also has an extractor hood and two spoons/palette knives to make cooking easier.
899,95 kr.
H: 87 x W: 60 x D: 30 cm
---
White play kitchen in wood
A beautiful play kitchen in wood. Although it has both a stove and a sink, the kitchen doesn't take up much space, making it a very popular play kitchen.
1.049,95 kr.
55 x 32 x 70.5 cm.
---
The kitchen that has it all
This play kitchen has an oven, sink, cupboards, microwave, cordless phone and a blackboard on which you can write today's menu.
The kitchen is made in a realistic style and is best for slightly older children, as the height of the worktop is 57 cm.
It is definitely among best play kitchen for kids 2017.
1.999,95 kr.
L: 109 x H: 105 x D: 45 cm.
---
 Nice little stove
Really cute stove with buttons that click when you turn them. The stove is a great space-saving solution if you don't want your play kitchen to take up too much space.
Measurements: 40 x 30 x 50 cm.
---
News! Small kitchen in environmentally friendly materials
New small play kitchen for children in modern design. The manufacturing process is environmentally friendly throughout and the kitchen is coloured with fruit dye. Set at 999,95 kr.
Dimensions: 48 x 29.5 x 63 cm .
---
Small play kitchen in nice colour
A good kitchen for the little ones. Please note that the kitchen measures only 35 x 37 cm.
It can therefore be used on top of e.g. a desk, where the children can play with the kitchen.
599,95 kr.
---
Sebra play kitchen
Sebra play kitchen has a really nice design, and can easily stand in the living room without disturbing the decor. The kitchen is also available in pink.
L58cm W38cm H50cm
1299,95 kr.
---
Classic play stove from Brio
Brio's cooker has been popular for many years. It's a classic, sturdy little play stove from Brio that's sure to get a lot of cooking done.
Tip. The kitchen is often on sale, so surf around online before buying.
Measures H 51 x W 40 x D 29 cm. Price 499,95 kr.
---
Play kitchen in wood
Very nice play kitchen for little girl.
The play kitchen has a sink, hob and shelves, so there's plenty of opportunity to cook up a storm. Includes all parts shown.
Measurements: H: 53 x W: 30 x D: 76 cm.
Price 848 kr.
---
OBH Nordica play kitchen - incl. kitchen utensils and food
Included are 23 accessories in the form of play food and pots. This play kitchen has a cooker, microwave and fridge. There are hours of play here.
The play kitchen uses 2 x AA batteries (not included). Price 798 kr.
---
Ikea play kitchen
Ikea's play kitchen is now familiar and loved in many homes. Ikea play kitchens are not that expensive, and yet you get a really good wooden play kitchen.
You can buy the kitchen online, or of course you can drive to one of Ikea's stores. Check the stock status first on the Ikea website.
72x40x109 cm.
699 kr.
---
Red play kitchen for children in retro look
Super nice kitchen in charming retro look. In this kitchen the kids will have a fridge, freezer, hob, oven, microwave and cupboards.
H: 88.6 x W 33.7 x L 83.8
 1599,95.
---
Cook'N'Serve kitchen trolley
Smart play kitchen with matching serving trolley that is sure to be popular with little chefs. On the back of the kitchen there is a blackboard where you can write the menu of the day or other fun things.
1.199 kr.
---
Fun plastic play kitchen
If you choose a plastic play kitchen over a wooden one, you'll get a bit more kitchen for your money. This Coop model has a sink, stove and accessories for just £549.95.
A plastic play kitchen is easy to maintain and clean, and children will love playing with the many items that come with it.
H 71.5 cm x D 31.5 cm x W 48.5 cm.
---
Play kitchen in Danish design
Very cute little play kitchen in Danish design. The kitchen has both sink, stove and cabinets and there are also spices and play food.
48/82 x 54 x 30 cm.
Set at 699 kr.
---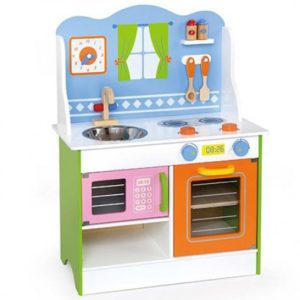 Colourful play kitchen with lots of accessories
Very nice little play kitchen that also has a nice play clock where your child can learn the time. In addition, a lot of accessories are included, such as:
Pot spoon, two spatulas, pot and pan with lid, salt and pepper.
60 x 80 x 30 cm. Price 1.099 kr.
---
Miele Play kitchen in wood
Play kitchen in a stylish design that can easily be placed in the living room. The kitchen is made of wood and metal, so it can withstand years of play.
H 73 x D 30 x W 53 cm. Price 869 kr.
---
Electronic play kitchen for children
One of the fun play kitchens with lights and sounds. The kitchen has a fridge, hob and espresso machine. You also get lots of accessories and play food. Plastic play kitchen. The price is 369,95 kr.
H 96.5 x D 33.5 x W 52.1 cm.
---
Why children love to play kitchen
From birth, children look at adults and try to imitate them. That's why playing in the kitchen is a fun game that children love, because they can do exactly what adults do. They get to imitate adults and swap roles with them.
Children from 1 year old can play with the kitchen. Play will gradually change as the child gets older. The reason a play kitchen is such a good investment is that the child can play with the kitchen for many years to come. Right up to school age or beyond, kitchen play will be fun and developmental for children.
Young children under 3 will enjoy putting play food in the play pot, turning the knobs on the stove and learning the words on the different food items. As children get to 3-4 years old, play begins to change and become more structured. Children start to set the table for each other or for mum and dad, and serve food to everyone. Dolls and teddy bears are often invited to dinner too.
Play food for play kitchen
Of course, every kitchen needs food. You can get the most beautiful wooden play food at Lirumlarumleg. Here you can get all sorts of exciting ingredients, from pizza to milk. All the food looks realistic, as kids know it from the real kitchen.
The toys help make play more fun and challenge children's creativity. Play food is also a great gift idea if your child already has a play kitchen
Wupti especially has a selection of large kitchens with fridges and other equipment.
Here you will find many play kitchens in plastic or wood.
How much does a play kitchen for children cost?
As always, price matters. Of course, before you buy the best play kitchen for your child or children, you need to consider how much money you want to spend on it. Overall, you can get play kitchens from 200 DKK up to around 2000 DKK.
Which play kitchen should you choose?
Within play kitchens, there are a multitude of different types, brands and sizes. You can choose from wooden play kitchens, plastic play kitchens or an ikea play kitchen which is also very popular. You may also have fallen in love with a play kitchen from a particular brand, for example a Sebra play kitchen, which may be more aesthetically pleasing than many other play kitchens. Or a cosy little Brio cooker, which is one of those play kitchens that doesn't take up much space. On our long list you'll find many play kitchens, all of which are among best play kitchens 2017.
The play kitchen provides many hours of play
The reason a play kitchen is found in virtually every nursery, kindergarten and many families with children is that children of almost all ages love to play kitchen. As soon as children can stand up, they can stand and play cooking at the stove. Opening and closing lids and putting food in the pots is also usually a hit.
As children get older, they can play in a more structured way and serve food to their friends or mum and dad. Kitchen games are also a good way to learn the names of foods and fruits. Plus, it's good practice for the day when kids will be in the kitchen cooking for themselves.
Here you can buy play kitchens for children
See our long list of the best play kitchens below
At Lekmer there are often offers on play kitchens. Definitely worth a look.
In Sundlegs webshop you will find a large selection of wooden play kitchens.
At Børnenes Kartel you will find a selection of beautiful play kitchens in different price ranges.