Lamaze toys for baby are great toys for babies. Especially the fun and educational Lamaze elephant babies can spend a long time exploring. Lamaze toys are designed and developed by teachers and educators to capture babies' interest, and develop their senses. The toys encourage baby to grasp, nuzzle, shake, suck and explore, which is the way babies learn about the world. 
Why Lamaze elephant is great toy for baby
As well as being cute and fun to look at, the Lamaze elephant is also very educational and challenging for little ones. The ears are shaped like handles, so it's easy for little hands to grasp. Plus, it can play music when you press on the elephant's foot. You can even record and play back your child's own tunes composed on the coloured figures of the trunk. The Lamaze elephant has rattles so it rattles when you shake it. In addition, it has different materials that feel different to baby. In this way, the Lamaze elephant effectively stimulates baby's senses. The elephant will no doubt quickly become baby's favourite toy. >>You can buy the cute Lamaze elephant right here.
Cute Lamaze elephant that is easy to hold and can play music.
Babies love music
Music stimulates the sense of hearing, of course, but many babies also calm down when they hear music. Even very newborns can benefit from listening to music. That's one of the reasons why the Lamaze elephant is really brilliant for babies, as he or she can make it play music by pressing on the foot.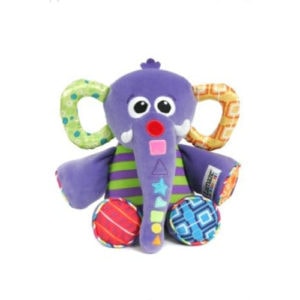 The music can distract baby or entertain while mum is having her coffee. The Lamaze elephant has big eyes that baby will love to look at. For some reason, little babies love to look at eyes. That's why the Lamaze elephant's eyes are sure to capture baby's interest too. The elephant is a good size for baby to grab and hug, but at the same time without it being too violent. You can see more about the elephant, and buy it right here.
The Lamaze elephant has beautiful colours that baby can see clearly. The first colours baby can see are the brightest colours like purple, yellow, green, red and blue. That's why the elephant, and all other Lamaze toys, have these bright colours. Baby needs to be a few weeks old before she can distinguish between dark and light shades, which is why the colours are so brilliant on the elephant.
Record baby's own tune: how to
The unique and fun thing about this Lamaze elephant is that you can record baby's own melodies. This is done by pressing the star on the right hand. A beep will then appear and the melody will be recorded as the baby plays. About 10 seconds later, another beep sounds, indicating that the recording is finished. Then press the star to hear the music again. A fun way to keep baby occupied and let him compose his own music! It also makes the elephant fun to play with for older children.
Lamaze activity blanket
Lamaze activity blankets for babies are very popular as they are filled with fun and stimulating colours and activities for babies. A Lamaze activity blanket can be used from newborn and will typically be of interest up to 1 year of age. On an activity mat, or play mat as it is also called, baby is motivated to lie on their tummy and play. When baby lies on his tummy, his back muscles and neck are strengthened and baby becomes better at holding his head by himself, and eventually moving forward. Lamaze activity blankets are known for their contrasting colours, play hoops and lots of fun sensory experiences. Sound, colour and different materials are all thought of so that all the senses are engaged. Here it is clear that psychologists and teachers are behind the development of Lamaze toys for baby. Among other things, Lamaze activity blankets are tested in mother groups and achieve international recognition as "The best activity blanket".
Playmat from Lamaze - Freddie the Firefly Gym (incl. tummy pillow)
Here is a really nice and fun Lamaze activity blanket with Freddy the cute firefly as theme. Above the blanket is a play frame in black and white contrasting colours, so baby also finds it fun to lie on his back. Three fun toys hang from the hanger for baby to reach out and shake. The large mirror trains baby to focus and recognise both himself and others. The activity blanket comes with a good and practical tummy pillow to support baby while she lies on her tummy. The cushion can also be used as extra support when baby is learning to sit up. This Lamaze activity blanket can be folded, which is incredibly practical when you are on the go. So baby can have her fun toys with her everywhere. The base is soft and of course washable. See more about the beautiful Lamaze activity blanket right here. 
Lamaze ladybird activity blanket
The Lamaze Garden gym swivel and play mat is designed to train your child's back and neck muscles. When the child is lying on top of the ladybug, she can turn around 360 degrees, which makes it a bit more fun to lie on her stomach. The ladybird is therefore good for babies who may not always find lying on their tummies so exciting. However, it is recommended by physiotherapists that the baby primarily lies on their stomach on the floor too, as this is how the arm muscles and neck in particular are exercised and made stronger. The play rug has nice illustrations with summer flies, bees and other animals that are sure to catch baby's interest. Buy the play blanket here for 498 kr. 
Lamaze ladybird - when
The Lamaze ladybird is recommended for babies from 0-6 months. The activity blanket is perfectly sized for a small baby who is learning to crawl and walk. The Lamaze ladybird is filled with bright colours that babies find interesting to look at. Around the edge of the blanket are little snippets for baby to try and grab. All in all, a fun blanket that develops baby's senses. See more about Lamaze ladybug play blanket right here 
How to wash lamaze toys?
Fortunately, you can wash lamaze toys. It's actually super easy to wash the toy, as it can withstand being put in the washing machine. Simply wash it on a gentle programme at 30 degrees. If it's particularly dirty, scrub it gently with a disposable cloth first before washing lamaze layer toys. It's no secret that babies drool and yawn once in a while, so it's really nice that you can wash lamaze toys.
https://startpakke.com/wp-content/uploads/2017/03/logo.jpg
0
0
Maria
https://startpakke.com/wp-content/uploads/2017/03/logo.jpg
Maria
2017-08-01 12:37:16
2017-08-23 12:34:47
Lamaze toys for baby | See the cute lamaze elephant!