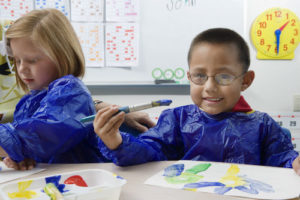 Creative toys for kids are great for letting your imagination and creativity run wild. Creative toys are often the toys that children can spend a lot of time with, as they can be played with in a variety of ways. Typical creative toys include modelling wax, beads and bead boards or building blocks. On this page we have collected the best creative toys for children.
See the best creative toys further down the page.
Creative toys - when?
In principle, babies and children of all ages can play with creative toys. The very act of playing is creative in itself. Whether it's stacking blocks or building a house. But the real creative play, where children start to create things on their own initiative, usually starts at the age of 2. Small babies therefore play creatively in a different way. Here it's more about stimulating their creative ability by offering them toys that stimulate their senses.
Creative games - from 2 years and up
When the child turns two, he or she begins to want to create something for themselves. When she draws a picture, it often has to represent something, rather than just being random lines. The same goes for playing with Lego or the popular Plus Plus Blocks, which we also mention below. Here the child really gets to create something for himself. There are no "rules" about what to do. The same goes for modelling wax, for example. Here too, children are given the opportunity to make whatever they want.
Modelling wax is the perfect toy for creating and making beautiful things. With modelling wax you can make anything you want and it makes it fun for children of all ages. Here we have chosen to highlight a Danish-produced organic modelling wax, which is completely additive-free. So nothing will happen if your child puts it in their mouth. Read more about modelling wax here.
Large, easy-to-hold tickers for even small children. Suitable for children from 1 year. The set has 24 tattoos, all with sturdy tips that won't break easily. They come in a nice holder that children will love to place the toy in and pick up again. The quality is good and the child will have plenty of opportunity to be creative.
The fun kinetic sand, which is a magical kind of sand that can be played with indoors. It has quickly become a very popular choice when it comes to creative toys. The sand doesn't grate and it's easy to clean up. It consists of 98% regular sand and 2 % binder that holds it together. The sand is non-toxic, gluten-free, free of harmful and allergenic substances.
If your child loves to make sand cookies, he or she can now do this indoors too! A really fun gift idea that is sure to bring joy to your child. Playing with sand is a creative game where children get to create something themselves. Kinetic sand is available in many colours.
Mermaid stickers (160 pcs)
Nice stickers that can be placed around the child's things. These stickers are with nice mermaids and other nice things that fit the theme. The stickers can be placed all around on surfaces. For example furniture, drawing books or similar. The stickers are creative toys as they allow children to imagine where they might be and why. Maybe they want to make a nice decoration on the window.
From 4 years.
A wonderful and classic creative toy that allows you to easily make your own things with yarn. The knitting iron can be used to knit small fine cords that can be put together to make fine things, for example a flower as shown on the front. There are many possibilities and only the imagination sets the limit. The nice Djeco box with the knitting iron contains knitting needles and yarn in nice colours. Then it's just a matter of being creative.
Mermaid stickers (160 pcs)
Nice stickers that can be placed around the child's things. These stickers are with nice mermaids and other nice things that fit the theme. The stickers can be placed all around on surfaces. For example furniture, drawing books or similar. The stickers are creative toys as they allow children to imagine where they might be and why. Maybe they want to make a nice decoration on the window.
From 4 years.
A piece of paper and some good crayons are all you need to start a really good creative game. Most children love to draw all sorts of things. Gradually, children also start to make up stories to go with the drawing. These colours are made of beeswax, so they are completely free of harmful chemicals or other boring stuff. The crayons are good to hold and they won't break even if dropped on the floor several times. In case of drawing on the furniture, these colours are quite easy to wash off with a cloth and some dish soap. A really good choice of colours.
Large chalkboard from Viga
A fun board from Viga. On one side you can write with chalk and on the other side there is a whiteboard for using markers. The board offers many different games for the children. The most obvious game is probably playing school, especially if the children are playing with their friends. Below the board there is a picture of the alphabet, a ball frame and a clock so the child can practice learning the time. This creative toy will bring particular joy to the school child who is learning about a whole new world.
Gurli Gris colouring book
Let your imagination run wild and colour in Gurli Gris and her friends in whatever colours you like. The drawing booklet allows the little ones to be creative while colouring in the cute characters.
With a children's sewing machine, there is a real opportunity to let the older children express their own creativity. The sewing machine is very small and light, and easy to take around. However, it should always be used under adult supervision. It's a smart way to introduce your child to the creative world of making things.
Plus Plus pieces - build whatever you want
Only your imagination can limit what you can build with these Plus Plus bricks. They can be put together in all sorts of ways, so you can build whatever you want. The bricks come in different sizes, depending on the age of the child. For older children aged 5 and over, the smaller Plus Plus bricks will provide more creative challenge and play opportunities.
Another creative toy for older children. This drawing booklet teaches you step by step how to draw beautiful animals that look very real. The techniques can be used in all your drawings in the future.
Vilac sensory play from 2 years
A fun game that especially challenges the sense of touch and the creative sense. Children get to know different animals and become better at engaging in play with others. The game involves taking turns to draw a card with a picture on it. Then you have to put your hand in the feel box and try to feel your way to the motif on the card.
The game comes in a handy box that's easy to take around. The sensory game consists of a fabric bag, 20 wooden blocks and 20 corresponding cards.
Ball track - creative play with ball tracks
Building a marble run is both fun and challenging for the child. This model is recommended for children over 4 years. To build a ball track that works, it puts great demands on the imagination and of course the ability to create. The ball only goes one way and this really lets children challenge their creative sense. This ball pit is made of wood and is from the Hape brand. It is very good quality and can last for many years of play. There is no one right solution to the ball track, which makes it fun to play with again and again.
See many more ball tracks here. 
The opportunity to make your very own beadboard with Hama Beads is indeed a creative toy. The beads come in a myriad of colours and several different sizes. The smaller the beads, the harder they will be to place on the bead board. The pattern on the bead board can either be made from a pattern or in free imagination. The latter, of course, puts creativity to the test and lets the child create his or her own pictures.
If you want to read more about Hama Beads and Bead Boards see here. 
PlayMais is a particularly creative toy that gives children a real opportunity to practice playing with shape, colour and their own creations. Kids can build almost anything with the fun little gadgets that stick together after being dipped in water. PlayMais is made from 100% natural materials. The toy trains both fine motor skills and coordination, in addition to creative play, of course. This creative toy is recommended for ages 3 and up. Seen at Children in Balance. 
Here we have collected a range of creative toys for babies. These are toys that encourage you to use your hands to create something yourself. In principle, all toys can be creative toys, as you can play with them in many ways. Nevertheless, there are toys that make greater demands on the child's imagination and creativity. It is of course good for children's development to be allowed to play in their own way, and it helps them to develop their senses as well as empathy and imagination.
See creative toys for baby below
The Micki wooden block set comes in a pack of 26 colourful blocks that can be assembled in many different ways. At first, it can be a challenge for baby to stack the blocks - and knock them over again. Later, baby can build houses, furniture or whatever they want to create. These wooden blocks from Micki come in different shapes and colours to make creative play even more fun.
A xylophone - Let children create their own music
A xylophone, and musical instruments for children in general, are great creative toys for kids. On the xylophone, children can strike the different keys to make different sounds.
Finger painting is definitely a fun activity, especially for the youngest children. It gives them the chance to "whizz" with the paint and create their own beautiful pictures. Making handprints with the paint is also a great idea. Painting with your hands is a wonderful sensory experience that children love. Finger painting is a great creative game for babies who are not yet able to hold a brush.
Lamaze measuring snake with music
A fun Lamaze worm for the little ones. It can play music when you press different parts of the worm's body. It encourages baby to develop his musical sense and is often a big hit with the little ones. See much more Lamaze toys by clicking on the link below. Lamaze toys stimulate baby's senses, which helps give baby the desire to be creative and come up with his own games.
Why children love creative toys
Children love to use their imagination and play without limits and rules. Creating something yourself is both fun and entertaining for children and at the same time it develops their brains. For example, if you build a man out of modelling wax, children will often want to build a man over and over again. That's how children learn new skills; by repeating them until they know them by heart.
Creative toys - alone and with others
Creative toys can be played with by a single child, but also work well with other children. Around the age of 3 - 4, children begin to make their own friendships in earnest and can therefore benefit greatly from playing with other children. In interaction, children learn a lot, especially when they play with creative toys. They often have to agree on what to build with building blocks, for example. It also has to be agreed who does what, which challenges them to create a fair division that everyone enjoys.
Children are creative by nature
It is of course appropriate to have toys that encourage children to play creatively. This could typically be musical instruments, modelling clay or perhaps building blocks. But the good thing is that children always let their creativity run wild, even if the toys don't always encourage it. When children imagine things, like playing shoe shop with mum and dad's shoes, they also challenge their creative sense. In this way, children use the things they are surrounded with to include in their creative play, almost regardless of whether they are toys or not.