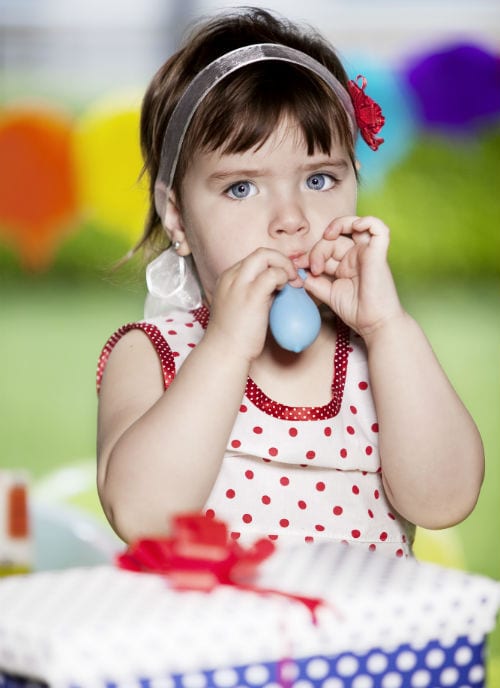 Not sure what to get your child for their 2nd birthday? Then take a look here and see 10 great ideas for fun birthday gifts for their 2nd birthday!
2 years birthday: a big day
It's a big day when your child turns 2. At this time child more language, and is aware of his surroundings and play. At the age of 2, almost all the time is spent playing, and it is important that the child has toys that are developing and educational.
Find lots of educational toys at Children in Balance - click here. 
By the age of 2, she can run and walk and has much more control over her motor skills. Her fine motor skills are more developed and she can pick things up and take them apart.
So choose a toy that challenges these skills and you're guaranteed success.
Need inspiration and ideas for 2 years birthday, read along here and see our 10 suggestions for good gifts ↓
Ideas for 2 year birthday
Click to read more.

#1 Balance board: Wobble board
A wobble board is a great toy. It can be used for many different games and encourages children to use their creativity and imagination.
The balance board can be used by very young children for rocking (with adult supervision), or for neck training. Older children can use the board as a stool or bridge.
Vippe
Swing
Stool
Hule
Car lane
Slide
Cradle
Much more
Only your imagination sets the limits. The board is a great birthday present for children aged 2, where motor skills are in full swing. The balance board grows with the child. So even though the board costs a little more than many other gifts, you're also getting a toy that can be used for years to come.
The balance board from Wobbel is made of natural materials and consists of several layers of FSC-certified beech wood. The underside of the board is covered with a wool felt underlay, which is gentle on the floor and sound-absorbent. When in use, it is recommended that there is approximately 2 m of free space around the board.
Measurements: L: 90 x W: 30 cm. Weight 4.5 kg.
OBS: Watch your fingers and toes and teach your child NOT to hold the board when tilting. Do not wear socks or shoes with a slippery bottom on the board.
Care and maintenance: Can be cleaned with mild soap on a hard-ironed cloth. Avoid getting the felt wet as it may filter and the glue may loosen
---
#2 Backpack
A backpack is a hit at this age. It's fun to put things in, and then you can put the backpack on and walk around with it, or take it on a walk or to nursery.
You can get a lot of different backpacks for children. Some are themed, like Frost or Paw Patrol, while others simply feature fun animals or bright colours.
See selection of backpacks for children here
Tip.
Want to make the gift even more fun? Fill your backpack with pixie books and other fun toys.
---
#3 Plus plusser (Midi)
300 kr. (indicative price)
Buy here
Plus Plus blocks are small blocks shaped like pluses. They come in different colours and are fun to assemble and build with. They encourage children to use their imagination because you can decide what to build. Kind of the same principle as Lego Duplo.
When buying the blocks, be sure to choose ones that can be used by young children from 1 year upwards. This is because they are large and therefore do not pose a choking hazard.
The blocks are also available in a smaller version for older children.
---
#4 Lego Duplo
Lego is in many ways the perfect toy. The bricks have great colours and the different varieties include fun animals and other things.
Lego duplo bricks are specially designed for little hands. You can buy all sorts of things in Lego Duplo, from a jungle to a train set.
---
#5 Dollhouse
For many children, a doll's house for their 2nd birthday will be a gift that will provide hours of fun and games. When choosing a dolls house, be sure to choose one without small parts.
The good thing about giving a doll's house at this age is that the child can want more accessories for the house in later years. It is therefore a gift that you can enjoy for many years.
At BR Toys they have nice play houses from Play2Learn, which are good for children of 2 years.
See also a nice dollhouse from Sundleg here.
---
#6 Play kitchen
Go to the list of the best play kitchens here
The play kitchen is the classic toy that virtually all children love. It gives them the opportunity to imitate their parents in the kitchen. With lots of play food and other accessories, there's plenty of opportunity to cook up the tastiest food.
Give little chefs the chance to show off their skills by giving them a play kitchen for their 2nd birthday.
---
#7 Play food and pots
See a large selection of play food here. 
Every kitchen needs food and utensils. Check out the beautiful wooden play food at Lirumlarumleg, where you can choose from many delicious ingredients or pizza and milk. The food looks realistic, as children know it from the real kitchen.
Play food and play pots are a great gift and can be used with a play kitchen or on their own.
---
#8 A mini trampoline
See the best trampolines here.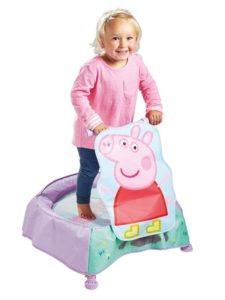 A small trampoline is a fun and gift for 2 year olds. The good thing is that it can be used both indoors and outdoors. Most children love to jump, and you have to say they get to do that on a mini trampoline. Trampolines come in a variety of designs, so you're sure to find one that suits your child's taste.
Gurli Gris Trampoline with sound
The fun Gurlig Gris trampoline can make sounds when you jump and down and. Because of the handle, it's a great trampoline for little ones as they can hold on.
Jumping on the trampoline develops your sense of balance and it's just a lot of fun.
Price 768 kr.
---
#9 Tractor with pedals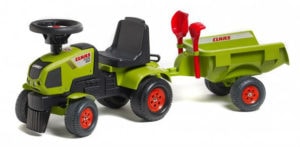 A tractor with pedals is a fun outdoor toy that the 2 year old is sure to enjoy. It won't be long before he or she masters the rhythm and gets moving on this tractor, which is made for children between 2 and 3 years old.
The tractor comes with a load and tools. It is made in France by a company that is committed to making good quality products.
---
#10 Junior bed
If you think your child already has too many toys, consider whether it's time for a junior bed. In a junior bed, your child can crawl in and out on their own, and there's naturally more space than in a three-poster bed.
Babydan Junior Bed
Classic junior bed in good quality that will fit in most children's rooms.
https://startpakke.com/wp-content/uploads/2017/03/logo.jpg
0
0
Maria
https://startpakke.com/wp-content/uploads/2017/03/logo.jpg
Maria
2017-07-10 12:20:12
2020-05-26 09:12:46
Ideas for 2 year birthday | 10 gift ideas