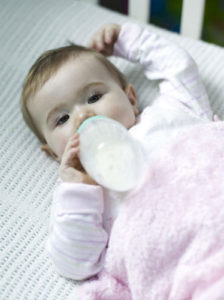 Small babies may need to quench their thirst, especially on hot summer days. But as a parent of a little one, you might ask yourself; when can baby have water?
If the child is less than 4 months old, it may only boiled water. Children over 4 months can get cold water directly from the tap
Baby or bottle baby? How to quench thirst
But if the baby is breastfeeding, he doesn't really need water. This is because the first milk from the breast is watery and quenches thirst. If baby only nurses a few tears, it is most likely just to quench thirst.
However, if the baby is bottle-fed, it may sometimes be a good idea to offer a little boiled water between meals. Especially if it is very hot.
When can babies have water (0 - 4 months)?
If your baby is under 4 months, he or she will only need small tears of water, especially if it's warm outside. The water should not take the place of milk, but bottle-fed babies in particular can benefit from a sip of water between meals. You may also avoid making a whole bottle that baby only takes a few tears of.
When should baby drink water from a cup?
When the baby starts eating porridge and mash at 4 - 6 months of age, it is a good idea to offer water by the cup. It takes time to learn to drink from a cup rather than a bottle or breast, so it's a good idea to go slowly and start with a baby cup. Even if your baby doesn't drink much water, it's okay to offer it several times a day.
Waste from Tudekop with practical handles
This spoutless cup has a soft spout and large handles so it's easy for baby to hold onto the cup. It's super good when your baby is learning to drink from the cup. Your baby can also lie down and drink as only a little water comes out at a time. The teacup holds 150 ml of liquid. The cup from Tommee Tippee is available in several colours and costs 58 DKK. at the retailer Babygear here.
Philips Avent drinking bottle with straw (spill-free)
Even though this Philips Avent sippy cup can also be called a bottle, we'd like to give it a try anyway. The bottle is equipped with a straw that can be closed when the bottle lid is turned. The straw is spill-free as the bottle has a valve in the lid. The bottle is therefore practical to carry on trips, for example in the car. So your child can learn to drink from a straw. The bottle holds 340 ml of liquid and is easy to clean as it is dishwasher safe. The Philips Avent bottle is available in blue and pink and costs DKK 114. at the retailer Babygear.
Drinking cup with handle from Nuk - Easy & simple
Very smart drinking cup that can hold 230 ml. liquid. It has a simple and nice design which is easy to clean and easy for baby to hold. It has a screw-on lid with a silicone valve that ensures that the liquid from the cup cannot leak out. When baby drinks from the cup and presses his lips against the rim itself, the liquid will come out. This drinking cup is super good as a starter cup, so your child can later drink from a regular cup. The cup is ideal for taking on trips, as the liquid cannot simply run out. All parts of the cup can be disassembled for thorough cleaning. The Nuk drinking cup is available in Navy, Pink and Turquoise for DKK 139.95. at the retailer Kids World here.