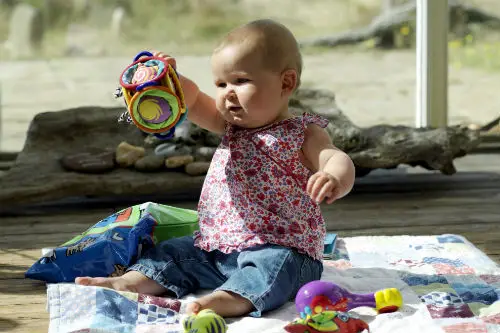 For the first few days, baby is mostly watching or sleeping, but at some point many wonder: when does baby play with toys? 
Baby starts grabbing his toys around 4-6 weeks of age.
In the first weeks of a baby's life, their awareness develops very quickly and they will gradually start to be able to distinguish colours and see details on mum and dad's faces.
When does baby play with toys?
The first toy baby grabs is often the typical baby toy like a rattle or one of the popular skwish key. At first, the baby plays with it by looking at it and feeling it. Later, the baby starts trying to throw the toy and so on.
Babies start playing at 4 - 6 weeks of age
Tumble toys are a hit from 4-6 months
Rattles and sensory toys are hot - possibly. Llama Toys
The first year baby goes through a wild development
Play researcher Jørn Martin Steenhold told Our Children that children start playing as early as 4-6 weeks of age. This is the age when they start to learn to grab toys and try to put them in their mouths. In the beginning, play is mostly about exploring the world and getting to know it. Good baby toys are therefore something that feels fun, maybe rattles or squeaks. A rattle is also always popular with the smallest babies. Sense toys are great toys for babies in their first year. Sensory toys stimulate baby's senses with colours, shapes or rattling sounds.

If you're not sure which toys are a hit with baby, check out our big guide to which toys are good for this age.

Toys for baby at 3 months
At this age, babies start to recognise their toys, and lie on their tummies and may lash out at the toys. Baby can wave around a rattle, or other light and fun toys.
Good toys for this age: ostriches, rattles, teething toys in bright colours
Toys for baby at 6 months
When baby is about six months old, she starts looking for balls that are rolling away and maybe being pushed back. Noisy toys, such as wooden blocks, are also a hit at this stage. The child can knock the toy into the table herself. Toys that play music are also super fun at this age. Stacking blocks are a big hit at this age. Stacking them, but maybe even more so knocking them over, is a super fun game.
Toys for baby at 9 months
Baby has become good at grabbing toys, and may take them around with him. Stacking is still a hit, but baby is also starting to build, for example with LEGO Duplo. Toys with sounds are also fun for this age. Reading books and looking at pictures are also exciting for baby. Consider joining the Gyldendals Children's Book Club and get access to lots of books at low prices (See more on the front page)
Toys for baby at 12 months
By the age of 1, baby really understands a lot of what's going on around him. He also understands a lot of language, although it's not certain he even knows that many words yet. At this age it's a hit to imitate what the grown-ups are doing, such as talking on the phone, cooking, cleaning etc. Play kitchen, dolls and other toys that encourage role play are therefore fun toys.
See the best play kitchen here
Sources: play researcher Jørn Martin Steenhold, Fischer Price and Vores Børn
https://startpakke.com/wp-content/uploads/2017/03/logo.jpg
0
0
Maria
https://startpakke.com/wp-content/uploads/2017/03/logo.jpg
Maria
2017-07-27 12:53:58
2018-06-18 10:36:13
When does baby play with toys?