It's hard to know which pillow to choose and which pillow is the best pillow. We all have different needs and preferences, not least when it comes to our sleep and pillow. It is therefore important that you give some thought to your new pillow before buying, and not least make sure you try it out.
Here you can read more about choosing a pillow for adults, baby & junior pillows
Content
Find out which pillow to choose. Click to read more about each point.
This is what you should consider before choosing a pillow
Here you can read about what you should consider and think about before deciding which pillow is the best pillow for you. A pillow should support and relieve your head, shoulders and neck, so you avoid waking up with a headache or neck pain. Whether you sleep on your back or on your side, your spine should be kept straight as shown in the picture, so your neck vertebrae are in natural alignment with your vertebrae and spine. The pillow should be neither too high nor too low for you, otherwise your spine will bend, causing pain.
If you sleep on your back
If you prefer to sleep on your back, it is important to choose a pillow that is not too high. The best pillow if you sleep on your back is quite flat so that your neck doesn't end up bending upwards. At the same time, the filling should be quite firm so that the pillow doesn't collapse in the middle when you lie down on it.
If you sleep on your side
If you sleep on your side, the best pillow will have a certain height. It's important that the pillow you choose goes in and supports between your head and the mattress. The pillow should not be too soft so that it sinks when you lie on it. If you snore, it may help to sleep on your side rather than your back.
Do you sleep on your stomach....?
It is almost impossible to find a physiotherapist who will recommend you to sleep on your stomach. It creates a lot of twisting in both your neck and back, and is generally a bad way to lie. That's why we recommend you choose a pillow that is suitable for sleeping on either your side or your back.
Filling in the pillow
In general, there are three types of filling for pillows: natural, polyester and special fillings such as buckwheat shells, wool or kapok fibres. Which filling you choose does not determine whether the pillow is good. What is important is that the pillow is flexible and the filling does not collapse when you change position.
Head pillow for bad neck
If you suffer from aching shoulders and a bad neck, there's a good reason to choose a pillow for neck problems. It is very subjective which pillow you should choose when you have neck pain. The pillow should support your head and neck, and ensure that your neck vertebrae are not twisted out of alignment, but can continue as a natural extension of your spine.
Many neck problems are caused by lying either too high or too low, putting strain on your neck. You should take a closer look at your sleeping position. If you sleep on your back, you should always choose a low pillow. If you sleep mainly on your side, the pillow should have more height so that it supports you properly. Read more about this above.
If you wake up with sore shoulders and neck, it may also be due to your bed. If your bed is worn out, or doesn't have good comfort zones, it can mean your body isn't getting the best support and relief. Read much more about choosing a bed right here.
Here we've taken a look at the great pillows available from online retailers. We have selected examples of the best pillows available from retailers. However, this does not always mean that it is the best pillow for you. When it comes to buying a new pillow, remember that it's all about trying things out and seeing what suits you. Fortunately, most retailers offer you the chance to try the pillow at home and return it if it doesn't meet your needs and wishes.
Moulded Latex cushion
This pillow will be ideal for those who like to sleep on their side, and maybe are looking for a new pillow because you have sore shoulders and a sore neck. Latex is a natural material that is particularly elastic and flexible. This pillow will give you good support. It does not fall together and you can easily move your head around on the pillow without it changing shape as you know it from a fiber - or feather filled pillow. It is the best pillow for those who want a high pillow. The downside of choosing a moulded pillow, however, is that if you don't like it, you won't. This is because it will retain the same shape for years. So be prepared to try out this pillow before you can judge whether it's any good.
Make pillow with 100% goose down
This pillow is made and developed by retailers Better Nights, and is available in three different heights; low, medium and high. Here we've highlighted the low version, which is best for those who sometimes sleep on their stomach. The pillow contains 100% goose down, which allows the skin to breathe. The pillow is sewn so that it has an edge between the top and bottom layers. This means that the pillow does not collapse in the same way, but retains its height and flexibility.
An ergonomic pillow allows you to customise. It is a good pillow if you need extra support and relief for your head and neck.
Temprakon Ergomagic
This pillow is designed with an ergonomic focus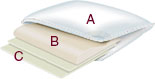 us. The pillow is Danish made, and made in such a way that you can adjust the height of the pillow. You can make the pillow low if you are lying on your back, and a bit higher if you are lying on your side. In this Ergomagic pillow there are two spacers that can adjust the height of the pillow. This allows you to arrange the pillow to suit the way you sleep best.
A cool pillow is a good pillow for those who often feel hot at night. A good cooling pillow will be ideal for summer use, but you can also benefit from it all year round if you suffer from night sweats.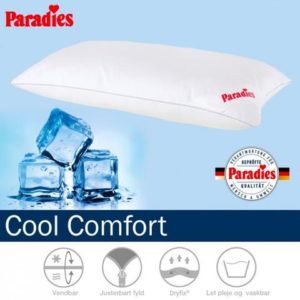 Cool Comfort cool pillow
This pillow is sold at Bedtime. It is filled with special, small microcapsules containing a kind of gel that reacts to heat and cold. If you sweat, the capsules will absorb the heat and the pillow will continue to feel cool. The pillow is covered with a soft 100% cotton cover. The Cool Comfort pillow is Oeko-tex, which is a guarantee that the pillow does not contain any unwanted chemicals.
An organic pillow is a wish for many. With an organic pillow, you're more certain to go without harmful chemicals, both for yourself and nature. Here we have found a few examples of organic pillows for those who value ecology.
Organic pillow with kapok fibres
Kapok is a legume harvested from the kapok tree, which can resemble a palm tree. The plant that grows on the outside of the pod itself is used to fill duvets, pillows and top mattresses. Pillows with kapok fibres are 100% organic, sustainable & hypoallergenic. The kapok fibres create a very breathable pillow that will be great to lie on. The fibres are quite strong, creating a pillow that holds its shape. An organic pillow with kapok fibers is a great pillow for those who care about ecology, wearing skill and of course the best options for a good sleep. It can be washed at 60 degrees.
Organic pillow with merino wool
A pillow with wool is a special pillow is very tempering. This pillow contains 1,000 grams of organic wool, which feels very light and tempering. If you choose a wool pillow, be aware that it generally does not need to be washed. Because wool is a natural product, it is self-cleaning and antibacterial. It is therefore advisable to air it instead of washing it. Leave it out in the frost for a few hours and the pillow will be as good as new. If you still need to wash it, you can do so on a gentle cycle of 30 degrees, using wool detergent. Do NOT tumble dry, but leave to dry, preferably in a warm room. If you like your wool cushion, consider adding a wooldyne.
Before you choose your new pillow
Before you decide which is the best pillow for you, there are a few things you should consider. Here's how to make sure you buy the right pillow for you.
Consider the possibility of several good pillows
It is not necessarily possible to find one pillow. Many people benefit greatly from having two or maybe three pillows that you alternate between. The best height of pillow you should choose should ideally vary according to your sleeping position. As we mentioned earlier in the text, the pillow should ideally be high when you sleep on your side and low when you sleep on your back. Only then can your neck vertebrae be in natural alignment with your spine.
If you want a single good pillow, a good bet would be the ergonomic pillow from Better Nights. The pillow allows you to set the pillow with several different heights, so you can vary your sleeping position.
What material is a good pillow made of?
This will of course also vary according to your own preferences and principles. If you are looking for an organic pillow, you can find variants at retailers Sundleg or Rene Naturprodukter. Here you will find organic pillows for both children and adults. Either with a filling of kapok fibres, which come from a tree, or with merino wool from sheep. Read more about this here.
For most people, a latex pillow is a great choice. If you need a new pillow, a latex one is an excellent choice if you want a flexible pillow that holds its shape and feels nice and soft. Latex is a natural product, so you won't overheat on a latex pillow. Often latex pillows are moulded. Read more about this in the next section.
Moulded cushion - advantages and disadvantages
If you find a moulded pillow that really feels like a good pillow to you, it's definitely the best pillow too. That's because a moulded pillow won't change shape, even when you move around in bed or lie on your side, stomach or back. That's definitely the big advantage of a moulded pillow, which could be latex or memory foam, for example.
The disadvantage of such a pillow will be if it does not feel good to you and you do not feel that you can get used to it. Then the likelihood of you getting used to it over time is unfortunately very low. In this case, you may want to look into good goose down pillows.
Pillow with down
A pillow with down can be shaped and "knocked up" if it collapses. It gives you the feeling of sinking into the pillow, which many people find nice. However, a goose down pillow will automatically wear out over time and should be replaced about every three or four years. At Better Nights, you'll find goose down pillows in three different heights, so you can find a good pillow for your sleeping position.