The elephant hat is and will be a hit for children when they go out to play in winter. The elephant hat keeps both neck and ears warm, and they're just super practical because they're so easy to take off and put on.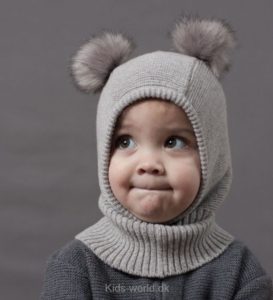 When choosing an elephant hat for your child, you should carefully consider the material and thickness. For the transitional period, a thin cotton hat with only one layer is preferable. When it gets colder, a two-layer hat is great, and for the really cold days you can get thick elephant hats in either pure wool or wool on the outside, and cotton on the inside. Like this model from the popular Huttelithut.
Here we take a look at the many different elephant hats in different price ranges to choose from.
Which elephant hat for children?
When choosing an elephant hat, you should of course choose the size that fits your child. A hat that is too small will be uncomfortable and not warm enough, while a hat that is too big will be loose and allow cold air to breathe in. In addition, you should choose an elephant hat in the right material:
Cotton - perfect for spring and autumn
Cotton is not too warm, so a 1-layer cotton elephant hat is an excellent choice for the transition period.
Wool - tempering material, but not windproof
A thin woollen hat is also perfect for the transitional periods, as it adapts to the temperature. On the other hand, a woolly hat can feel very cold if the wind is blowing. For those really cold days, a 2-ply woolly hat is therefore best.
The best elephant hat for those very cold days.
Best elephant hat for spring: 1-layer cotton elephant hat
This soft cotton elephant hat is ideal for the transition period when it's not too cold, but still a chill. Cotton is not super warm, but still protects ears, neck and forehead from the wind. This model is from Mikk-line and has cute hearts on the side. It is also available in other colours and designs. A cotton elephant hat is probably the best hat for spring and autumn. Seen at Kids- World.
Best elephant hat for winter: warm elephant hat in cotton / wool
This elephant hat from Reima is made with both wool and cotton, making it ideal for those really cold days. The wool outside warms very effectively, while the cotton inside feels lovely and soft against the skin. The elephant hat goes down a bit at the back so it doesn't ride up when baby is playing and moving around. There's even a little rib trim to give it a little extra fit around the neck. The elephant hats from Reima go down extra well in the forehead, and are therefore very effective in keeping the child warm.
Pure wool elephant hat - An elephant hat that adapts to the weather
Wool has the wonderful property that it can adapt to the weather. This means that if your child gets hot and starts to sweat, the wool will conduct the heat away from their head. Conversely, if it's very cold, the hat will keep you warm. A perfect wool elephant hat that can be worn in several seasons. However, if it is very cold and windy, it is best to choose an elephant hat with 2 layers.
Nice elephant hat in cotton
This elephant hat has a really nice print, and is especially suitable for children who are very hot. It even has a nice pattern, so it's easy for your child to recognise and looks smart at the same time.
Keep little ears warm
Elephant hats for babies and children are practical for playing outdoors, going for walks or sleeping outside. The hats can be used almost all year round, depending on the material, and are perfect for keeping little ears warm. It's super important to choose the right type of material depending on the hat's purpose.
Large selection of elephant hats
Elephant hats come in all shapes, colours, price ranges, models and brands. Hats come in soft, round and pointed head shapes. Pulled down over the head, they warm the ears, forehead, neck and throat, making every child ready to play outside in the wet Danish weather. Hats include animal prints, LEGO prints, Disney prints, solid colours, multicolours and more. The hats are comfortable for children as the material is soft against the skin and keeps the ears warm, and shuts out the wind with a rib around the neck. The brim makes the hat fit snugly without tightening on the neck, so playing outside for hours is no problem.
It's important to choose the right type of material, design and fit for your child so they're comfortable in the hat. Elephant hats are made in both cotton and wool, and sometimes in a practical combination, so you get the best of both materials. An elephant hat can be washed in the washing machine.
The right hat for your child
Finding the right hat for your child can be a big task. Some elephant hats can be opened at the front with buttons so that it's not uncomfortable for your child to pull the hat down over their face. Buttons are also useful if your child tends to get very hot, as they allow the hat to be opened when the temperature rises. Other hats are pulled down over the head and are functional and durable.
You'll find a wide range of elephant hats nationwide in most colours and in good qualities at Kids-World.