A newborn baby needs a place to sleep, and it should obviously be in the best cradle or cot. Our guide will help you decide which cradle and cot to choose. Here you'll find everything you need to give your baby the best conditions for a good night's sleep.
We have recommended the best cribs and best cribs for your baby

2.199 kr.
Good and stable cot from Manis-h. The cot is in white wood, and with its simple style will fit into most children's rooms. It has rounded edges, which is practical for little ones. The base of the bed itself can be adjusted to three different heights, so it can be lowered as your child learns to sit up and stand. This also protects your back. When your child grows up enough to climb on and off the bed, the side can be removed. A good bet for the best cot that doesn't cost a fortune. The bed measures H94 x W64 x L124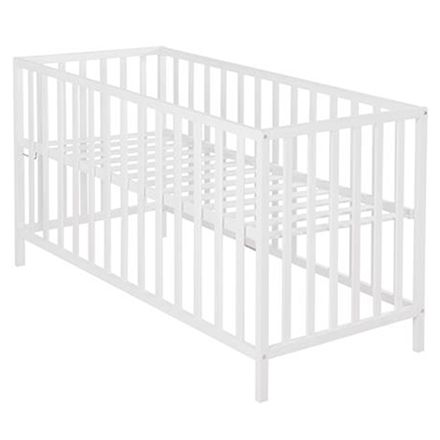 999 kr.
If you're price-conscious, here's a good bet for a cheap cot. This model from the Roba brand is a good and affordable cot that does what it's supposed to. The base can be adjusted to three different heights, so it can be adapted to your child's development. The cot is made from eco-friendly bio-wood, so it's also a good choice if you value the environment when shopping. With a good mattress, this can be a lovely bed for your baby. A great cot that you can safely put your little bundle of joy in.
Cute cradle with many options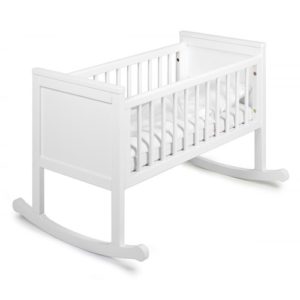 1235 kr.
Very cute cradle, which can be used in many different ways. The picture shows it with tracks, so it can cradle and calm the baby. However, it also has regular legs, so you can just use it as a small crib. The side can even be removed so it can be used as a bedside crib. A really cute cradle that can be bought at Lekmer at a very reasonable price.
If you'd like to go straight to the cribs and cots we've looked at, you can click through below. If you're still unsure about choosing a cot or crib, you should read our guide first. Click to read more.
Best cradle
Guide to choosing a cradle
Best cot
---
Guide to the cradle
Most children have a cradle as their first bed. A cradle is smaller and easier to manage for a little new world citizen. Many newborns find peace in their cradle because its movements are reminiscent of their time in their mother's womb.
A baby cradle mimics the feeling of lying in the womb. Cradling your baby stimulates balance and motor development, and makes your baby more aware of his or her body. That's why it's important to rock your baby.
If you're worried that rocking your baby to sleep will become a habit, or if you think it's hard on your back and arms, you should buy a cradle. A cradle is different from a cot because it's a little smaller and wraps the baby more tightly. And it can rock your baby to sleep, if you're lucky.
Mattress and canopy for cradle
A crib canopy is a piece of fabric that hangs over the crib, shielding your baby from impressions, light and drafts. With a crib canopy, your baby's crib will be more secure and it will also look really cute and decorative. The baby will have its own little cave to sleep safely in.
There must also be a mattress in the cradle. The mattress should be soft, but not too soft, and it may be a good idea to buy a cradle mattress that is hypoallergenic. Often there is no crib bed frame as there is no space.
What is a sling cradle?
You may have heard of a so-called sling cradle, baby hammock, spring cradle. The dear child has many names, but the principle is the same: Baby is put in a hammock that wraps around them and makes them calm down.
In a sling cradle, the baby is tightly wrapped in soft fabric. The cradle can bounce silently up and down. Unlike a Leander cradle, a sling cradle can swing from side to side and up and down because of a sling cradle spring at the top.
Like a Leander cradle, a sling cradle can be hung from a hook in the ceiling or from a stand. In addition, a swing cradle can be hung on a door frame.
A sling cradle consists of a piece of fabric sewn like a hammock so that a mattress can be placed inside. The fabric is 100% cotton and can be washed at 60 degrees as recommended by the health authorities.
The principle of a sling cradle mimics as much as possible the safe feeling of being in mother or father's embrace. A sling cradle wraps itself tightly around the baby, and the quiet movement feels safe and reminiscent of the time in mum's tummy.
When the baby moves, the sling starts to bounce silently up and down, or swing gently from side to side. This lulls the baby back to sleep. A sling cradle is effective in calming restless babies. Colicky babies benefit greatly from a sling cradle, where they can feel the same security as they do with their mum or dad.
Easy to carry on the go
If you're often on the move, or if your baby will be spending the night out, a sling cot is also brilliant. It doesn't weigh much and is easy to pack and carry. That way, baby has his own bed with him in the form of a carrycot. A bag is included, so it's easy to pack up and take along.
Important information:
If your child has body imbalances or other problems, it is recommended to use a regular bed at night. Otherwise, you can use the sling as much as your baby wants. Always remember to read the instructions carefully when fitting the sling.
Read on to find out which cradle is the best.
How long can baby sleep in a cradle?
Usually babies stop using their cradle when they are around 6 months old. By then, most babies have learned to turn around and may try to stand up. Baby may also have outgrown the cradle and prefer more space. How long baby sleeps in the cradle varies. When a baby sleeps a long time in a cradle, it is often because they have got used to the comfort of a cradle. When the baby is no longer sleeping in the cradle, you can save it for the next child or sell it. A cradle has a good resale value, as a used cradle is rarely very worn.
The best cradle
All parents and babies have different needs when choosing a cradle. It matters how much space you have and whether the cradle is easy to take on the move or move around the house. A baby cradle is good to have in the beginning, as newborns need a lot of reassurance. Common to all cribs is that the rocking movements stimulate baby's sense of balance, thus strengthening their motor development from the start.
There are many great baby cribs on the market. On this page, we have chosen to recommend two cribs that are among the most popular and best cribs: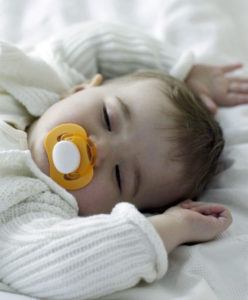 Leander cradle
Retailer: Pixizoo
Price 1.898 kr. (incl. bedspread)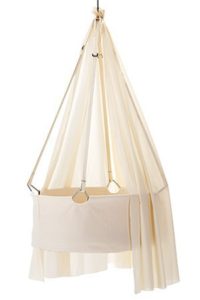 More information about Leander cradle
The Leander cradle is very popular. For many parents, a Leander cradle is the best cradle because of its beautiful design, delicious accessories and its amazing ability to lull a baby to sleep.
The baby himself makes the Leander cradle move quietly back and forth when the baby is restless and moving. Its quiet movement reminds baby of the time spent in mummy's tummy, and often helps baby to fall asleep or relax.
Many parents who have the Leander cradle experience have been satisfied with the cradle and think it has been the best cradle they could choose for their baby.
You need a Leander cradle mattress that fits. The mattress is wonderfully soft and comfortable to lie on. A Leander cradle canopy creates additional security around your baby. Small newborns don't like a big, open world that they can't survey. They feel most secure when they are enclosed tightly and shielded from bright light and too many impressions
En Leander bed canopy is a bit of extra luxury when your little one sleeps safely in his Leander cradle. At Pizizoo, both mattress and bedspread are included in the cradle price of 1.898 kr.
The Leander cradle can be hung in a ceiling hook or on a stand. The cradle can move freely in all directions, which stimulates your baby's motor skills.
A Leander cradle measures H: 30 cm, W: 50 cm, L: 83 cm.
The cradle bag can be washed at 60 degrees. Remember to wash the mattress separately.
Leander cradle stand
With a stand for the Leander cradle, it can be moved around the house, or even come to a sleepover with the grandparents. If you hang the Leander cradle in a stand, you don't have to drill into the ceiling.
A Leander cradle stand can be bought in both grey and white, so you choose the one that best suits your style.
The Leander cradle is beautiful and decorative whether you choose a stand or a ceiling hook. Your baby will undoubtedly love being lulled safely to sleep, enclosed by the oval shape of the cradle.
A Leander cradle stand measures 197 cm in height, and costs 999 kr. at Pixizoo.
Buy Leander cradle stand here.
 Natures Sway swing cradle
Retailer: snail shell
Price: 1.749 kr.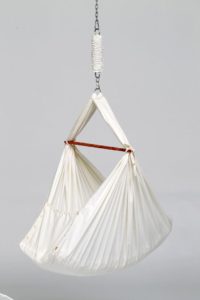 Information about Natures Sway swing cradle
The original sling cradle from Nature Sway is sold only at Sneglehuset.com.
When you buy Natures Sway sling cradle from The Snail House, you have the opportunity to try it out for 14 days and see if your child likes lying in it. There is a 0.5 % return rate on the Natures Sway Swing Cradle, which tells you many people think it's the best cradle.
Natures Sway swing cradle is made of 100 % cotton and can be washed at 60 degrees. The swing cradle can be used both indoors and outdoors, as it is easy to hang up. However, always make sure that a swing cradle is hung securely.
Because the baby is wrapped in the fabric, it gets warm in a sling cradle. The snail house therefore does not recommend putting the baby with a duvet in a sling cradle. If possible, give the child a thin cloth nappy or small teddy bear to cuddle with.
Buy Natures Sway Swing Cradle for 1.749 kr. 
Nonomo swing cradle
Forhanlder: Babygear
Price 1.498 kr-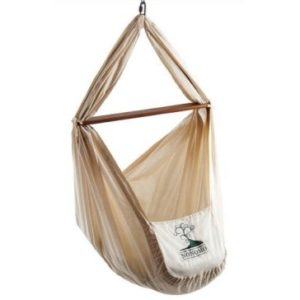 More information about Nonomo Sling Cradle
The Nonomo sling cradle has the same function and principle as the Natures Sway sling cradle, but is a bit more economical at DKK 1,498. The Nonomo Sling is a quality product and one of the best cribs.
Natural materials and tempering wool mattress
The cradle is made of 100% organic cotton and the mattress is made of 100% pure new wool with organic cotton cover. This swing cradle is completely free of chemical substances, there are of course no fourenene substances in the product
The Nonomo swing is a great choice for the environmentally conscious parent. It is made of only the finest natural materials. Your baby won't get near chemically treated products with the Nonomo sling cradle.
Easy to carry on the go
As with Natures Sway swing cradle, it weighs very little and is easy to pack up and take on the move in the bag provided. The bag is also made of organic cotton.
The Nonomo sling cradle can be used from birth up to 15 kg, which the child usually does not weigh until around 2.5 years. With this sling cradle, there will be plenty of nice, long dinner walks and quiet nights. Restless or colicky babies often calm down in a sling.
The Nonomo sling cradle is also available in a smart twin edition, where the twins can lie next to each other, but still in their own cradle.
Sling cradle
A Nonomo swing cradle can be hung in the following ways:
Sling cradle stand
Wall hanging
Hanging in door frame
A sling cradle is smart because you can easily move the sling cradle around the house and don't have to rely on hooks in the ceiling. A stand is also necessary if the ceiling or walls are not suitable for being drilled into.
A sling cradle wall mount is handy if you don't have room for a stand in your home, or don't have the option of drilling into the ceiling.
Door frame hangers allow you to use the sling cradle without drilling at all.
Guide to the cot
A cot is a safe bed for a baby, as the bars ensure that the baby cannot fall out. When your baby is too big to sleep in a cradle, it's time to move to a cot. In a cot, your baby has more space to sleep and can move around better. At first, the bottom of a cot is set high up so that parents don't have to bend far over the bed to pick up and put down their little one.
Put the bottom down in the cot - when?
As baby becomes more mobile and learns to sit up, and stand up, it's important to put the bottom down. Most people put the bottom of their cot down at 6-8 months. Do it too early rather than too late.
In the best cot, the child feels safe and comfortable, creating the best environment for a good night's sleep. Children grow when they sleep and process the many impressions of the day. A good night's sleep is essential for a child ready to explore the world.
Find the best baby beds for your child in the guide. Here we recommend the most popular, safest and best baby carriers that don't compromise on usability and practicality.
How long does baby sleep in a cot?
A cot can be used from birth until the child is about 3 years old. If you don't use a cradle first, it may be a good idea to put your baby in its carrycot downstairs in the cot for the first few weeks. Small babies find it hard to settle if there is too much space around them. It's time to move to a bigger bed when your baby can no longer lie stretched out in the cot.
Some children learn to crawl over the edge of their cot as early as 1.5 - 2 years. This is dangerous as they can fall and hit themselves. Then it is a good solution to take the side of the cot, thus postponing the change to a junior bed. This option is available with the Leander and Sebra cots.
Here you'll find suggestions for the right cot for your needs and budget. We've chosen to recommend three baby beds in the guide, all of which meet strict safety requirements and Health Authority recommendations:
Babydan cot
Retailer: Pixizoo
Price 1.199 kr.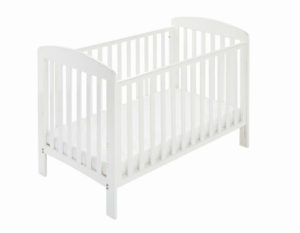 More information about Babydan baby bed
The Babydan cot is a good and safe cot.
The base of this Babydan cot can be adjusted to three heights to suit your child's size and development. The base is made of slats, which means it is breathable and ensures your baby doesn't get too hot. The sides can be raised and lowered, which is easy on your back. The child can climb into the bed by himself, after which you raise the side.
With a Babydan cot, you get a solid, affordable cot that can easily hold several children.
Leander cot
Retailer: Pixizoo
Price 5.495 kr.
Recommended by the Consumer Council!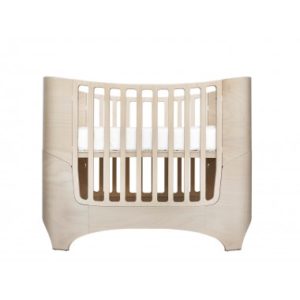 More information about Leander crib
A Leander cot is a natural successor to the Leander cradle. It comes in the same soft shapes, and will adorn any nursery. The Leander cot is popular for its unique design.
The cot is available in three colours: white, walnut or whitewash, as shown in the picture.
With the Leander cot you get both cot and baby bed in one. Leander emphasises that with the cot you get 5 beds in one piece of furniture. The Leander baby bed can be made larger so that it can follow the child throughout childhood up to the age of 10-12.
Leander cot can become 5 different beds 
Cot with raised base
Cot with lowered base
Cot with side taken off
Small junior bed
Large junior bed
Recommended by the Fornruger Council
The Leander cot is recommended by consumer advice agency Tænk, as it meets all safety requirements and can be used up to the age of 10-12.
The Leander cot is therefore one of the best cribs. The side of the cot can be removed, which means that the child can climb in and out of the cot themselves. This also makes it possible to convert the cot into a small sofa when it is no longer in use one day.
Here you get a cot that your child will undoubtedly love and that has a great design. Remember, you'll save on the cost of a junior bed too. With the Leander cot you get both at once.
Sebra Nursery Bed
Retailer: Pixizoo
Price 5.199 kr.
More information about sebra crib
A Sebra Baby Bed is one of the most popular baby beds. Like a Leander cot, it can be converted into a junior bed, which was the designer's original idea for the bed. The cot has round, soft shapes and looks beautiful in the nursery. When the child is old enough to climb in and out of the bed, the side can be removed. When the side is removed, the child is still protected by the rounded ends.
The Sebra crib is made of birch wood and is painted with a special paint that does not contain toxins. The cot naturally meets all safety standards.
The Sebra cot is a cosy, safe place for your baby to sleep.
The uniqueness of the Sebra crib is the design. It has rounded edges and gives the nursery a nice look that can quickly be personalized.
Fun detail: the Sebra doll bed!
As a fun detail, you can also buy a Sebra doll bed, which is similar to the Sebra crib. It makes it extra fun to put dolls and teddies to nap when they can sleep in the same bed as you. Plus, it looks great in a child's room when the doll's bed matches the cot.
Please note that the dimensions of the Sebra cot are 112 x 70 cm. Therefore you need the original mattress for the bed. The mattress can be used for both the cot and the junior bed.
Buy mattress for Sebra crib here.
Which mattress for a cot?
The mattress for baby should not be too firm, but without being hard. The Health Authority recommends a firm mattress that the baby does not sink into, as this helps to develop the baby's motor skills and prevents cot death.
The child should be able to lift its head when lying on its back on the mattress. If you choose to put a roll-up mattress over the mattress, use a thin version to avoid the mattress becoming too soft.
A mattress for a cot should be at least 5 cm thick to have the correct firmness. For hygienic reasons, the cover must be removable and washable at 60 degrees. It is recommended to wash the mattress cover and roll mattress at 60 degrees 4-6 times a year. A mattress with springs is not necessarily worthwhile, as the baby's light weight means that the springs cannot be used anyway.
The standard dimensions of a cot are 60 x 120 inside.
This mattress meets the requirements of the Health Authority. It has pressure-relieving cold foam to provide the best comfort. This mattress is recommended to be used with Leander cots, but can also be used with other standard size cots. It costs DKK 995.
Bed frame
A bed frame makes a cot extra cosy and personal. One of Sebra's popular bed edgings is made of organic cotton and is wonderfully soft. The Sebra bed frame is a thick bed frame, which means that it can stand up in bed by itself, without having to be adjusted or tied in any way.
A bed rail protects against draughts and cold, and ensures that the child cannot hit its head on the hard bars.
There are many varieties of bed rails, each with its own unique look for your baby's cot.
Baby duvet and baby bedding
To sleep well, baby needs a duvet, of course. A baby duvet measures 70*100 cm. A larger duvet will be too heavy for a newborn, who risks overheating. A good baby duvet is tempering and comfortable to lie on.
The Danish Health Authority recommends that a baby duvet be washed at 60 degrees 4-6 times a year. That's why we recommend the FlossFlakes hypoallergenic baby duvet, which can be washed at 60 degrees. If it needs freshening up, you can also tumble dry it 10 minutes after washing, on low heat.
Babydyne
Choose a hypoallergenic baby duvet to prevent and reduce allergies in your child. We recommend baby duvets from FossFlakes. FossFlakes baby duvet and pillow are Oeko-tex certified, i.e. free from harmful substances.
It is one of the best hypoallergenic baby duvets on the market. With the price of 549 kr., you also get a flat baby pillow.
When to use a baby cushion?
The earliest the baby can have a baby cushion is 1 year old. It is not recommended before, as it increases the risk of cot death. You can tell your baby needs a pillow if he uses a teddy bear as a pillow, or starts using his baby blanket as a pillow. Use a flat baby pillow so that your baby does not strain his neck and shoulders by lying on a pillow that is too high.
Baby bedding
It's a good idea to buy 3-4 sets of baby bedding, as it needs to be changed often. Baby bedding should be washable at 60 degrees, and of course be nice and soft against baby's delicate skin. In addition, many babies are happy if their baby bedding has some nice colours and designs that they can look at.