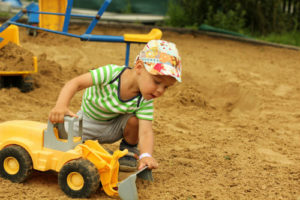 A sandbox digger or other sandbox digger is almost the perfect outdoor toy. A sandbox is always a popular place for children to play and a digger is therefore a very useful and popular toy.
It is possible to get a small digger that even the smallest from 1 year can drive around and get much pleasure from. A larger digger, which the child can sit on top of and steer, is the perfect sandbox toy for children aged 3 and over. Here you will find lots of examples of sandbox diggers or sandbox diggers.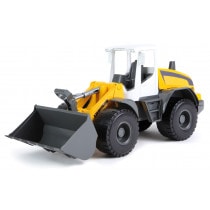 A large sandbox digger in a nice yellow colour. The digger has extra large wheels, which makes it extra stable and equipped for driving in the sandbox. The digger is 45 cm long, making it a good size for playing in the sandpit. The digger has an extra large shovel, so sand can really be carried around.
Yellow excavator and helmet - perfect for playing in the sandpit
Here is a large excavator with the child sitting on top. It's sure to be a hit with any child who loves the big digger. The child can sit on top of the digger and control it with a handle. The grab can be used to move sand around, or dig a big hole in the sand. A fun game that can pass a lot of time. There's a small trolley on the back of the digger, so there's room to move things around too. The digger has a good balance and does not tip over easily. A work helmet is included with the digger.
Small bulldozer / excavator for the sandpit
A really nice little digger that's great for playing in the sandpit. It is 13 cm long and can be used in the sandbox, but also inside because of its practical size. The toy is from the brand B Toys, which makes toys for children in nice and bright colours.
Colourful bulldozer for the little ones - Nice sandbox toy
Another super nice little machine from B Toys, which is especially good for the little ones. The digger measures approximately 11 x 13 cm, which is a perfect size for little hands. The smallest children from around 1 year old can therefore handle and play with the fine digger in the sandpit without any problems. This model has beautiful colours such as orange, dark blue and turquoise, which will catch the interest of the little ones.
Fun sandbox toys from B toys
For extra fun, this colourful sandbox toy might be a good choice. You can pour sand into the top, then watch it run down through, and end up in a digger or truck. A fun game that stimulates the child's senses and motor skills. All toys from B Toys are nice and colourful, and come in reusable packaging, so the environment is also taken into account. It is sold at Lirumlarumleg, go to dealer via link below or right here.
Large pedal tractor with front bucket
A large digging shoe that the child can sit on and drive around with the help of pedals. This version is a nice green pedal tractor in really good quality. The tractor has a front bucket which makes it also work as a digging cow or digging machine for the sandbox. The tractor has a comfortable seat from which the child can sit and pedal. The vehicle has large, powerful wheels, the front two of which are swivel wheels. The tractor is steered with the steering wheel. A fun pedal tractor for children aged 3 and over. This excavator has a very authentic look, and will no doubt bring excitement to children who love to dig. You can see many more pedal tractors here, or go directly to dealers here.
Excavator as tank
Large digger for the sandpit, which the child can sit on top of and control. The upper part can be turned around so it's easy to move the sand around. A nice orange digger for the sandpit, this model is in really good quality. It is made in France, and comes from the brand Falk Toys. The digger has a good balance, and can easily withstand the child digging sand. The construction of the digger is that it has 4 wheels on each side, which are connected in the same way as a tank. This sandbox digger has been seen at the retailer Only4kids.
Big red truck with yellow load
A large toy truck that is perfect as an alternative or complement to the excavator for the sandpit. This truck has large, solid wheels and a tipping load. This makes it great for carrying sand around, especially as it is a good size. It runs well on both grass and sand. A fun truck suitable for playing in the sandpit.
Small sandbox for 599 kr.
If you don't already have a sandbox for your new sandbox digger, this is a good, inexpensive sandbox that doesn't take up too much space. Children of virtually all ages get great pleasure from a sandbox, as it allows for a really wide range of games. Especially if you have a sandbox digger in it. This small sandbox from Sundleg   is sustainable and made of durable and good quality. In the sandbox, children can play all day long, making sand cakes and sand castles, and of course playing with the sandbox digger, or a sandbox digger. It is a good idea to place the sandbox in a shaded area, or alternatively under a parasol, so that the children do not sit too long in the bright sun. See many more sandboxes right here.
Bucket and shovel
A set like this, with a bucket and shovel, is the perfect sandbox toy. It can really occupy a child's time as it allows them to use both imagination and creativity. The set comes with a bucket, a scoop, a strainer and two fun shapes that you can use to make great sand cakes. Choose from several different colours. Both fun and inexpensive toys for the sandbox.
Advice on outdoor toys
Here we have briefly summarised three pieces of advice that you may find useful when buying new outdoor toys.
Toys must be able to withstand the Danish wind and weather
Toys should not contain small parts that are dangerous for young children and can fall off
The toys should inspire children to play fun games in nature
Even if you don't have a garden, your child can still get a lot of enjoyment from sandbox toys, such as a digging cow or digger. Just make sure it's the right size to take to the playground or wherever you need it. For example, you can take a closer look at the small dachshunds from B toys, which is of an appropriate size. These can also be played with indoors.
When you're looking for outdoor toys, or perhaps more specifically a sandbox digger, it doesn't matter which sandbox digger you choose. First of all, it must be suitable for outdoor use. This means that it must be made of hard plastic, for example, without too many crevices where dirt and grime can hide in the toy, which can cause it not to work. In addition, a digger or sandbox digger should be able to withstand a good water and moistureas the toy will inevitably be exposed to this outside. Outdoor toys are often stored in boxes or sheds in winter, where conditions are not necessarily dry. But often a digger is left outside even in rain and sometimes even frost. So choose a toy with a good shelf life. Last but not least, it should of course be fun to play with outside, and especially suitable for digging with sand in the sandbox.
The best outdoor toys for kids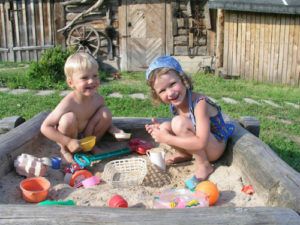 Almost all children love to play outside. There's plenty of opportunity to run fast, get dirty and so on. With outdoor toys for , such as a digger for the sandpit, or a digging shoe for the sandpit, sometimes hours can be spent digging sand, making deep holes or building a sandcastle. Often it takes no more than a few diggers and maybe a shovel for the kids to have fun in the sandbox. Fun outdoor games develop children's motor skills and senses, and they learn a lot about nature while using their bodies . If you are looking for a good digging cow for sandbox or maybe a digging machine for sandbox, it can be used by children from 1 year old, depending on the model you choose. However, older children as young as 6-7 years can also benefit greatly from a sandpit digger. See it all on this page.