Get a better wardrobe today -
All the tips you don't know but should!
Would you like more order and clarity in your wardrobe?
Are you always looking for a certain item of clothing but can never find it?
And is it always curly when you finally find it?
All that becomes a thing of the past with your new wardrobe!
Luckily, your path to a better wardrobe doesn't have to be expensive or cumbersome. In fact, you can achieve a much better wardrobe with very little effort. Read on to find out how to make a good wardrobe design.
Transparency is the way forward
We can't get around it. A good wardrobe layout looks uncluttered and gives you a quick overview of what you have. This means your wardrobe shouldn't be cluttered with things you never use anyway. 
A good wardrobe has enough space on shelves, on clothes rails and also allows you to store small items such as socks, underwear, scarves, etc. 
Are you already curious to see concrete options for wardrobe design? Then click here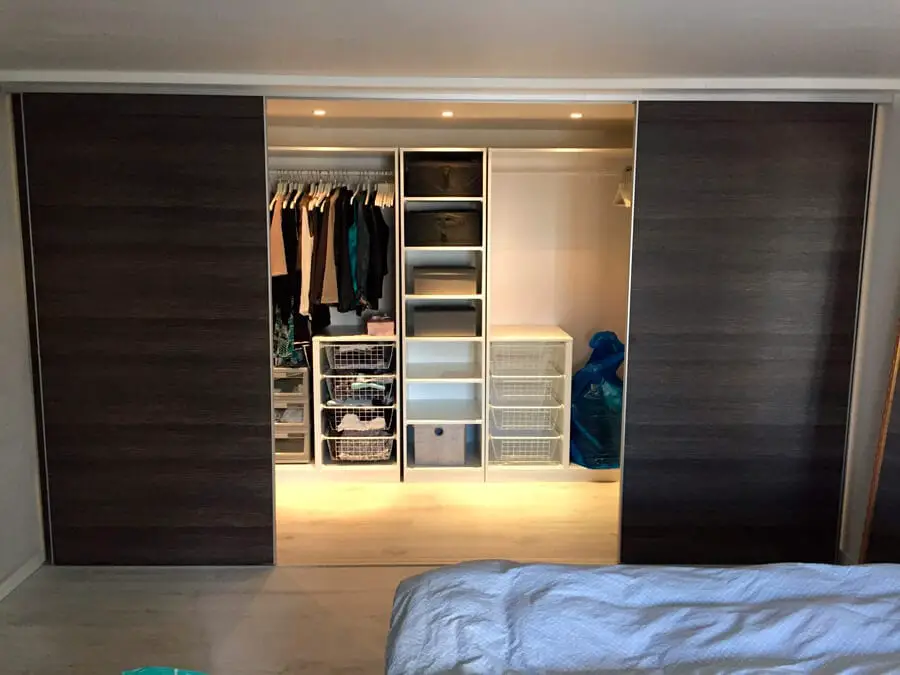 Get more clarity with:
Wire baskets
Shelves
Hanger bar
Sliding doors if necessary
Decorate with wire baskets, shelves, hangers, etc.
The road to a better wardrobe starts optimally with more space in your wardrobe. But unfortunately, that's not possible in every home. So we need to look at how you can get more out of the space you already have.
The first thing you need to do is sort out all the unnecessary stuff. Out with the old shoes, and that jacket that was really a huge mistake.
Once you've sorted out your belongings, it's time to get them more organised inside the closet. You can choose to have cosy little baskets on the shelves, in which you can keep underwear, socks and other small items, for example. Each item should have its own basket.
Not only will it be easy for you to find what you need, but it will also be much easier to keep things organised at the same time.
Consider replacing your wardrobe with sliding doors. Not only do they make far better use of your home's space than a traditional wardrobe - they also give you the chance to create your very own wardrobe design from scratch.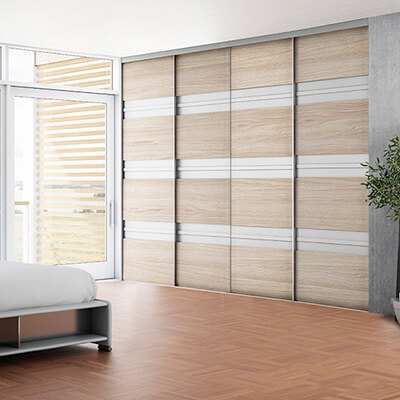 The sliding doors are installed in the ceiling and where they run in rails. You can therefore effortlessly slide a door aside and get a full view of what you have in the cupboard.
Inside the sliding doors - this is where the real magic starts! Because you can play with your wardrobe design to make it 100% personal, to suit you and your home.
You can choose from all kinds of customisation options when it comes to your wardrobe design.
Wire baskets
Small shelves
Large shelves
Space for shoes
Drawers
And much more! 
See all the options and how to buy right here.
You can easily and quickly click both shelves, hangers and everything home, so they are delivered directly to your address!
No more spending the weekend on a boring and stressful trip to the DIY store to buy a new wardrobe. Click it all home today and you can organise your wardrobe as early as the same week.

Does buying online sound like a hassle? Don't worry - there's plenty of help and friendly people behind the screen just waiting for you to call. You don't need to be an IT expert or an engineer to order your new wardrobe online on the cheap.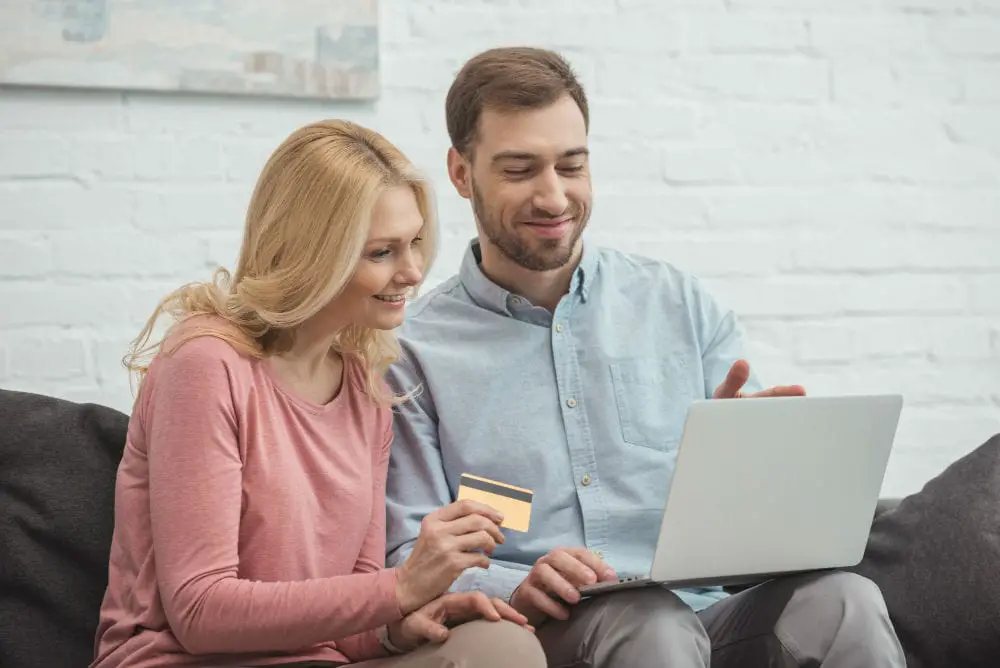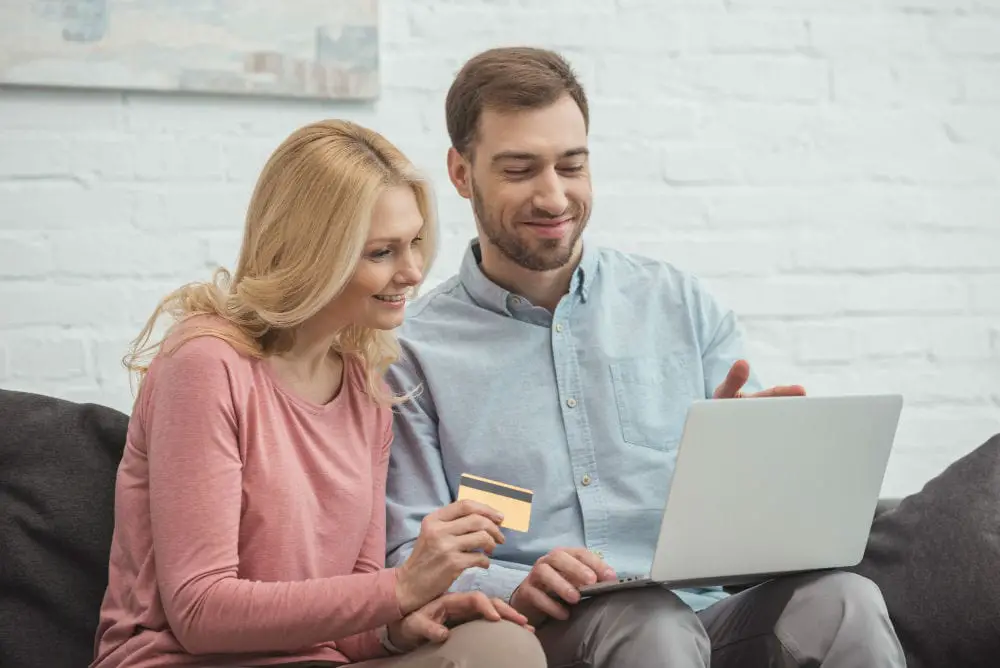 How to order online:
Click through to Decoslide - they have the largest selection of good quality wardrobe furnishings
Look around at the solutions that appeal to you
Call or write to the experts who are ready to help you. Phone hours are almost all day.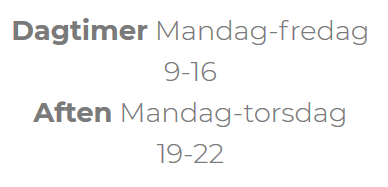 Wire baskets - why is it a good idea?
Wire baskets for the wardrobe are your way to a clear wardrobe layout. No more confusing piles in the closet where you can never find what you're looking for anyway.
The great thing about wire baskets is that you can see what you have straight away. Wire baskets give you a good overview of your wardrobe because you can see at a glance what each basket contains. Simply pull out the drawer and take out what you need - without having to mess it all up.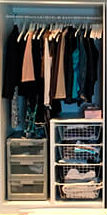 Wire baskets for wardrobes are perfect for organising your wardrobe.
Wire baskets for the closet are also very useful for children's clothes, toys and for children's rooms in general.
It's easy for little ones to put their clothes in the baskets and pick them up again. At the same time, you don't have to fuss so much with arranging clothes in small sizes, as they will quickly lie neatly in the basket without constantly getting messy.

Order your new Decoslide wire baskets today and get your wardrobe in order
Sliding doors - modern and stylish interior design for your home
If you're in the market for a major renovation, it might be time to replace the entire wardrobe and install smart and aesthetic sliding doors instead.
Sliding wardrobe doors - perhaps the perfect solution for a stylish wardrobe?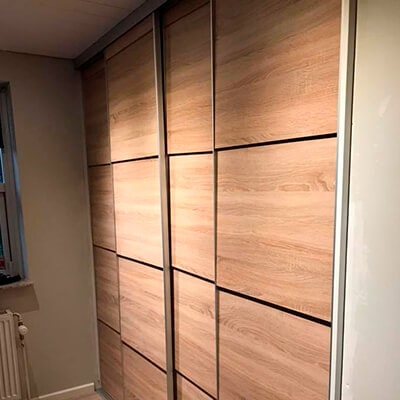 Sliding wardrobe doors are one of the most modern solutions when it comes to storing clothes, shoes and other items. Sliding doors make use of all the space you have between floor and ceiling.
With sliding wardrobe doors, you don't need a big, bulky wardrobe that takes up a lot of space in your home and also has a lot of wasted space between the top of the wardrobe and the ceiling.
Sliding wardrobe doors make the room look bigger
Sliding doors have the great advantage of making the room look bigger and generally just modern and stylish. Sliding doors can be bought in really nice designs to suit your home and style.
If you want sliding doors in a room that's not that big, luckily you can afford it. If you choose a smooth, light surface for your sliding doors, or even a mirror, the room will appear much larger than it really is.
Sliding doors with mirror are a great solution for many smaller homes, as you also get a large mirror that you can use every day.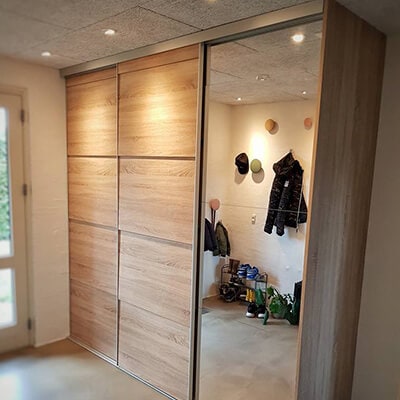 Stay tuned for even more concrete tips and ideas. Don't forget to read our wardrobe guide at the bottom of the page!
When you choose sliding doors to suit your home, you don't have to allow space for the doors to open into the room. That's an advantage most people enjoy. Especially if you're one of those people with a wardrobe in the bedroom, where there's often not much space to spare when there's also a double bed.
The best thing about choosing sliding doors as a solution for good and easy wardrobe design is that they are available in exactly the size and dimensions that suit your home.
You can buy sliding shutters in both standard and custom sizes.
Made-to-measure sliding doors are something that many people use. It's not only smart for your wardrobe, but for your interior design in general.
If you only want some of your wardrobe hidden behind the sliding doors, there's nothing wrong with ordering two sliding doors to cover what you need.
Remember that you can design your wardrobe exactly as you like when it comes to using sliding doors as a solution for good wardrobe design.
Sliding doors are available in many qualities, shapes and colours. The key here is to find one that suits your home and your style.
If you choose someone with a mirror, your room will magically seem much bigger. Instead of your wardrobe being a clutter in the decor, you'll actually make the room look much bigger.
When you have guests over, they're bound to be surprised by your beautiful wardrobe design and amazed at how much space you actually have. It all comes together when you think of many different elements in the right wardrobe design.
Wardrobe guide: Get your wardrobe in order

Good wardrobe design starts with a thorough clean-up of the closet. Although it may be a tedious task, it can really pay off in the end.
Here's an easy guide on how to make your wardrobe more organised. The trick is to have little but good while keeping your wardrobe organised and uncluttered.
You probably know this situation:
You're on your way out the door, but suddenly have doubts about your choice of clothes. You're faced with the classic dilemma: a closet full of clothes, but nothing to wear. Luckily, we have good news! You can avoid these unpleasant situations in the future by rearranging your wardrobe. Read on to find out how to get started.
Do you know about big piles of clothes and do you sometimes have to give the door an extra push before it will close? Then your wardrobe needs an update.
Tidy and sort your clothes
First of all, you have to do the hard and maybe a bit boring work. That's to dump all your clothes on the floor and go through them piece by piece. I bet you've got a pair of jeans you haven't been able to fit into for a long time, and that beautiful dress you've never really worn. 
Now's the time to recycle the clothes you don't use, to make room for the clothes you do use and can fit in. You can drop off your clothes at recycling shops where they either resell them or send them to vulnerable areas.
Once you've cleared out, you'll soon realise how much space you really have. 
In the future, it's a good idea to think twice before buying new wardrobe items. You'll save money and keep your wardrobe organised.
By avoiding silly impulse buys, you can keep your wardrobe from becoming cluttered again. 

Create a brand new wardrobe
Now that your closet is completely empty, it's ready for you to put all your stuff back. But rethink where you want things to go. Put your clothes in a new way that might make more sense and make everyday life easier.
Wire baskets 
Instead of keeping socks, underpants and other small items loose on shelves, you can store them in wire baskets in your wardrobe. Wire baskets are very useful for creating a more organised wardrobe. Baskets are easy to pull out, so you can quickly see what's in them.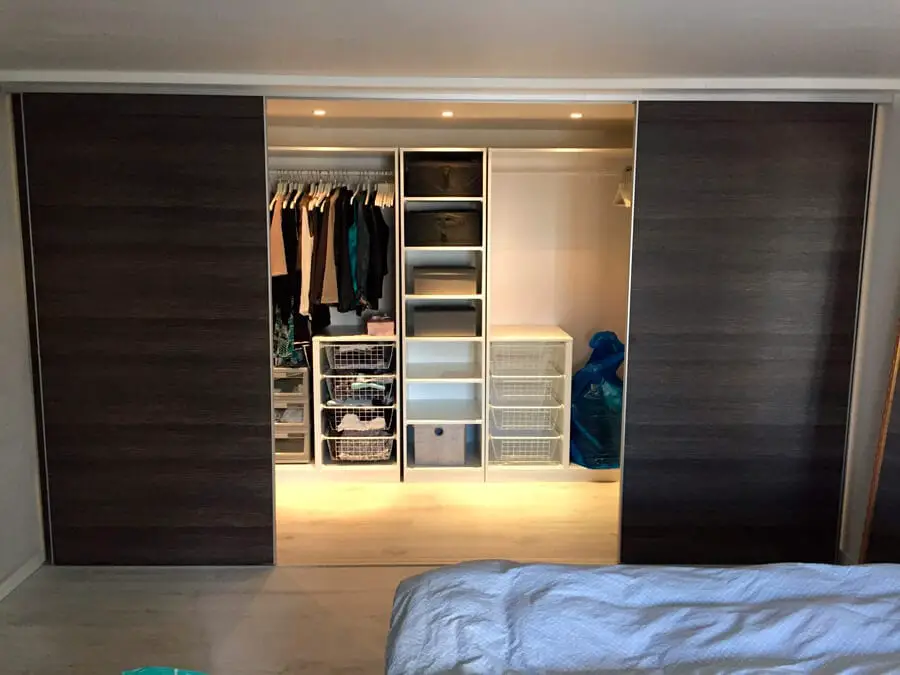 Enough space on the hanger bar
It's not just shirts that need to be hung on the hanger. Fine dresses, or thin tunics are also best hung on a hanger. Otherwise, it quickly becomes wrinkled and boring to look at.
It is therefore advisable to prioritise the hanger bar a little more than you might otherwise have done. It fills up quickly!
To make the most of your hanger space, it's a good idea to invest in a pair of sliding wardrobe doors. Because they are installed from floor to ceiling, you get the height of your hanger that your dresses require.
Order sliding wardrobe doors here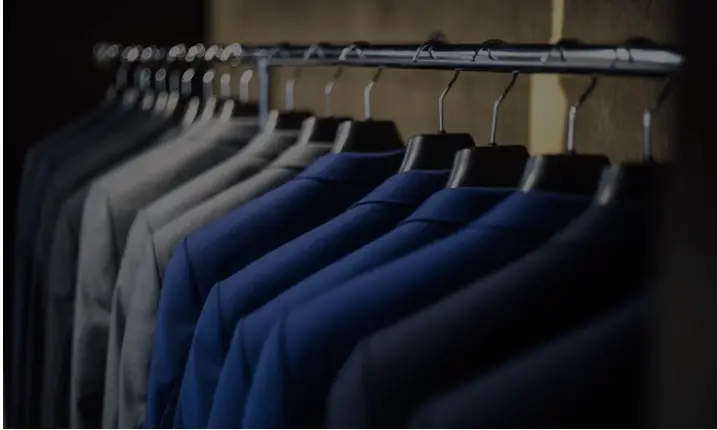 What's your favourite outfit?
I bet you have a few pieces of clothing that you put on as soon as they're washed and dry. Imagine that in the future, all your clothes will be your favourite! So you avoid a closet full of dresses, pants and other goodies that you don't wear anyway and can't fit.
Also try to find new combinations in your clothes so you can use what you have more than you already do. Maybe your old shirt will be fashionable again if you wear it with rolled-up sleeves and a t-shirt underneath? A simple wardrobe with simple but stylish pieces is much more manageable than a huge messy closet.
Good luck with the project!
https://startpakke.com/wp-content/uploads/2017/03/logo.jpg
0
0
Maria
https://startpakke.com/wp-content/uploads/2017/03/logo.jpg
Maria
2018-11-27 10:14:31
2018-11-27 11:10:34
Wardrobe design