Different kinds of remote-controlled toys are super fun for children of almost all ages. When looking for remote control toys for your child, it's a good idea to give some thought to your purchase so you don't end up buying something expensive that won't get used.
See different types of remote control toys for children of all ages below
Remote controlled toys - how old should the child be?
In fact, you can get very simple and straightforward remote-controlled toys for children as young as 12 months.

At this age, however, be prepared for the fact that an adult may need to be present for the game to be fun for the child. Indeed, it requires a certain age to put together the idea of a remote control controlling the toy. It is a good idea to choose a very simple piece of remote control toy when it is for children under 5 years old. It does not matter if the remote control has only one or just two buttons. In addition, the toy should be very sturdy, and be able to withstand a bit of use. See examples of remote control toys for the youngest here.
For children over 5, look for a slightly more complicated and fast remote-controlled toy of various kinds. For example, something flying like a drone many kids think is cool. This also opens up possibilities for other remote controlled toys, such as a fast speedboat, helicopter or small drone. For this age, it also makes more sense to invest a slightly higher amount in the remote-controlled car, as the child is able to take care of the toy.
Also consider the possibility of the best electric car for kids, which is also a great toy for speed-loving kids.
One of the new drones is probably the ultimate remote-controlled toy. Here we are talking about toys for both children and adults, as you have to be ready to invest a higher amount if you want a proper drone. See more here.
Remote controlled toy- fun speedboat
This cool speedboat can go fast in either a pool in the garden, or maybe even on larger areas like one on a lake or small stream. The cool remote controlled speedboat can go up to 30 km/h, and can be remote controlled up to 150 meters away. This gives the opportunity to let the child steer with the speedboat on a large lake or similar. Be aware, however, that it can get buffeted by waves if you take it to the sea. The speedboat is stable enough to cope with smaller waves. The smart speedboat is available for DKK 555. here.
Cheap remote control car - colorful gravestone
If you're looking to let your child play with remote-controlled toys without it having to cost the earth, then this car is a great idea. It's an inexpensive remote control car for only 299 DKK. You can buy it at Kids-World. The Grave Cow is a bit different from other remote controlled cars, as it's actually the man who drives the car! It's both fun and a different way to play with remote control toys. You control the man via the remote control and that way the car can whizz around. A fun toy at an affordable price.
Large remote controlled truck - Mercedes Benz
Measures: 43,5 x 9,5 x 13 cm
The beautiful truck will be exciting to drive around with. Fill up the load and the truck can drive to its destination. Big and beautiful truck that is fun and challenging for the child to play with. The truck has a large load that can be played with. The truck can turn to either side and drive back and forth. In addition, it also has sound effects and lights, providing more opportunities for play. It is a cool truck with a realistic look. However, if you are looking for a real racing truck, you should probably choose a different model. The wheels are quite small compared to the size of the truck, so it will have difficulty making sharp turns at high speeds - just like in real life. The truck has been seen at Only4kids.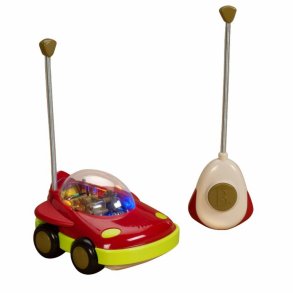 Small remote controlled racing car for the little ones (from 12 months)
A cute little remote-controlled car that can be used by the little ones up to 1 year old. The car is really good as a child's first remote control car as it is very sturdy and durable. At the same time it has nice fresh colours which are interesting for the child to look at. The remote control is very easy to operate as it has only one button which makes the car drive forward. It is therefore easy to mostly for even small hands. The control has a strong signal so the car can drive quite far. In addition, the car can flash, beep and spin. A fun gift that is sure to bring joy. The little car has been seen at Children's Cartel
Cute little tractor - Remote controlled tractor for the little ones
If your little boy or girl is getting their first remote-controlled toy, this tractor is a good choice. It can be used from 18 months. The tractor is made in soft, round shapes and has a cute, lively and fun look that little ones will love to look at. The remote control consists of a simple control where one button makes the car go forward and the other makes the car reverse. Seen at Children's Cartel.
Sej Drone - A smaller model, suitable for older children and adults
Price 3.199 kr. - see more here
If you're looking for a more complicated remote-controlled toy, this drone might be worth a look. It's from the Hubsan brand, which makes some of the best mini-drones on the market. This model has a camera. Be aware that it must be used with an adult, as flying the drone requires some practice. Once you have a knack for flying the drone, you have a toy that both children and adults will keep coming back to. Read more about this drone at the retailer Hubshop.
Are you lucky enough to be the happy gift giver to your child, grandchild, nephew or niece? Then you're bound to be aware of the fun and exciting things on the market that make the very best gifts! And if not, don't doubt because remote-controlled toys for children are among them, and they come in all shapes and sizes! But remote control toys for kids really get the game started. Available for both girls and boys, remote control toys for children are characterised by the fact that they can be controlled via a controller or remote control, which brings the toy to life.
Become the coolest racer in town

A classic among remote-controlled toys for children are definitely remote-controlled cars! Remote controlled cars have been around since the first remote controlled toys for kids were developed, and have provided hours of fun and play since then! With remote controlled racing cars, monster trucks or rally cars, your child has the opportunity to become the coolest racing driver in town. Remote controlled toys for children in the form of remote controlled cars have also been around for many years, with racetracks that can be built together in the living room providing hours of fun and competitions with friends to see who can finish first! Remote control racing cars are for all playful children and even playful parents, because who doesn't love speed and excitement?
Become a pet or robot owner with remote controlled toys
Remote controlled toys for kids also offer the opportunity for your child to have their very own super cool robot friend who can do and say amazing things with the remote controller. In addition, there are remote control toys for children in the form of animals such as dinosaurs and dogs, which can make your child's best friend and pet, which obeys your child's command, only at the touch of a button! Remote controlled toys for children come in an incredible variety of shapes and sizes and can be used for speed or for quiet moments with your remote controlled friends. Remote controlled toys for kids are the perfect toy for all children, bringing family and friends together for fun and play.