A doll's bed is a cosy toy that decorates a child's room. Most children love playing with dolls, and of course a doll needs a bed to sleep in.
There are many different doll beds available in various online toy shops.
At Lirumlarumleg they have one of the largest selections of doll beds. Here you can easily and quickly buy sebra doll bed, smallstuff doll bed or Cam Cam doll bed in wood.
Doll's bed - when and which one?
When deciding which is the best doll's bed, you need to consider how big it should be and whether there are any special appearance requirements.
Most dolls' beds can be said to have the same function, so it's probably the design that makes you prefer one over the other. If your baby or child has a Sebra crib, it might be appropriate to also have a Sebra doll bed. It looks cute when it goes together.
Children start playing role-playing games around the age of 1, and by 1.5 - 2 years most children love to play with kitchens, dolls and anything else that mimics what adults do. The doll's bed is a great way to include dolls in this role-playing game.
Sebra doll bed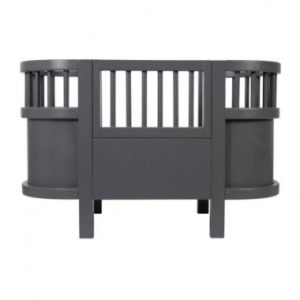 Here's a popular doll's bed that looks great in the nursery or living room. Sebra is known for their beautiful design with round, soft shapes, which Sebra doll bed must be said to live up to. The bed is oval, which gives it a really nice look.
The doll's bed comes without mattress and bedding, but these can be purchased separately.
The doll's bed is made of plywood. Measurements: L49 cm, W44 cm, H35 cm.
Smallstuff doll bed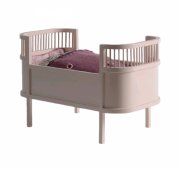 This nice doll bed from Small Stuff is another popular doll bed. The doll's bed is of really good quality, as it is also made of wood.
Included in the price is a soft cotton mattress to keep your doll comfortable.
If you would like a doll's bedding and blanket, these can be purchased separately as they are not included with the doll's bed.
The doll's bed measures 28x52x34 cm, and has a lying area of 49 cm.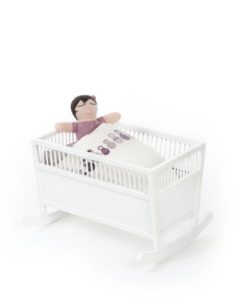 Smallstuff doll cradle
Another really nice Smallstuff doll bed. This one is designed as a cradle, so the doll can be gently rocked to sleep. The doll cradle is very decorative in the nursery, and is fun to play with.
The doll cradle is made of wood and is durable and a good quality.
Cam Cam wooden doll bed
Hey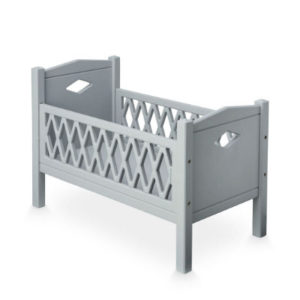 r is the doll's bed that will make the girls' room a notch more exclusive. Cam Cam is known for its quality products in delicate colours, and this beautiful doll's bed fits perfectly into the theme.
The fine harlequinn pattern on the side adorns the bed and gives it a really nice look.
Dolls and teddies will feel lucky to be tucked into such a nice bed! Mattress and other accessories must be purchased separately.
The bed measures: L:51 x W: 28 x H: 31 cm
Cute doll cradle from Viga
Very nice cradle from Viga with pink ends. It will fit perfectly in the girls room. The dolls can be rocked safely to sleep in the cradle.
The doll's cradle is quite narrow, so there is room for it even in smaller children's rooms.
It's made of wood, and of course completely free of harmful dyes and chemicals.
Doll bed from Maileg - perfect for the cute Maileg rabbits

Here's a slightly different doll's bed with matching mattress and duvet in a cosy pattern. The bed is made of metal and has a high bed frame.
The doll's bed has a French design, and a more rustic look than so many other doll's beds.
Cute girl rabbit from Maileg
If you want a rabbit that fits perfectly on the bed, you can buy it at Lirumlarumleg. They have several different versions and cost DKK 239.95.
See more about the rabbit here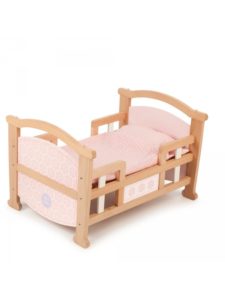 2 - 1 doll bed - both a bed and cradle!
This cute wooden doll's bed can also become a cradle. Then your doll has a nice place to sleep. The doll's bed has cute pink details and comes with an adorable bedding set.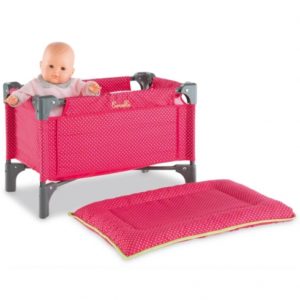 Doll's bed with changing area
In this cute doll bed, dolls can sleep sweetly for naps. When it's time for a change of nappy and clothes, the doll can be placed on top of the changing mat. Place the changing mat on top of the doll's bed and, presto, the doll has a place to be changed.
Kids Concept wooden doll bed
Nice, white painted wooden doll's bed. Good quality from Kids Concept. The doll's bed has small stars at the end. The bedding and pillow must be bought separately.
Done by Deer
Cute doll bed from Done by Deer. The doll bed is made of wood and has a nice rustic design. The doll's bed has wood-coloured legs and looks great in the nursery.
Measures 50 x 28 x 35 cm. From 1 year. (Doll bedding not included)
---
Remember the doll
There's not much fun in a doll's bed without a doll to cuddle. When it comes to buying a doll for your child, you'll quickly find there are plenty to choose from. In fact, it can be a little difficult to figure out which doll is the best doll.
→Find the best doll here: long list of dolls!
Baby doll incl. clothes
Cute little doll that is a great choice for your child's first doll. The body is soft and the doll is easy to cuddle. The doll comes with clothes.
---
Doll carriage
The doll's pram is another toy that is an indispensable accessory for dolls. In the doll's pram, the doll can be transported around and she can sleep safely. It can also be used to transport other toys and is a fun toy for children.
→ See our list here, with the best doll strollers. 
It's also great for taking on trips when you need some fresh air.
A wooden doll carriage is one of the most popular doll carriages. They are both durable, and look nice. They can last for years of play, and are often passed down to a younger brother or sister.
Smallstuff doll carriage in wicker
Cute wicker doll carriage. The pram has soft shapes and retro inspired design. The doll carriage is nice to look at and fun for the kids to play with.
The Smallstuff doll carriage is available in several colours. Here it is shown in natural colour. See all colours here.
Sebra wooden doll carriage
The Sebra wooden doll's pram is beautifully and decoratively crafted with soft shapes and a durable design. The wheels have soft rubber edges so that the floor does not get scratched when driving around with the doll's pram.
The doll carriage is available in both grey and pink!
Brio doll carriage - includes lift and adjustable handle
Beautiful doll's pram in pink. The doll's pram is best for children aged 3 or over, as it is slightly larger than, for example, a doll's pram. Sebra doll carriage.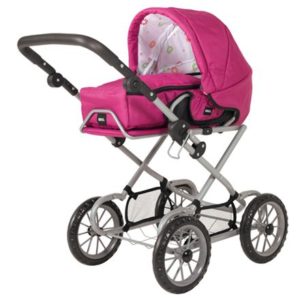 The Brio doll's pram has the great advantage that you can adjust the handlebars. This makes it easy to adapt to your child, even as she grows.
The doll's pram has sturdy rubber wheels that won't scratch the floor, but can easily withstand a spin outside.
The carriage has a realistic look, which makes it very popular with children. It's fun to play with.
Doll furniture and accessories
Furniture and accessories for the doll help to make play more fun. They make it easier to imitate reality in play.
Children love to play situations they know - why daddy, mommy and kids is a popular game in kindergarten. Through role play, children learn how the world is connected.
https://startpakke.com/wp-content/uploads/2017/05/dukke.jpg
421
1000
Maria
https://startpakke.com/wp-content/uploads/2017/03/logo.jpg
Maria
2017-07-17 11:44:15
2018-01-31 08:14:06
Wooden doll bed | Best doll bed for children