Toys for 1 year olds can rarely be divided by gender, as children at this early age are challenged and curious about many of the same toys. It is usually only later that children's interests change direction. But this is still not a rule, as girls can be just as interested in boys' toys as vice versa. For that matter, you can of course find boys' toys that are more boyish than others. You may have a child who is full of energy and interested in more active play, which in later life is very much aimed at boys. Basically, baby toys for the 1 year old have become too uninteresting and need more challenges. Ideal boy toys for 1 year olds are toys where the child does not have to struggle to maintain interest, but toys that the child can manage and of course something that challenges.
You can get inspiration for 1 year old boy toys below, where we come up with great ideas for the ideal boy toy. It could be that this year's birthday present or Christmas gift is in order. Read along here.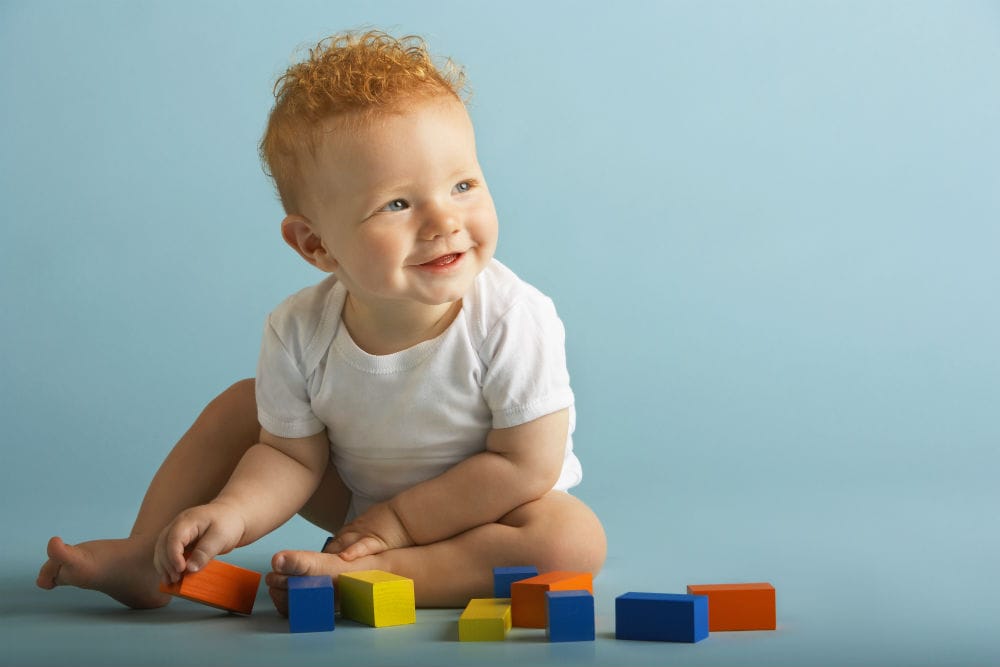 Classic boy toys 1 year
Boys aged 1 are usually in full swing and something has to happen all the time. Many of the toys that interest boys at this age are also of interest to girls. That's because it's hard to distinguish between gender and ideal toys at that age. We've come up with suggestions for what might interest boys aged 1, so we can give you inspiration for what boys' toys to put under the Christmas tree this year. Strollers are a sure hit with little ones because they get curious about their motor skills. Likewise, musical instruments, playpens, stacking towers and sensory books are really cool toys that can challenge fine motor skills and develop a child's learning. Find inspiration for 1 year old toys below.
Smart BRIO Stroller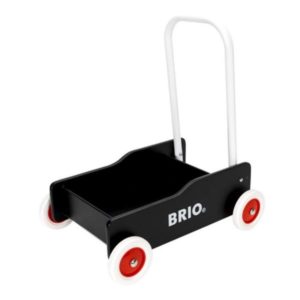 A great stroller to support your child in learning to walk. The walker has lacquered metal handles and adjustable brake so that it can be adjusted to the child's speed. The stroller can hold some of your favourite toys. With the walker, gross motor skills are stimulated and the child learns to use balance, both by standing up at the walker and by walking. The BRIO baby walker is an ideal toy for 1 year olds. You can find the walker and other toys from BRIO at the retailer Barnets Verden here.
                                                          Wooden xylophone from Hape in great colours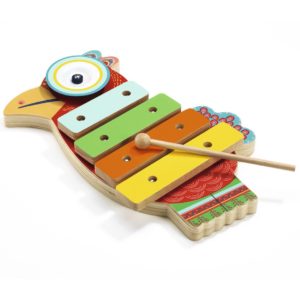 A nice xylophone in a colourful design. Here your child can practice colours and learn that different sounds can be made when using the included sticks. Many children are drawn to music and it gives good energy when a rhythm is automatically created. Super boy toy for the 1 year old who likes to explore the world of music. The Trexylophone from Hape or other exciting musical instruments can be found at the retailer Children in Balance here.
Entertaining activity centre from Hape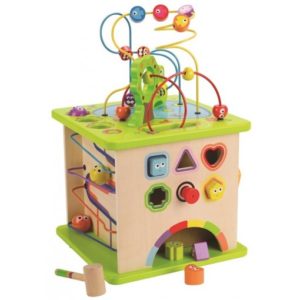 A colourful activity centre where the child can be entertained by the classic playpen, a ball maze and other fun games. Here you can play together with your child, practising colours and challenging fine motor skills. If you want this cool playpen to be part of the boys' toys, you can find it or other playpen at the dealer here.
                                                          Sansebog "Noise with Cars"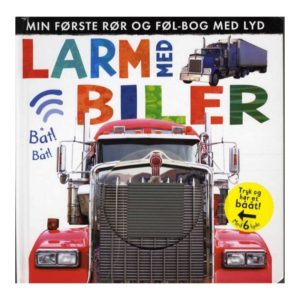 Cool book for the car-loving child, with a tactile area with sound on each page. The book has 6 pages and there are pictures and sounds of trucks, monster trucks, fire engines, diggers and concrete mixers. Cool book that should be part of the boy's toys for the 1 year old. It can teach the child eye-hand coordination using the different feel points, and then the child can learn the sounds of the different cars. A super gift idea. The Sanse book "Noise with cars" or other interesting books can be found at the retailer Legebutikken here.
Bathtime puzzle from Sophie La Girafe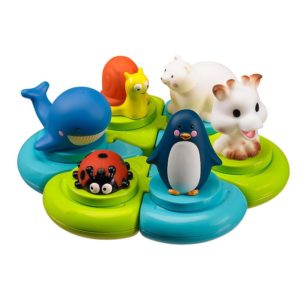 A super fun 4D puzzle for the bath with different animals. The large pieces can be assembled into an island, where the animals can be attached to the top of each piece. Entertaining boy toy for the 1 year old who loves to swim but is missing some nice bath toys. At the same time, you can practise animals and colours with your child, so bath time becomes both play and learning. Find the Sophie La Girafe bath puzzle or other bath toys at the retailer LirumLarumLeg here.
                                                           Wooden stacking tower from BigJigs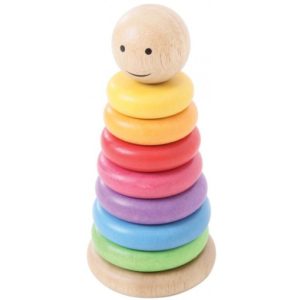 Nice stacking tower in nice colours. Here the child can learn about the different colours and sizes of the rings. The child quickly learns that the rings must be stacked on the pole and it provides a good challenge for dexterity and coordination. A sure winner as part of the boys toys for the 1 year old, as it is a game that is exciting and clear for the child. Find many different stacking towers and blocks at retailer Sundleg here.
The crocodile from Bobles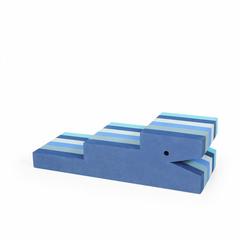 Bobles toys are motor toys for all ages, depending on which Bobles models are chosen. With the Bobles crocodile, the 1 year old can climb, jump off and build on with more Bobles to create obstacle courses. It's a super cool toy for boys that can really stimulate the child's motor skills. At the same time, with the different bobbles you can choose how challenging it should be for the child to move around. A perfect gift idea, as it is a toy that the child can use for many years to come. See the crocodile and all the other different kinds of Bobbles at the retailer here.
                                                          Garage in wood from DJECO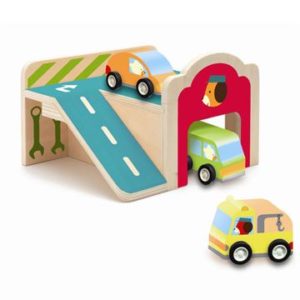 Cute little garage with three cars in different colours. The garage has nice details where the cars can drive around inside and outside. Perfect as part of a toddler toy. The garage measures 17 x 11 cm. It's super cute to have in the nursery and is sure to be a hit. Find the nice garage and cars from DJECO at the retailer Legebutikken here.
https://startpakke.com/wp-content/uploads/2017/03/logo.jpg
0
0
Maria M
https://startpakke.com/wp-content/uploads/2017/03/logo.jpg
Maria M
2017-09-14 11:36:52
2017-09-14 11:36:52
Boy toys 1 year - Classic boy toys for 1 year old 2017