If you are taking your child on a bike, the most important thing is that he or she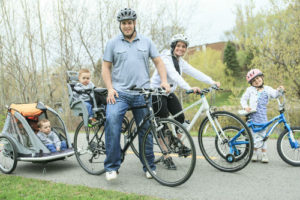 comfortable and not least safe. Here we've compiled a list of the best baby bike seats on the market.
When can baby sit in a bike seat? As soon as your baby can sit independently, he can sit in a bike seat, or child seat as it is also called. Bike seats come in different sizes, and you should obviously choose the smallest seat if your child is around 8-9 months.
Which bike seat for baby? There are a number of different bike seats for babies. You can get with or without backrest, and bike seats that mount either on the front of the bike, or on the rear rack. The most popular baby bike seats are those with backrests that mount on the back of the bike. They are also the most common winners in bike seat tests to find the best bike seat for baby.
See the best bike seats for baby below
Best bike seat for baby: Of course, it will be a matter of taste which bike seat for baby is the best. Here, we've chosen to list the most popular chairs that also scored highly on safety and comfort.
Yepp Maxi bike seat - test winner bike seat for baby
Yepp Maxi has won in tests as it is both safe and comfortable. Baby is securely strapped into the seat and there are cushions on the harnesses for added comfort. Although the seat itself is plastic and has no cushion, the material is surprisingly soft and flexible. The test-winning design of the bike seat makes it very durable and safe.The Yepp bike seat is a very popular choice, perhaps in part because it looks smart and lightweight. The holes in the backrest mean that there is minimal wind resistance when cycling without the bar. As the only bike seat we've looked at, this one comes in several fresh colours, including turquoise or yellow. The chair is stable and can even be locked to your bike, helping to prevent theft. The price of this baby bike seat is rock bottom at online retailers, where it has been seen for just £899.
Bobike Bicycle Seat
The Bobkike bike seat has won the test for best and safest car seat. It's small and light, which helps ensure better balance on the bike. And because it doesn't weigh much, it won't slow you down significantly when you're cycling without a child. Bobike bicycle seat for baby is a top-class child seat. Not only is it safe for your baby, it's also extra comfortable with armrests and a water-repellent cushion. The chair is easy to assemble. The bike seat is approved for children up to 22 kg. The price is only 679 DKK.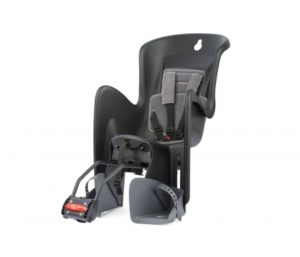 Polysport Bilby cheap child seat - only 399 kr.
A good bicycle seat, which you can buy at Cycling partner for only 399 kr. In this bike seat for baby, just a few more nice details have been added, including a cushion and extra comfort. In this baby bike seat, the child is strapped in with a 5-point harness that can be adjusted according to the age and size of the child. It is a safe and good bike seat for mounting on the back of the bike. It is approved for children up to 22 kg. Polysport Bilby bicycle seat is a good offer for a cheap bicycle seat for baby.
Cheap child seat for the bike from Thule
This bike seat for baby is available for the fixed low price of 999 kr. at Coop. In the design of this bicycle seat, great attention has been paid to a comfortable ride for the child. In addition to the padded seat and comfortable armrests, the child seat has built-in suspension so that baby won't get hard shocks in the back if you ride on uneven terrain. What's more, the seat can be adjusted in up to 5 different ways. For example. tilted if your child is sleepy and ends up taking a nap on the ride. A great bike seat for the price. Safety is also top notch with the good harness, and safe mounting on your bike. Thule bicycle seat for baby is a good choice if you want your child to sit comfortably and safely.
Bicycle seat from Britax Römer
This baby bike seat comes from the Britax Römer brand, also known for their very safe and popular car seats. The bike seat has armrests and a padded cushion that also extends onto the armrests. The armrests have handles so that the child can hold on while driving. This ensures that your baby sits comfortably and securely on the back of the bike during transport. The bike seat has a reversible cushion, so you can decide whether the black or grey side is up. The child is strapped in with the safe 3-point harness, which can be adjusted according to the size of the baby. Likewise, the feet are secured with straps so that the baby does not risk kicking the driver of the bike or other inappropriate.
Bicycle seat for front
It is possible to get bike seats that are mounted on the front of the bike. These seats are mounted on the bar between the saddle and the handlebars, so your baby or child sits between your arms when cycling. This gives your child a better view and also makes it easier for you to talk to each other while cycling.
The front bike seat is best for children who sit very steadily. This is because front-mounted chairs need to be slightly smaller, or even do without the backrest altogether, to allow enough space.
Yepp bicycle seat front. Available in several colours.
Yepp front bike seat
Yepp makes great quality child seats, and this one is no exception. The seat is soft and comfortable, and safety is top notch with footrests and a good harness. The price is 799 DKK.
Please note that this chair is only approved for children up to 15 kg. If it is to be used for a child weighing more than this, you should consider the Yepp Maxi, which is approved for children up to 22 kg. See Yepp Maxi here.
---
Single bicycle seat- for men's bicycle only
Classic front bike seat. This child seat takes up almost no space. The seat works well as an extra seat on your bike. Since the bike seat is not safety approved, I would recommend buying one of the other bike seats mentioned if it is for everyday use. However, the seat is a good addition, and a cheap solution if you only need to cycle with your child once in a while The bike seat is seen right here for only 149 kr
---
Remember the bike helmet
When you buy a bike seat for your baby, don't forget to buy the bike helmet too - and for yourself if you haven't already. 🙂
Bicycle helmets provide effective protection in the event of a crash, and are of course a good investment.
Abus bicycle helmets are made in a special way so that they are flat at the neck. This means that your child/baby does not have to bend her head forward when sitting in her bike seat.
Before buying a bike helmet for baby, remember to measure her head. The descriptions of the helmets will tell you what head circumference they fit.
Ride safely and comfortably with your baby in a bike seat
The vast majority of bike seats on the market have performed very well in tests. The rear-mounted, high-backed bike seats offer good safety for baby and even really good comfort. So you can enjoy cycling with your baby, get plenty of fresh air and exercise while transporting yourself and baby easily, quickly and safely from A to B.
A bike seat for baby offers great freedom and flexibility in everyday life. Most families with children have to balance logistics with two full-time jobs and children in nursery and kindergarten. If one parent drops off by car, it's handy that the other can pick up by bike. Then you don't have to bring strollers too.
Bicycle seats like Yepp Maxi and Bobike is approved for children up to 22 kg. So even if your child is in kindergarten, that's no barrier to putting them on the back of the bike.
Bicycle seat for baby test
The bike seat that has currently won the most (and most recent) tests is the Yepp Maxi. Watch it here. The bike seat won first of all because it is safe, but also because it does not weigh much and baby sits comfortably in it. The Yepp Maxi can even be moved easily from one bike to another, without any problems. All you need to do is buy two brackets. In the back of the seat, it has a handle that makes it extra easy to move. In addition, the bike seat provides minimal wind resistance when your baby or child is not sitting in it.
Mounting of bicycle seat
Before buying a bicycle seat, always read the requirements for mounting a bicycle seat. Especially when shopping online, make sure the bike seat can be fitted to your bike before you buy. However, it should be said that bicycle seats can be fitted to the vast majority of bicycles.
When fitting the bike seat, it's like anything else: read the instructions. Follow the instructions carefully. For example, when mounting Bobike Bicycle seat for baby, you need to be sure that the centre of gravity is correct. You can read in the user manual how to check this.
Once the bike seat is fitted, you should of course check that it is secure before placing your baby in it. You do this by grabbing the seat and pulling to see if it moves. The chair should not move.
Even after installing the bike seat, you should check regularly whether the bike seat is still properly installed. You should also check whether the footrests need to be lowered as your baby or child grows.