The figure of Circus has always been hugely popular among the youngest children and today Circus remains part of children's toys. Cirkeline and her mouse friends Frederik and Ingolf have been based from the very beginning on small films where special attention was paid to the characters' personalities and the very simple drawings and stories, which made it easy and clear for the youngest children to follow the story. The Cirkeline films are basically about play and friendship, which is something every child can relate to. Today you can buy all kinds of toys and dolls featuring Cirkeline and her friends Frederik and Ingolf. Cirkeline plates, cutlery and cups have also become incredibly popular. It is therefore possible to treat the right Cirkeline fan to some lovely accessories. Read more about the character Cirkeline and see the popular Cirkeline toys further down the page.
Check out all the cool toys and equipment featuring Circus and her friends Frederik and Ingolf further down the page.
Figures Cirkeline
Cirkeline is a distinctive little figure with black streaky hair that was created way back in 1957. She wears a red black dotted dress and always bare feet. She has mouse friends Frederik and Ingolf and sleeps in a matchbox. Several years after her creation, Cirkeline was made into 18 short films for DR TV. Later, books were written, three feature films were made in cinemas, music CDs were made and equipment and toys for children were produced. The first small films made with Cirkeline have included songs that have become very popular classics such as "bim, bam, busse" and "Cirkeline has a birthday". Many parents remember the character of Cirkeline and especially find it funny that their children know the story too. As various products featuring Circus continue to be produced and the toy remains on the wish list, Circus will continue to be a popular character for the little ones. If you know someone who is a fan of Cirkeline, you can find a lot of toys and equipment with Cirkeline below at super good prices.
Cirkeline app
To be part of the digital evolution today, Cirkeline has been given new digital life as an app for smartphones and tablets. The Cirkeline app is free and aimed at children aged 2-6. It allows children to sit and have fun playing, drawing and singing along with Cirkeline and her friends Frederik and Ingolf. In the app you can play with Cirkeline, dress her up, play various memory games and listen to the very best Cirkeline songs written by Hans-Henrik Leys. A great idea if you want to let children be part of the digital development and learn along the way.
Circeline dining set and circeline toys
We have compiled a list of the best accessories and toys featuring Circus. Here you can read about the different products featuring Cirkeline and her mouse friends Frederik and Ingolf. You can find your nearest retailer by clicking on the link below each product.
                                                           Space plate with circeline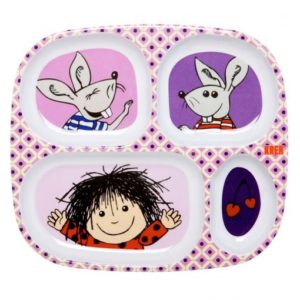 This nice plate with Cirkeline and the mice Frederik and Ingolf is compartmentalized and made of melamine. This means it is specially approved for food and dishwasher safe. The plate measures 24×21.5 cm and is available in both pink and light blue. The Cirkeline compartmentalised plate and other cute plates in different sizes are available at Sundleg here.
Cup with circeline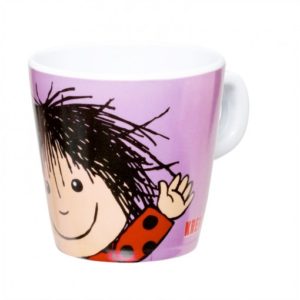 This Cirkeline cup is great as a child's first real cup, as it is easy to hold and is made of melamine which is a material that can withstand most things. It is also dishwasher safe. This cute Cirkeline cup is available in pink, but you can also get the light blue version with the mouse Frederik. You can buy the melamine cups with Cirkeline and Frederik at Sundleg here.
                                                             Circeline cutlery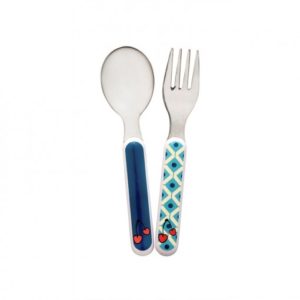 Fine cutlery with fork and spoon from the Cirkeline series. Perfect for the first bowl or when your little one is learning to eat with their own fork. The cutlery is made of metal and melamine and is dishwasher safe. The cutlery itself matches the Cirkeline range of plates and cups. You can find the cutlery in blue or purple shades at retailer Sundleg here.
Circular dummy in matchbox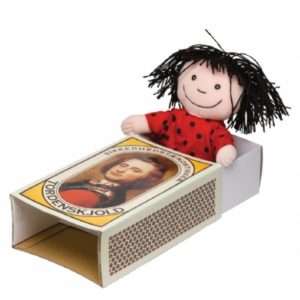 Check out this cute matchbox with kids' favourite character Circus. It's just like watching the Cirkeline movies, and definitely something kids will recognize. This cute and fun gift with Cirkeline is perfect for the little ones. The matchbox with Cirkeline measures 24 cm. You can buy both the small version with Cirkeline of 14cm or the large version as mentioned at the retailer Sundleg just here.
                                                           Circeline Sloth Doll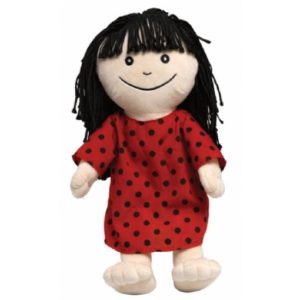 A really big and soft Circeline doll for the kids who love someone to cuddle with. The doll measures 40 cm and can quickly become the best friend of the least. At Sundleg you can also buy a smaller version of the Circus doll which is 17cm. It can be easier to take with you on trips, as it can just fit in your bag. On the other hand, the larger Cirkeline doll is more huggable. See the range of Cirkeline dolls at retailer Sundleg right here.
Doll bedding with Cirkeline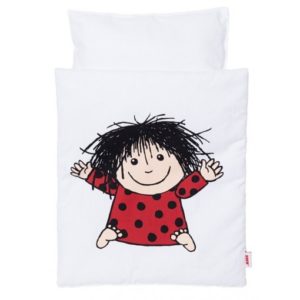 Super cute doll bedding with large circeline motif on the duvet. Includes both pillow and duvet which of course fits the doll carriage from Krea. The circeline slouchy doll will be obvious for this, as the theme should of course match. This doll bedding with Cirkeline is recommended from 18 months and can be bought at Sundleg right here.
                                                         Beanbag with the mice Frederik and Ingolf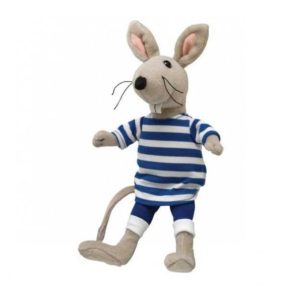 Now that the Circus doll is in the house, you must not forget the mice Frederik and Ingolf who are Circus' best friends. The dolls are super soft and perfect for taking on trips and are of course a faithful companion to Cirkeline. Frederik the doll wears a white and blue striped jumper, while Ingolf wears a white and red striped jumper.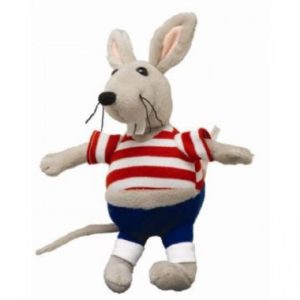 Button puzzle with circeline

Nice puzzle with Cirkeline and the friends Frederik and Ingolf for the little ones. With this puzzle it is possible to train the child's fine motor skills with the total of 5 large pieces. It is a clear puzzle that is easy for the child to lay because there are large pieces and knobs to hold the pieces.
Mini Reversal Game with Circeline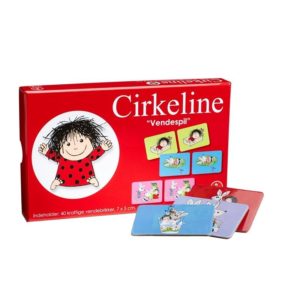 Here is a cute and entertaining mini reversible game with Circus and her friends Frederik and Ingolf. The game contains 40 sturdy pieces and is recommended from 3 years. With this reversible game, you're set for some fun and cosy hours together.
                                                             Puzzle with Circeline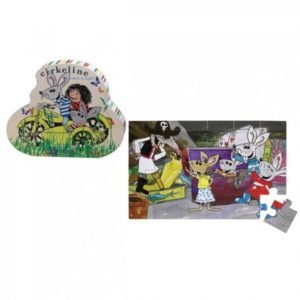 This nice puzzle with Circus is packed in a nice colourful figure box. The puzzle contains 24 pieces in sturdy cardboard and depicts Circus and her mouse friends Frederik and Ingolf. It measures 30×48 cm and is recommended from 3 years.
Circus Hand Puppet
Many toddlers find it super fun and enjoyable to play with hand puppets. It can become a more realistic game for the child when they can join in. The circeline hand puppet measures 40cm in height and 25cm in width. The doll is recommended from 0-2 years. The Circus hand puppet is easy for your child to take on a trip and you can enjoy many hours of play together.
                                                   Circus Wooden Puzzle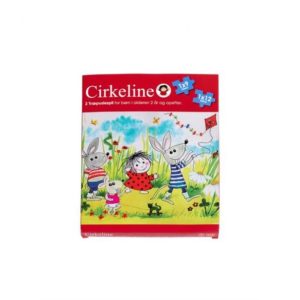 Here are two cute puzzles for the little ones, made of wood. One puzzle contains 9 pieces and the other puzzle contains 12 pieces. Here you can quickly have some nice hours together and at the same time challenge the children's fine motor skills.
Christmas gift inspiration for the youngest - GOOD Christmas gifts with Cirkeline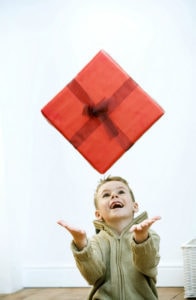 As Cirkeline and her two friends Frederik and Ingolf have been very popular characters for many children for several generations and are still lovable among children today, you will never go wrong with a Christmas gift with Cirkeline motif for the real Cirkeline Fan. In our list above, we give you inspiration for the best toys for the little ones featuring Cirkeline. The toys with Cirkeline can also be obvious as Christmas gifts, as they are relatively small gifts we have listed. There are Cirkeline toys and accessories to choose from for the true Cirkeline fan. Enjoy.
https://startpakke.com/wp-content/uploads/2017/03/logo.jpg
0
0
Maria M
https://startpakke.com/wp-content/uploads/2017/03/logo.jpg
Maria M
2017-08-29 09:14:30
2018-12-06 09:10:24
Cirkeline toys - The best toys with Cirkeline