Is your child getting his first child's bike at 2 or 3 years old ? It's a good age to introduce the first real bike with pedals. Here we have taken a look at the different types of children's bikes 2 - 3 years and what you should think about before buying.
When choosing a children's bike 2 years for your child, it should be the right size for your child. At this age, children can be many different heights, so you can't necessarily use it for anything, what other 2 year olds use.
 As a rule of thumb the baby should be able to have both feet planted flat on the ground when he or she is sitting on the saddle. This applies both to 2-year-olds and to 3 years.
Don't buy too big a child's bike
You may have thought that it would be better to buy a big bike that your child can use for a long time. But this is actually not a good idea, as it will be difficult for the child to keep his balance and this may result in an accident, and he or she may not like to ride a bike after that.
At this age, the size should usually be 12″ or maybe 14 -16″ if the child is big for his age.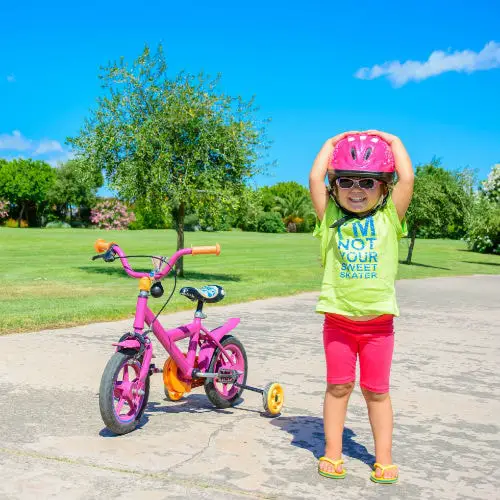 Fortunately, most bikes can be adjusted quite with both in saddle height and handlebar height. So buy a bike that fits when both parts are fully lowered. That way, your child can use his or her new bike for as long as possible.
Buy the bike online
There can be a lot of money to save by buying online. There are often deals and the price is generally lower because there are no physical store costs.
Web shops selling bicycles and especially children's bikes 2 years or children's bikes 3 years have a detailed size guide. If you do happen to order a bike the wrong size, you always have a 14-day right of withdrawal when you shop online.
Below you can see examples of good children's bikes that you can buy online at a good price.
Nice boys bike from Puky
Puky makes some of the best bikes for kids, and that goes for both racing bikes and bikes with pedals. This beautiful blue bike is size 12″ which is the smallest size, and fits children aged 2 or 3.
The bike has both a bell and a flag on the front, so the lucky boy will be well off on this cool bike! It's also available in purple as a girls' bike.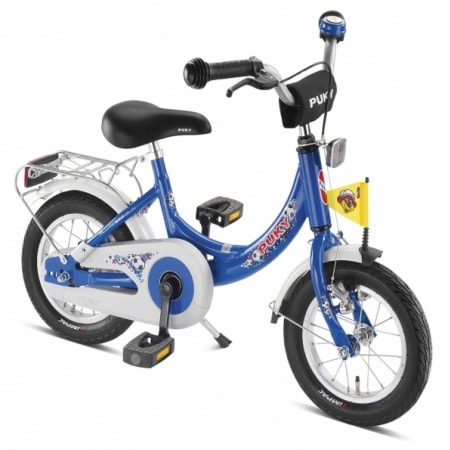 Beautiful children's bike with training wheels
If you want your child to start their cycling career safely and securely, this model with training wheels is a great idea. The support wheels make sure that the little one can't fall over so easily. They can be adjusted to slowly increase in difficulty before being completely removed.
The bike is suitable for children aged 2.5 - 4 years.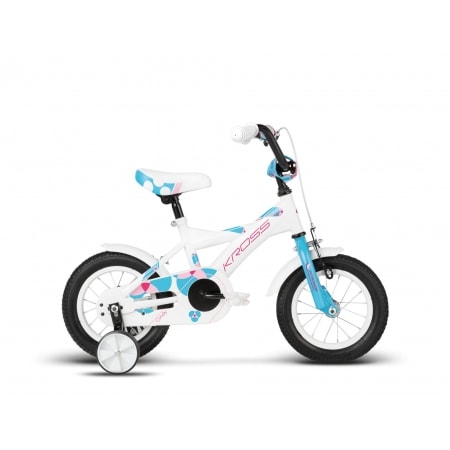 Girl's bike size 2 - 3 years
If your girl likes sparkles and pink, this bike is perfect. There's even room to take a doll or teddy bear along for the ride, which can sit comfortably in the comfy seat at the back. Great gift idea for a 2nd or 3rd birthday.
The bike costs around 1,000 kroner and is guaranteed to bring great joy to the recipient.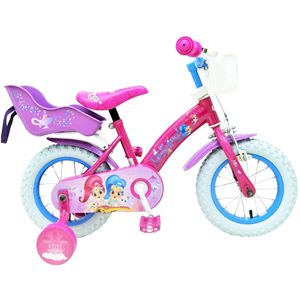 Nice red bike for kids
This bike is one of the cheapest children's bikes, as it costs only 999 kroner. The bike is Danish designed, and in good quality. A perfect offer for the child's first bike!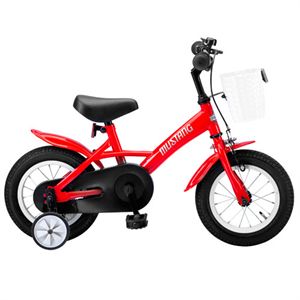 Purple bike for kids with handbrake
This bike has some extra details compared to many other children's bikes. It has both training wheels, and a handbrake. Please note that the handbrake may require some practice to use.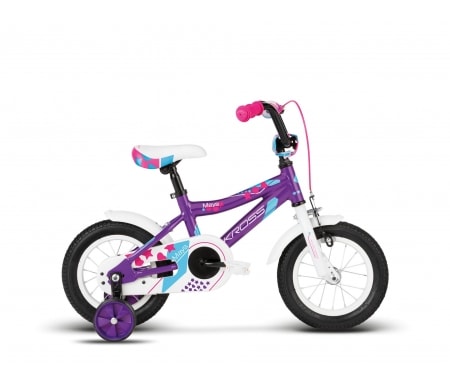 Bicycle with pedals - when?
It is very different when your child is ready to ride a bike with pedals. Some children before the age of 3, while others are closer to school age before they really the balance and fun of cycling.
Cycling is almost a part of Danish culture, and it will therefore be best for your child if he or she has at least tried cycling before starting school.
Many are really happy for their running bike, which is a very effective way to train balance. On a treadmill, the child on two wheels, and they may even be able to skip the training wheels altogether when they get their first child's bike at 3 years old.
Either way, it's a good idea to introduce your child to a real bike with pedals at some point, when they are between 2 - 5 years old. If you're not sure about the size, you can find a children's bike size guide.
Which children's bike 3 years?
Which bike that is a good and like bike for you child depends on several things.
To find a children's bike you need to think about whether the bike should have training wheels or not. It all depends on whether the child has been used to using a scooter or running to a real bike.
If the children's bike is to be passed on to little sister or brother, it may be advantageous to choose a unisex children's bike in a neutral colour rather than a very obvious girls' or boys' bike.
With or without gear?
Please note that most children's bikes are gearless. This is because the gears make the bike heavier and also make the bike more difficult and more complicated for the child.
Once the bike has become an everyday item, and is perhaps used to and from school, it makes perfect sense to give the child a bike with 3 - 5 gears.
The first bike - perfect gift idea
If you don't know what to get your child for their birthday, a 2 year old or 3 year old children's bike is the perfect gift idea. There's just something special about that first bike, which makes it the perfect gift.
Especially if you need a gift idea that's a little bigger than the usual birthday gifts for kids. You could team up with other family members to give your child's first bike. As a rule, a child's bike costs around DKK 1,000, but they can occasionally be had for less. So keep an eye on the market for great kids' bikes and find the best one for your child to keep him or her going.
https://startpakke.com/wp-content/uploads/2017/03/logo.jpg
0
0
Maria
https://startpakke.com/wp-content/uploads/2017/03/logo.jpg
Maria
2019-05-14 11:56:05
2019-05-14 12:05:10
Children's bike 2 - 3 years