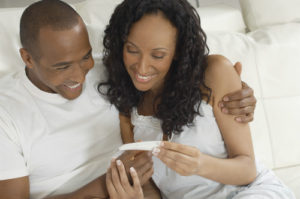 Once you've started the baby project, most people want to get pregnant as soon as possible. However, it's not easy for everyone to get pregnant quickly, but there are some things you can actually do to get pregnant quickly.
On this page you can read some good advice and easy tips if you want to get pregnant quickly
At the bottom of the article you will find a number of less scientific advice to get pregnant quickly
This may be stating the most obvious, but it bears mentioning nonetheless. The point, of course, is to hit ovulation time. If you are in doubt about when you ovulate, it is even more important to have fun with your partner at least twice a week.
Get a handle on your ovulation
Once the egg has detached and is on its way down the fallopian tube, it can be fertilised for 24 hours. Once fertilised, it attaches and develops into a pregnancy. Sperm can survive in the womb for up to a week. It is therefore important to do some layer gymnastics in the run-up to ovulation. For most women, ovulation will take place around 2 weeks after the first day of menstruation. However, this is incredibly individual.
How to know if you are ovulating

There are several ways to find out when you ovulate. The first method is called the temperature method. When you ovulate, your body temperature rises slightly. So take your body temperature every morning for a while. When it rises slightly, you are most likely ovulating. Remember to write the numbers down as you go, otherwise it can be difficult to remember.
Ovulation tests
Just as you can test for pregnancy, you can also test for ovulation. It's really easy to do. Simply test your urine, in the same way as a pregnancy test, and see if two lines appear on the test. However, be prepared to need a lot of tests to find the time. Buying in bulk is recommended. You can buy cheap ovulation tests here.
It's no secret that a healthy diet and moderate exercise are good for the body and mind. This is very much true when you want to get pregnant quickly. Excess weight and bad habits make the chances of pregnancy worse. So cut out cigarettes, alcohol and overeating if you have any of these habits. If you don't already exercise, it's a good idea to start. That way you'll keep your body healthy and more ready for pregnancy.
If you don't know how to go about it, you can find inspiration in the books "Eat you pregnant" or "Get pregnant - how to strengthen your fertility"
Housewife advice for getting pregnant
Here you will find a number of less scientific advice and tips, to get pregnant quickly