Black Friday is the obvious opportunity to buy baby equipment cheaply if you are short. Black Friday deals, as it is sometimes translated, is an American tradition that we have largely adopted in the last few years. The slightly expensive baby equipment such as prams, pushchairs and baby nappies are the obvious thing to buy on this day. We have made a huge list on this site with many of the best places with black Friday deals and focused on baby equipment.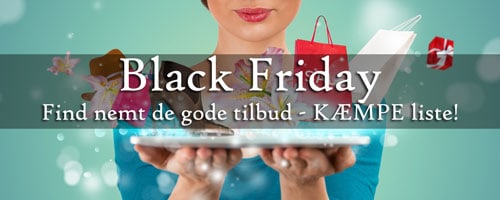 Click here to see places with good Friday deals selling baby equipment
There's a lot of baby gear to buy, which is why it makes sense to buy as much as you can when there are discounts of up to 40%, 50%, 60% and in some places as much as 70% on a lot of the baby gear that new parents just can't get around.
See a list of what you need for the first year as parents of a small baby.
Here, we take a look at some unique places, not to mention things, that you can buy on Black Friday and save a lot with Friday deals.
Baby equipment: pram and pushchair
If you haven't bought a pram and pushchair yet, you can quickly save more than £1000 by buying it on Black Friday 2017. A pram can easily cost anything between £5,000 and as much as £15,000. If you find an offer on e.g. 20% discount, that means you save at least 1000 kr, and up to 3000 kr! If you find even bigger and better discounts, then of course there is even more to save. But even if you "only" get 10% on black friday, that's a lot of money when we're talking about buying a pram and pushchair.
Here are three options for buying prams and pushchairs online on Black Friday: BabySam, PixiZoo and Babyshop. All three will be running really good discounts on this day, so are well worth a visit on the day.
Of course, there's much more than prams and pushchairs on sale at these three sites on Black Friday 2017.
See the list of popular places to shop for baby gear on Black Friday
Other essential baby equipment with big savings: crib, baby alarm and baby blanket
Baby needs to sleep well, and it's worth investing in a good cot and a really nice baby duvet. For a baby duvet, for example, we suggest you buy a nice Kapok baby duvet. On Black Friday, it's available at a 20% discount Sundleg.dk. So with 20%, a good organic baby duvet like these won't cost much more than those of significantly lower quality. Kapok duvets are incredibly good at adjusting temperature (applies to adults too, so might recommend you also buy for yourself at the same time if you tend to sweat a lot. Kapok adult duvets are also available from Sundleg.dk).
One item that you might not think of that can save you a lot of money by buying on Black Friday is the baby monitor. You can hardly do without a baby monitor, and with Black Friday deals, you'd better be able to afford one of the really good baby monitors!
https://startpakke.com/wp-content/uploads/2017/03/logo.jpg
0
0
Start package
https://startpakke.com/wp-content/uploads/2017/03/logo.jpg
Start package
2017-11-10 18:38:09
2017-11-11 09:46:41
Black Friday offer: baby equipment - pram, stroller and much more!