Is your child going to nursery soon, or are you looking for a new home? Then you should check out the prices of childcare places before making a decision. There is quite a difference in the cost of a nursery place in the country's municipalities.
25.630 kr.  - that's how big the difference in price can be for a place with lunch in the country's crèches. Startpakke.com has researched prices for childcare until the age of 3 and found the cheapest and most expensive prices for both nurseries and daycare.
See what the survey contains:
Here you can have your child looked after at the lowest rate
Both when we look at rates for nursery and day care, Fanoe offers the absolute cheapest childcare for 17,875 DKK per year, that is almost 1,500 per month.
The cheapest daycare places after Fanoe are in Nordfyns and Herning, with rates of DKK 24,750 and DKK 26,158 respectively. Compared to the most expensive day care place in Gentofte, there is a 27.653 kr. to save per year. It can be a significant item in many families' budgets.
The most expensive nursery place is in Varde, where the rate is DKK 43,630 per year. So there can be a lot of money to save on childcare, depending on where you live in the country. The fee you pay as a parent is only part of what the place actually costs. The part that parents pay is called their own payment. How high the charge is affects whether you can get a subsidy and, if so, how much you are entitled to.
See how your municipality ranks in terms of price here, where all tariffs are collected
Rates compared for crèche and day nursery respectively. Figures from the three areas with the highest tariffs and three areas with the lowest.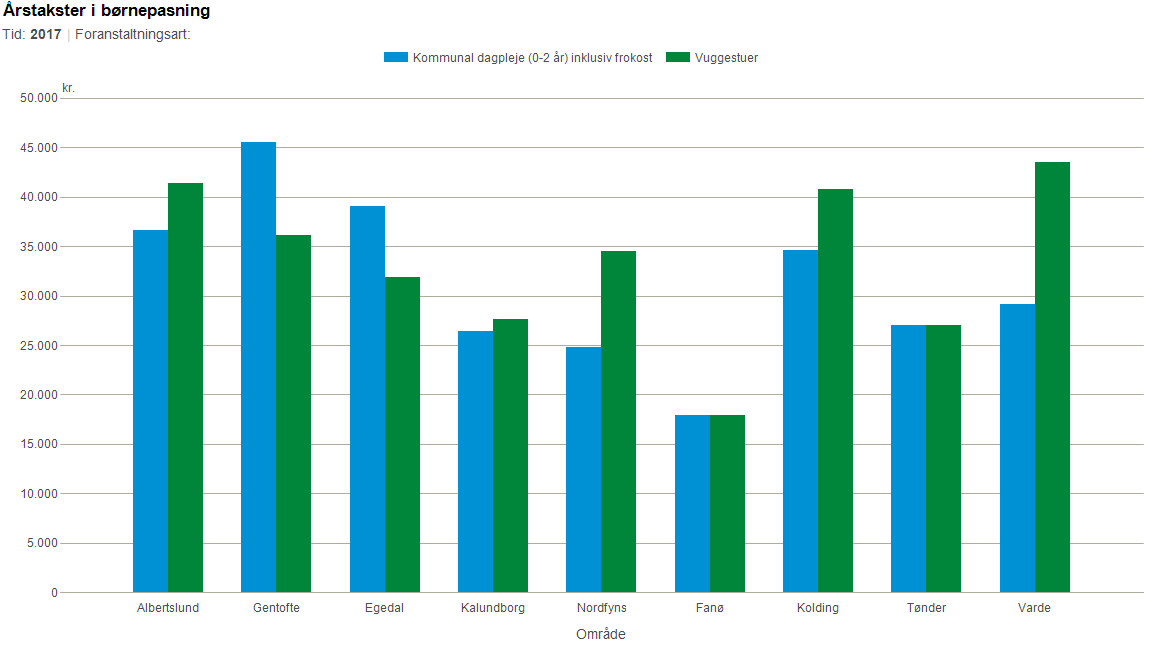 Source: Statistics Denmark
Unit: Kr

| Municipality | Lowest crèche fee |
| --- | --- |
| Fanoe | 17.875 |
| Tønder | 26.976 |
| Kalundborg | 27.577 |
| | Highest crèche fee |
| Varde | 43.305 |
| Albertslund | 41.352 |
| Kolding | 40.722 |
| | Lowest day care rate |
| Fanoe | 17.875 |
| North Funen | 24.750 |
| Herning | 26.158 |
| | Highest day care rate |
| Gentofte | 45.528 |
| Halsnæs | 40.680 |
| Egedal | 39.000 |