Hama beads have become very popular, both with adults and children. Playing with Hama beads is a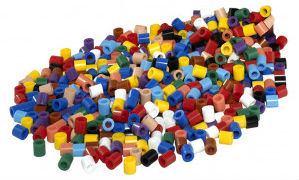 great way to be creative and there are almost endless possibilities with the beads.
Here we have chosen to write a little about the popular Hama beads and where you can buy them cheapest. We also talk about which Hama bead plates to choose from, and what to do if you're about to start layering beads.
Since we at Startpakke have specialized a lot in children and toys, we will especially talk about Hama beads for children.
Hama Maxi beads
Hama Maxi beads are the largest Hama beads. They are popular for children, as children find it a little easier to get hold of Hama Maxi beads than the smaller versions of Hama Beads. Choose from many colours. Shown here is a mix bag of different Hama Beads in pastel colours.
The mix bag contains 500 beads and costs 65 DKK.
Hama Maxi Beads are also available in many other colours. Remember that you need to buy the special Hama Maxi bead plates that fit the large beads.
Hama maxi beads bead board: a girl
Make bead plates with maxi beads. For example this girl, where the imagination runs free. When you've finished making the girl, you can iron the bead board to immortalise the girl. Find the bead plate here
Hama Maxi beads - a gift box with dinosaur
A really smart way to buy Hama Maxi beads is in a gift box. This includes a dinosaur bead board and a total of 600 Hama Maxi beads. So there is plenty of opportunity to design your own dinosaur. The beads make a great Christmas gift or birthday present. The gift box is seen for 129 DKK at Rito.
Hama midi beads
Hama Midi beads are the medium Hama beads. They are available in many colours, including the floor and silver beads shown here. You can choose from bags of one colour beads, or you can buy a bag of several different colours. It all depends on what you want to make. If you need inspiration for your Hama beads, you might consider looking at an inspiration booklet, which you can buy here.
Hama beads in gold and silver - make beautiful patterns
With gold and silver beads there is plenty of opportunity to make really beautiful patterns. For example, you can make a princess with a beautiful gold crown, or similar. The gold and silver beads are also perfect for a bracelet made of Hama beads. You can make it striped with other of the beautiful colors you can choose from. In the bags shown there are 1,000 beads. Buy Hama Midi beads cheap here
10.000 Hama Beads for only 115 kr.
If you need a lot of beads, you can get 10,000 Hama Beads in a big box for DKK 115. There are really many possibilities to make shapes with 10,000 beads. The beads come in a smart box with a handle that you can use to store the beads. You can buy the box right here .
Remember you can find lots of inspiration for Hama Beads patterns in a pattern book, which you can see further down the post.
Gift box with Christmas motifs: Christmas with Hama beads!
Let the Christmas spirit really spread with this beautiful gift box of Christmas motifs that you can make with Hama Beads. When you're done, iron the beads to hang as Christmas decorations, or even on the Christmas tree. See the bottom of the article for the easiest way to iron the beads. Buy the Christmas box right here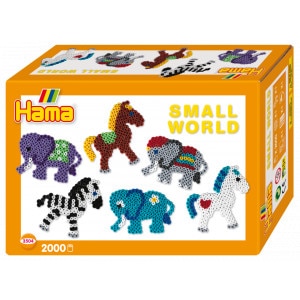 Beads + pattern with animals with Hama Midi beads
A nice gift box with both beads and pattern to make a lot of beautiful animals. Make an elephant, a horse and an elephant. All the animals can be varied, of course, with only your imagination as the limit. Get ready for many pleasant hours with this gift box. Set for only 69 kr. Buy the gift box here

Hama Mini beads
Hama Mini beads are available in many different colours. They are the most popular beads for older children and adults. It is the smallest version of the Hama beads and there are many different colours, beads and patterns to choose from. Here the beads are shown in green colours, which can be used for many different bead patterns. (Hama Mini beads are not suitable for small children under 3 years)
With Hama beads you can make endless patterns and fun shapes. Your imagination can run wild, and it's especially fun when there are so many different colours and patterns to choose from.
Storage box for Hama beads - keep track of your beads
Note - the box includes beads.
If you need to keep your beads organised, you might want to use this smart storage box with handy compartments for storing them. Once you've used the beads in the box, you can store it and reuse the box to store your beads in the future. The box is seen for 199 DKK at Rito.
Beading with Hama Beads - Here are the different kinds
We have now presented the three different sizes in which you can get the beads:
Hama Beads Maxi
Hama Beads Midi
Hama Beads Mini
Each of the three types of beads comes with a different bead plate and pattern. So when you buy a bead plate, make sure you choose the one that matches the size of beads you are using.
Be careful not to ruin your beads when ironing them. Read the instructions on how to iron your beadplates below.
Find inspiration in books, or see the bottom of the article for more inspiration on what to do with your beads.
Hama Beads inspiration - a book of patterns
Many are looking for inspiration for new patterns they can make with their Hama Beads. It is possible to make the patterns after a bead plate, but can also be made freely according to the imagination. If you are looking for inspiration for your Hama Beads, it is recommended to look in an inspiration book like this one. It is filled with beautiful patterns you can easily make. Getting inspiration from books.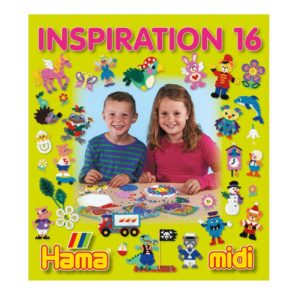 This book is full of inspiration for creative play with Hama Beads. There are lots of suggestions, patterns and ideas for making beautiful designs with the beads. So if you're looking for inspiration for your Hama beads, you might want to take a look at this booklet.
Buy the booklet at Lirumlarum play for 49,95 kr.
The booklet is intended for midi beads, where you can follow the patterns. Among the many characters in the book you will find a truck, a fantasy horse, a snowman and other Christmas patterns, a dolphin, an owl and much more.
There are hours of fun to be had with this book full of Hama Beads inspiration.
Make letters with Hama Beads
Make beautiful, colourful letters with Hama beads with these great patterns and bead boards. It's a book full of inspiration for making beautiful patterns and colours with the beads. The letters can be made plain, or with multi-coloured patterns. For example, the letters can be put on the door of the child's room, or maybe given away as a gift. There are many possibilities. Either way, you'll find plenty of inspiration for beadboard patterns in this book. Buy it for 75,95 kr. at Lirumlarumleg right here
About Hama Beads - What you need to know
All Hama Beads are CE marked which is your guarantee that they comply with EU legislation. This means that legal requirements are met and the beads are thoroughly assessed and tested before they are sent to market.
Both children and adults play with Hama Beads
Hama beads have become fashionable for both adults and children. For many adults, beads have become a hobby on par with knitting or sewing. It is incredibly nice to sit and work with beads, and lay out shapes and patterns. Laying beads is particularly appealing to creative people who enjoy sitting and making things with their hands. For many, beading can be relaxing, as it allows them to focus on one thing and take a break from their busy lives.
Precisely because Hama Beads are fun for both adults and children, it is an obvious activity to do together. You can either help each other lay a bead board or you can sit together and do your own. Many people find it a great way to spend quality time together as a family.
Stress off with Hama Beads
When you ask people why they lay beads, the answer is often that people relax with it. When you concentrate on Hama Beads you can't concentrate on other things, and therefore it is something that many people can relax with and enjoy. Many adults and children like to concentrate, and immerse themselves in lying Hama Beads. For children, it's an added bonus that they actually become better at sitting still and concentrating, which is only an advantage to be good at at school.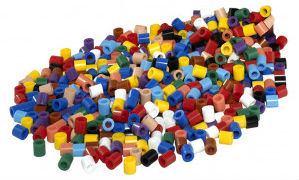 Laying Hama Beads is therefore both cosy, fun and relaxing. Buy Hama Beads at cheap prices at Rito. There are many different colours to choose from, so you're sure to find just the right
How to iron bead plates
When you iron the bead plates, the beads melt together slightly. Then they can be taken off the bead board and are perpetuated. Many people choose to hang the beads up so they look nice. If you iron them properly, they can be used again and again. Be prepared, however, that it may take some practice.
Hama Perler recommends that you set your iron according to the type of Hama Perler you are ironing:
 Mini beads ⇒ Set the iron for wool.
 Midi beads ⇒ Set the iron to cotton.
 Maxi beads⇒ Set the iron for linen.
1. Iron the beads

Place the bead board on an ironing board with plain baking paper or ironing paper over it. You can buy ironing paper here.  Gently brush over the baking paper. Be careful not to press too hard, as you could easily damage the bead board and make it unusable again.
Be especially careful with the iron if the bead board is not filled with beads. Then it's really easy to iron the tips of the bead plate. Do not iron too much, but only until the beads have melted together enough.
2. Turn the beads over
Once the beads have begun to melt, carefully remove the beads from the bead plate in one piece. Then iron the beads again on the other side. Remember to use the baking paper again.
3. Put the bead plate in pressure
Before the bead board has cooled down completely, it is a good idea to put it under pressure in a book. This prevents the edges from bending up.
Why you iron your beads
It is obvious to make Christmas decorations with Hama Beads. Then they can decorate beautifully for Christmas, or other seasons for that matter. Of course, you can also make Hama Beads for Easter, Halloween, or other seasons when you decorate.
Ideas and inspiration for Hama Beads
If you need inspiration for what to do with your Hama Beads, here are a few ideas to take you further. You can also use the list as inspiration.
Make a turmoil
You can make a crib for your baby with Hama beads. You can buy a clock ring to hang the beads on. You can get it in your local hobby shop, or buy online at Rito.
 Buy a gift box
If you don't know which project to go for, you can buy a gift box that includes pattern, bead board and beads. Choose from many different at Lirumlarumleg and Rito. 
Be inspired by nature
In nature, there really are many beautiful things that you can imitate with your beads. It could be a tree, a flower, or maybe something you see on the road like a car or a house. You can make it as complicated or as simple as you want
See what others are doing
If you're still out of ideas, you might want to check out what others are doing. Google is your friend and you can find lots of pictures of projects others have done. Pinterest is another great place to look for inspiration.
https://startpakke.com/wp-content/uploads/2017/03/logo.jpg
0
0
Maria
https://startpakke.com/wp-content/uploads/2017/03/logo.jpg
Maria
2017-09-10 12:06:24
2017-09-10 12:06:24
Cheap Hama Beads | Here you will find Hama Beads patterns