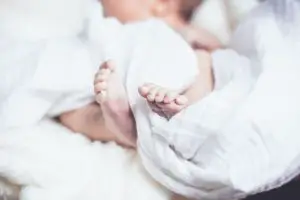 Many bed frames cost from DKK 600 upwards, but luckily there are cheaper alternatives that are just as good. Here, we take a look at the cheapest bed edgings on the market.
Why have a bed frame?
The bed rail is along the bars of the cot, creating more cosiness while protecting baby's head and limbs from getting caught and hitting the bars. A bed rail is ideal for toddlers because it creates a sense of security, while ensuring that the bed is framed with soft edges. But older children also benefit from their bed rail, and it can often be moved to the junior bed for added security.
Price of bed linen - find a cheap bed linen
There are both expensive and inexpensive bedside curtains in a variety of fabrics, colours and designs, each of which helps to create a cosy and secure environment for your little one. So there is something for everyone, but if you prefer a cheap bed frame, you may have to compromise on the look or design of the bed frame.
Find a cheap bed frame among the examples below
Cam Cam bed frame in stylish design
Cam cam is known for products in delicious quality and beautiful design. Here you see a bed frame with lovely design from Cam in delicious organic cotton. The bed frame is soft in design, and therefore does not take up much space in bed. The beautiful pattern is sewn on, so the bed frame has a quilted look. It's a cheap bedspread at 379,95 DKK, but still from a good brand.
Satin bed skirt - simple and useful
This is a cheap bed frame at Babytorvet for only 399, 95 kr. That's at the cheap end of bed rail prices, but you still get a nice and useful product. Because the bed rail is white, it goes with all bedding, and for both boys and girls. You can therefore buy it whether you know the gender of your baby or not. The fabric is satin, and feels very soft and comfortable against baby's delicate skin.
Cradle bed frame (half length)
This bed frame is what is called half length, which means that it fits perfectly in small cribs. So you don't have to bother with a big bed frame that has to be folded or bent several times. At the same time, it is a cheap bed frame for only 198 kr. at Babygear. Shown here in adorable pink, but also available in light blue for baby boy.
Thin bed frame in stylish print
This neutral and stylish bed frame is at the lower end of the scale with a price of 458 kr. It has been seen at Babygear, who also has other suggestions for a cheap bed frame. It's thin, so it's a great choice if you want a bed frame that won't take up much space in your cot or be a hassle to wash and keep clean.
Another cheap bedside table - With Mummi
With its price of 379 kr., we have here another offer on a cheap sendgerand. This one is completely neutral and white, so it will fit in any nursery or cot. It has a little Mummy troll that lies and snuggles under the bed frame. A fun little detail. Seen at Lekmer.
Cheap bed frame from Ferm Living
The last inexpensive bed frame we take a look at is this beautiful bed frame from Ferm Living. It is quilted, and is very soft yet practical and thin. It's easy to wash, and comes in several different colours. The price is 399,95 kr. at Kids- World
When should you use a bed frame?

It is up to the individual when to equip the cot with a bed edge. Many people already choose to use a bed rail for their little bedside crib or cradle, because the bed rail helps to create a secure environment for the baby. For a bedside crib, you can choose to bend the bed rail so that there is still an open side. For a crib, you can roll the bed frame around an extra turn if there is room. There are many options, so it's up to you how and when you think it's best to use the bed frame for your baby.
How to choose the right bed frame
When it comes to finding the right bed frame for your cot, there really are many different designs to choose from. The exact design and thickness of the bed rail itself is a matter of taste. However, you need to pay attention to the length of the bed frame in relation to the size of the bed if you want it to fit optimally all the way around the edge of the bed. For example, Leander has a specially sewn bed edge for their Leander bed. However, most bed rails have classic measurements. The disadvantage of a thick foam bed frame is that it is quite difficult to wash. Some children can also quickly learn to use it as a "stepladder", so that the child can get over the edge of the cot. Conversely, small and thin bed edges can have their disadvantages, as they tend to collapse more easily and do not sit properly.
In general, bed rails with long cords should be avoided as they pose a choking hazard to the child.
What is a bed frame? 
A bed frame is a tool for your child's bed. It is a long and high pillow that is placed around the edge of the cot, framing the bed from the inside. With a bed rail, the bed will be slightly smaller, which can be good for when your child is small and there isn't quite as much room to move around. In addition, the bed rail ensures that the child does not hit the hard exterior of the bed, and reduces the risk of lost soothers and teddy bears at night. A bed frame is available on the cheap and doesn't have to cost a fortune, despite a smart and super useful design.  
Where can you get a cheap bed frame?  
Bed rails cost differently depending on quality and size. Bed rails come in different lengths and heights, and are also available in different materials, colours and patterns. A cheap bed rail can easily be made for less than DKK 400 and if you are handy or know someone who is, you can even make one yourself, thus spending only money on the materials, which are available cheaply and in most fabric shops. Bed rails are for both girls and boys and are available in the most beautiful patterns and motifs in the fabric itself. The filling is available in approved fillings that are not harmful to your child and usually consists of some kind of foam in natural material. 
Advantages of a bed frame. 
Many bed frames have removable covers that can be washed and put back on, ready for another night. The bed edge also provides reassurance for the child and shields them from too many impressions, which can make it easier for them to fall asleep. An inexpensive bed frame is therefore a great buy, and is sure to pay off in better sleep for your child, and therefore for you. Plus, it's safe for your child to sleep in the cot without having to worry about arms or legs getting stuck between the bars. As your child grows, it can be removed from the bed and used for dens or other fun home building projects