Looking for a cheap play kitchen and fun things for the play kitchen? Then you will find the best prices and qualities of play kitchens in various online stores. From this page, we have highlighted the best play kitchens at reasonable prices.
A toy kitchen for children is probably one of the most popular toys. It allows children to imitate what adults are doing, and it's almost always the most fun game. Precisely because this type of toy is so popular, there is now a wide range of different types of play kitchen for children. You can get them for anything from a few hundred crowns to more than 2,000 crowns.
On this page, we've taken a look at the cheap play kitchens, where it's possible to get a lot for your money.
Remember accessories and play food for the kitchen
Of course, before the kitchen becomes real fun to play with, there should be things and play food. It's amazing how much time kids can spend with something as simple as a pot and a spoon.
If you think the play pots are too expensive, pop into your local thrift store and you're sure to find small pots, soup kettles and other items that would be perfect for the kitchen.
Stay tuned and find the perfect cheap play kitchen for your child.
Toy kitchen
This kitchen only costs around 500 DKK, but still has lots of fun things like a sink, cupboard and cute details.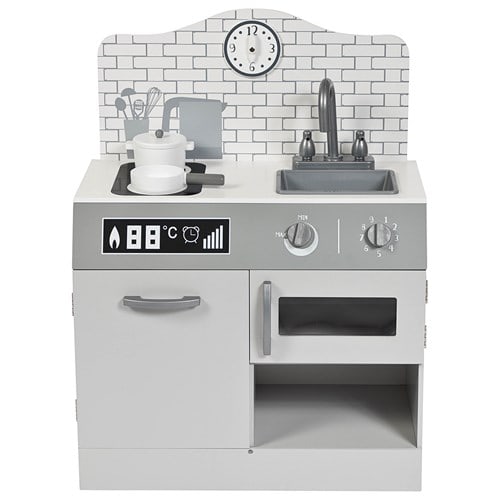 Sweet testel for tea party
Should teddy bears and dolls be included in the tea party? Or maybe your child's friends? This cute set is perfect as a play kitchen accessory, and it's only £15.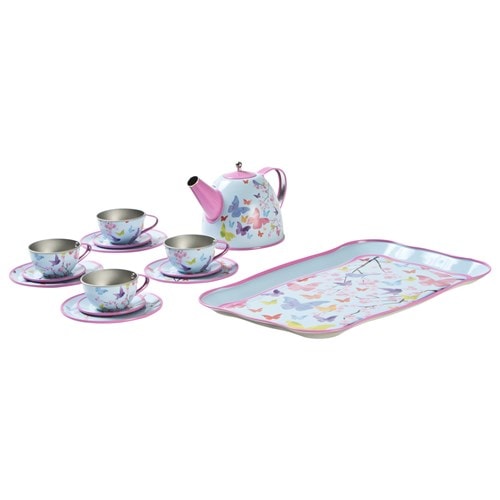 Sweet stove
It doesn't take up much space, but it's still fun to play with. It fits perfectly in a girl's room with its pink colours.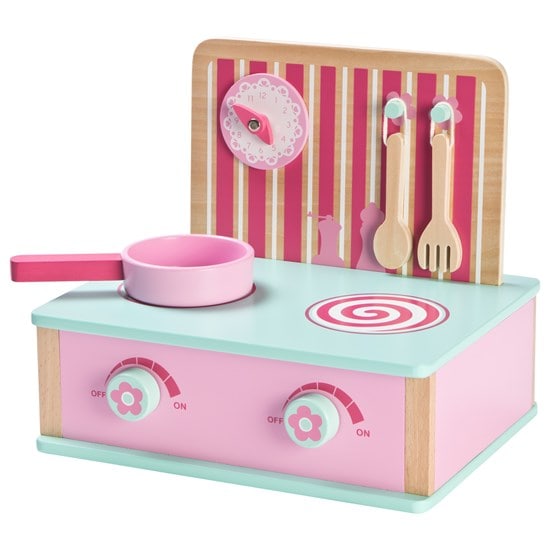 Small play kitchen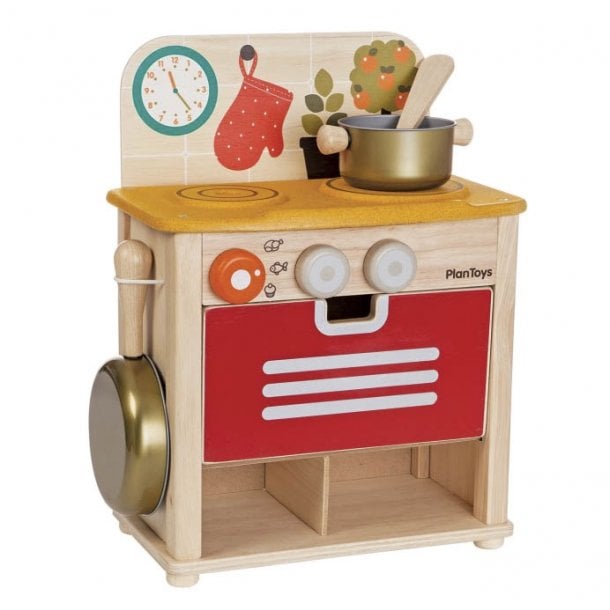 This play kitchen is cheap because it is very small. It can be placed on a shelf or on a table and the child can play with it from there. A smart solution if you don't have much space at home, but still want to give your child the opportunity to cook. The kitchen is made of wood and is of superb quality.
Small play stove
Smart little cooker with plenty of scope for making delicious dishes. The stove comes with 4 pans and pots for your child to play with. It is from Design Letters and is made in net neutral colours for only 199,95 kr.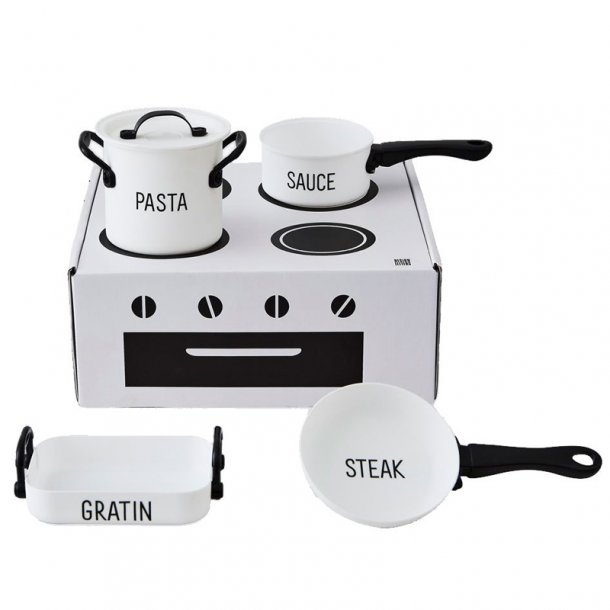 Birthday Cake
There are many nice things for the play kitchen. This cake is fun to play with whether your child actually has a kitchen or not. The cake can be cut into pieces and the candles can be taken out and put in. Super nice play food from MaMaMeMo.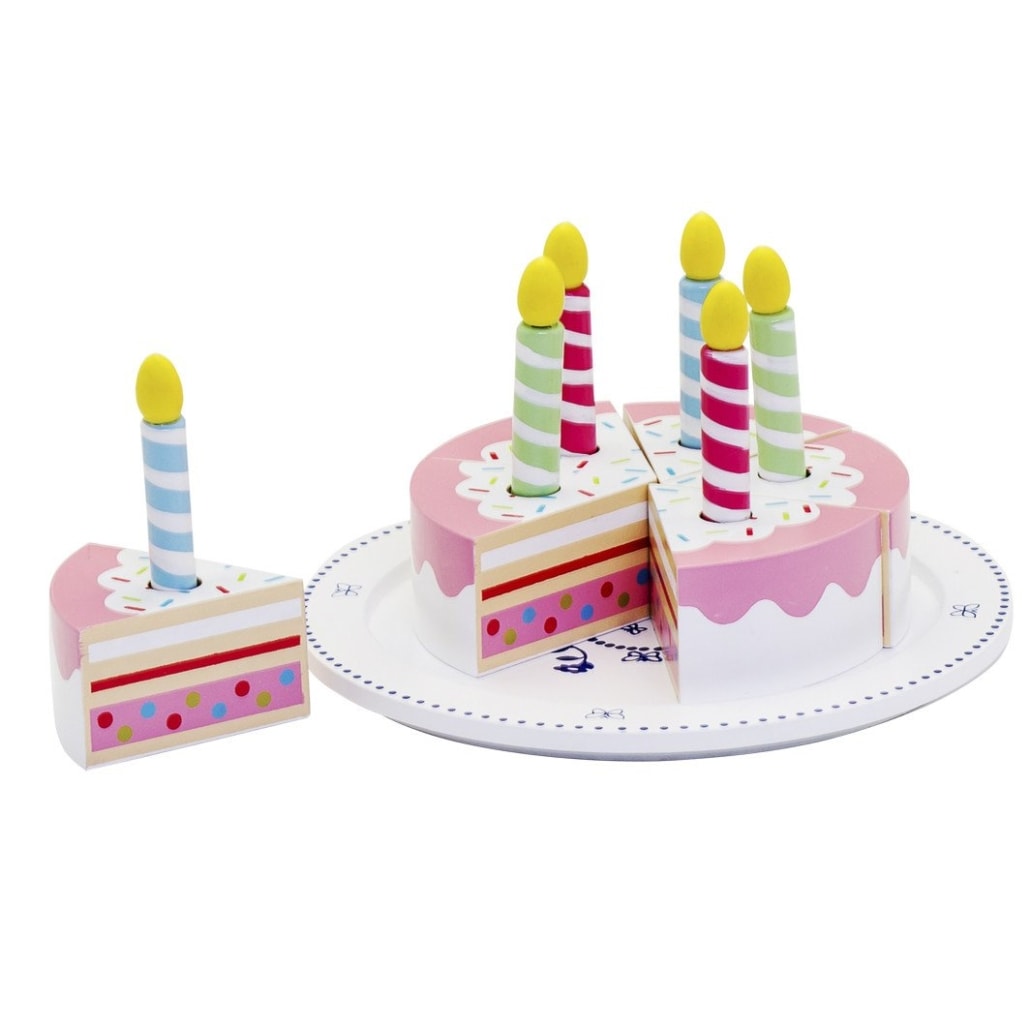 Cute play kitchen for under 1.000 kr
An inexpensive play kitchen that nevertheless has many details. Although the price may not be the cheapest play kitchen, it is certainly a good price considering it is a wooden play kitchen with many details.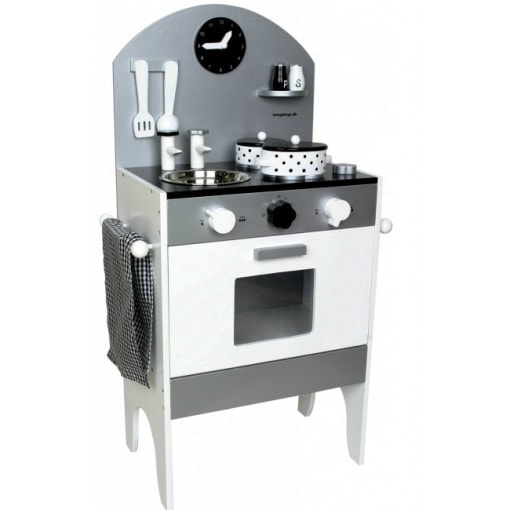 Pink kitchen
A cute little kitchen that doesn't take up much space, but still has lots of details in the form of cabinets, a stove, sink and hob. The kitchen is made of wood, and can probably fit in most children's rooms.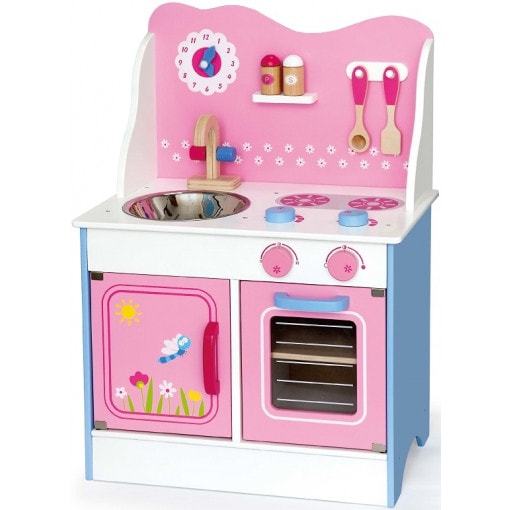 Mini-kitchen
The perfect offer for an inexpensive play kitchen that allows for lots of play, but without costing a fortune or taking up a lot of space. It comes with a saucepan and various accessories.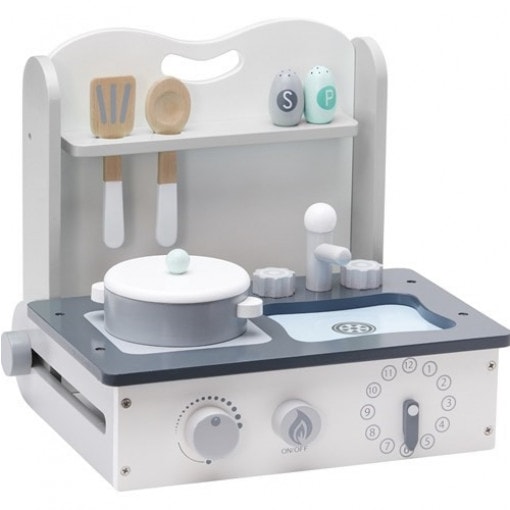 Is a cheap play kitchen good enough?
As always, price matters, and this applies when you buy toys for the little ones.
Before you buy the cheapest play kitchen you can find, you obviously need to consider whether your child wants to play with it. Otherwise, the money wasted. However, many people also have to think about how much space the kitchen will take up in the home.
Some toy kitchens are very large, and that is not everyone has a free space for this. Therefore a small toy kitchen be a solution.
For example, a cute play stove with two hobs. In principle, the child can play all the same games on this as in a large play kitchen, and it doesn't cost much.
When it comes to play kitchens, there's a wide variety and it all depends on what suits your home, and perhaps your child's room. Some kitchens are very cheerful and made in pink colours, while others are more neutral which might be preferable if it's going to be in the living room or your common room. Look at the models on this page and find play kitchens in wood or play kitchens in plastic.
Things for the play kitchen
Of course, there should be food and other things for the play kitchen that make it super fun for the little ones to play with. That's why we've gathered some great items for the play kitchen on this page and pointed you to where you can buy them cheaply. Simply click through from here and you'll be taken to the retailer where you can buy new stuff for your child for a cheap price.
The reason why this toy is in almost every kindergartens and many families with children, is that many children simply love to play and cook. They love to be in the kitchen and what is so better than having your own kitchen?
As soon as the dear little ones can stand up, they can stand and play cooking at the stove or washing their hands in the sink. The toy kitchen and things are therefore also a popular birthday present for the little ones, or perhaps a christening present. Many give it as a christening present.
As children get older and start to play more together, they can serve food to their friends or family. Kitchen games are also a good way to learn the names of different types of food, fruit and vegetables. On the children can play and learn at the same time. Besides, it's good practice for the day the children have to cook for themselves, so you can only dream that one day your little chef will make you delicious food.
https://startpakke.com/wp-content/uploads/2017/03/logo.jpg
0
0
Maria
https://startpakke.com/wp-content/uploads/2017/03/logo.jpg
Maria
2019-05-20 09:37:35
2019-05-20 09:38:33
Cheap play kitchen & things for play kitchen