In the early days of a baby's life, the right toys are teething toys and rattles on which the little one can place its soft gums. There are many different popular and good teething rings. In this article, we've found some of the best teething rings and toys that rattle with options for baby to gum and suck on.
Bite with water, so it can cool and thus soothe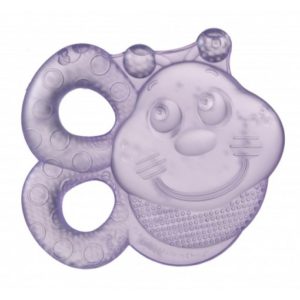 It can be a good idea to have some teething rings that you can put in the fridge to keep cold when the first teeth are coming in. It's great for soothing the new teeth and gums. Here we have found a nice and cute teething ring from Playgro. Of course, it is tested and approved by the environmental control. As well as being with water, it has two nice holes so it's easy for your baby to hold on to.
You can buy this bite ring for 49 kr here
Sophie the Giraffe is a big hit! Teething and rattles
If you haven't already heard of Sophie Giraf, you definitely will. Sophie is a huge hit and a great teething toy. It is, as the name suggests a giraffe, and is great for a child to play with, and in a material that baby loves to bite into. As well as the original Sophie Giraffe, it is also possible to buy popular teething rings and rattles featuring the glorious Giraffe.
Refrigerated teething ring with giraffe from Sophie Giraf
Silicone teether with an option for a nice cooling effect. It is good and easy to hold for the small child.
You can find it here
Rattle & teether from Sophie Giraf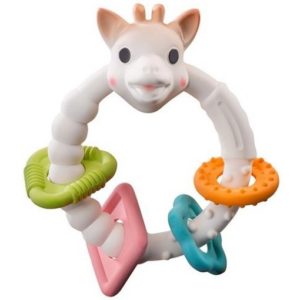 A great teething toy for your little one. This is both a teether and a rattle in one. It's easy for baby to hold and interesting for baby to look at when it's not in his mouth.
You can find it here
If you want to read more about Sophie Giraf, you can also read our previous posts about their products.
https://startpakke.com/wp-content/uploads/2017/03/logo.jpg
0
0
Start package
https://startpakke.com/wp-content/uploads/2017/03/logo.jpg
Start package
2017-07-25 12:16:33
2017-08-23 12:33:11
Teething toys for baby: teething ring, rattles and cuddly cloth for baby