A towbar is a great way to transport your children and all the many things you want to take with you on your travels. In this post, we take a look at some of the best wooden and metal pull carts. A wooden pull cart is a great way to get to the playground or when your kids need to get home from school. There are so many different ways you can use a good pull cart, and it can last for really many years. If you'd like to be able to take the trolley on trips with you easily, read our post on foldable towbars.
You can quickly and easily buy lots of really nice towbars here
Sundleg.dk sells some really nice wooden and metal pull carts, but also has a good offer on a foldable pull cart.
Robust towbar, Maxi from Legler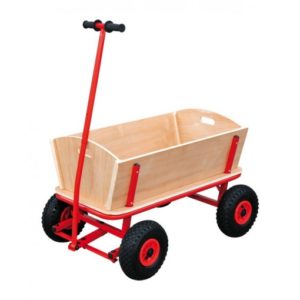 This is a really good and robust trolley that can handle weights of up to 250 kg. It is therefore suitable for transporting almost anything you can imagine you would like to have transported around. Size: 99 x 60 x 57 cm. If you want quality that can take a beating, you can't go wrong with this trolley. Set at around DKK 1200.
You can buy this trolley right here.
Large quality towbar from Small Foot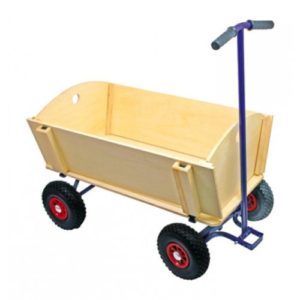 This is also a good, solid wooden towbar that can handle lots of weight, up to 200 kg. So you should be able to take all your gear and your kids with you when they've got tired feet and want to sit down. Size: approx. 99 x 62 x 63 cm. Set for approximately DKK 1200.
You can buy this trolley right here.
Nature wooden pushchair from Small Foot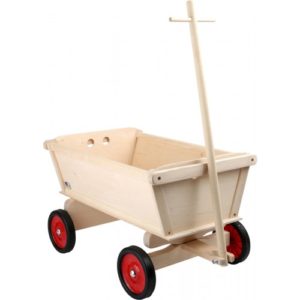 Here is a really nice toy wagon for children in natural wood. It's a bit cheaper than the above, but can still be used to transport almost anything. The trolley is not quite as big as the ones mentioned before, but if you don't need a big trolley for your stuff, it can be fine. It will also be easier for your kids to drag around. Size: 50 x 30 x 31 cm.
You can buy this trolley here.
Red steel trailer: Ranger Wagon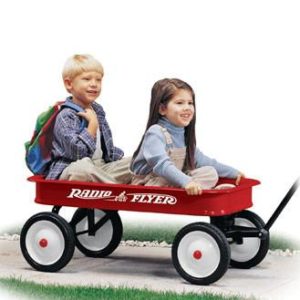 This is a real classic in towing. In the US, millions of children have played with similar red pull carts over the last 85 years or so. This is a really good steel towbar, perfect for both transporting things around and for children's play. Size: 89 x 40.5 x 10.5 cm.
Good reasons to buy this trolley are that it is a good size for many things and is made of steel with no sharp edges. It also has a long handle, which makes it easy to pull around.
You can buy this trolley here.
https://startpakke.com/wp-content/uploads/2017/03/logo.jpg
0
0
Start package
https://startpakke.com/wp-content/uploads/2017/03/logo.jpg
Start package
2017-07-12 09:27:05
2017-09-21 12:12:01
Best wooden trolley