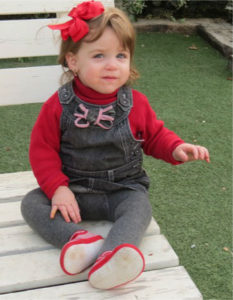 Baby tights are almost a must-have in every baby's wardrobe. Baby tights are very versatile as they can be used under dresses, as an extra layer in winter or as pants for the little ones so they don't lose their socks.
When choosing which tights for baby, you need to know that there are many materials and shapes of tights for children. The most common is a blend of cotton and elastane, which makes for comfortable, thin and good-looking tights. However, it is also possible to get thick tights in rib, which are a lot warmer. If it's for winter use, consider wool tights. You can get all kinds of tights at Kids-World.
What size tights should you choose?
When you look at the product descriptions of retailers, there is usually always a size guide. However, as a rule of thumb, it is a good idea to buy the tights one size bigger, as you usually cannot see that they are a bit big for your child. If they are too small, they may be almost impossible to put on the child and uncomfortable to wear. So buy tights one size bigger than your child normally wears.
Tights from Noa Noa with fine "shoes"
These soft tights from Noa Noa are great for girls. They are in a delicate pink colour and on the feet there is a little "shoe", which gives a cute and delicate look like a ballerina. The tights are very stretchy and soft and have a wide elastic waist, which is comfortable for the child. Under the feet there are non-slip rubber liners to keep the child firmly in place. The tights are available at Kids-World from size 0 - 3 months and up to 24 months.
Tights in rib - extra good fit
These tights from the Condor brand are available in many beautiful colours, here they are seen in the modern curry-yellow colour. The tights are in rib all the way, which gives a good fit, so they fit but without being tight. The structure also makes the tights slightly thicker, making them suitable for autumn and winter. They are available from size baby up to size 5 - 6 years straight here.
Bamboo tights - very soft and comfortable
Children's clothing in bamboo has become very popular in recent years and is now available from many different brands. Bamboo feels incredibly soft against the skin, and is therefore ideal for clothing that is directly against the skin, such as these baby tights. Bamboo has some of the same properties as wool, for example it is temperature regulating. These tights have a fine striped pattern, and are available in several colours. Seen at Kids-World.
Cheap tights in fresh colours - only 69,95 kr
These are the cheapest baby tights we've looked at. They normally cost just £6.99, and you can choose from a huge range of fresh colours just here.  They are practical and plain. A good buy if you need to use a lot of tights for your child and they need to be suitable for everyday use.
Solid color tights from Molo
These tights from Molo are in good quality, and here they are in a classic grey melange colour that goes with almost everything. The tights from Molo are very soft and comfortable for baby, and have no disturbing details in the form of patterns or colours. They have a comfortable wide elasticated waist and fit baby well. See more colours here.
Pantyhose baby 
Tights are super effective when it comes to warm baby feet, which is super important for your baby's health. With warm feet, your baby is more likely to be at the right temperature, making it easier to stay healthy. Tights are used for babies and during your child's development, with girls taking over in the use of tights as they get older.  
Colourful tights for your baby. 
Tights are used for babies, whether boy or girl, as tights ensure that the little one doesn't suddenly run out of a sock, but that their feet are always covered. Tights come in a multitude of colours and different symbols, some even with funny characters on the bottom or similar. They come in stripes, flowers, cars, logos, you name it, there's a tights for everyone! With tights for your baby, you're sure to stay warm, and for those really cold days they work super well inside a pair of trousers, as an extra layer between the skin. Tights come in different materials and thicknesses, those made of wool are great for winter time and once again help keep your baby warm.  
Function and benefits. 
Tights come in all colours and shapes. You get them in sizes that fit feet with room for heel and toes, which also fit the very small baby feet. They also come in 'tubes' which are not foot-shaped but have the advantage that they don't have to be turned in a certain way, so the heel doesn't suddenly sit over baby's foot. Baby tights usually have an elasticated waistband and a good length at the crotch so they can be pulled up over the nappy. Some tights are made to be extra durable around the bottom, as babies often sit down or crawl around.