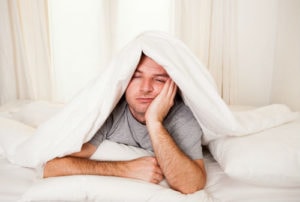 The hot summer has made many people look for a cool and good summer duvet, either for themselves or for their children. Here we have taken a look at summer duvets for adults as well as summer duvets for children.
A summer duvet differs from a winter duvet in that it is thinner. A thinner duvet, with less filling will automatically be much cooler than a thick duvet. But the filling almost has more to say. When we talk about filling for duvets, there are generally two types of filling to choose from: synthetic or natural.
Stay on the site if you want to find a cool and good summer duvet
Below is a short guide on how to stay cool at night in the summer heat.
Special summer duvet with cooling effect - Save right now 20%
This summer duvet has a unique technology that makes its contents cooling.
The pad contains small microcapsules containing an active gel. The gel can change its shape from solid to liquid, depending on whether you are hot or cold. It is particularly suitable for use in summer, when you can get hot. When the body gets warm, the duvet starts to cool the body down. A really clever feature that will help you sleep better if you tend to feel hot at night. The duvet is sold at Bedtime. buy here.
See more duvets by text, including summer duvet for baby
Summer duvets with synthetic filling | Non-animal filling
Synthetic means fibrefill that is not derived from animals. Such a duvet is characterised by being very soft and it does not "creak" when moved. Some people love this type of duvet, while others cannot get used to it. Speaking of fibre duvets, there are some very cheap summer duvets on the market. They can be excellent duvets for many, but you should be aware that the breathability is not necessarily that good. It is generally worth investing a little more in your duvet, as the summer duvet has a big impact on your sleeping experience.
Summer duvets are also available with kapok fibres, which come from a plant. Kapok duvets are very expensive, but completely hypoallergenic, sustainable, organic and animal-free. You can read more about these special duvets here.
Summer duvet with natural filling | Down from animals like goose, duck etc.
Natural fillings in duvets usually come from animals such as geese and various types of ducks. However, natural fillings can also be silk or kapok fibres. Duvets with natural fillings are almost always more expensive than synthetic duvets. This is due to the higher costs of producing and harvesting the animals. In addition, duvets have natural properties, such as being tempering and light and comfortable to wear. Because it is a natural material, the skin can breathe more easily.
However, a duvet with a natural feather filling is not necessarily the best duvet for you. Again, this depends on the quality of the down in the duvet and whether the duvet is breathable. After all, it's alpha omega that a good summer duvet is breathable.
Below is a short guide on how to stay cool at night in the summer heat
Temprakon summer duvet
If you're looking for a duvet that has a cooling effect, a temprakon summer duvet is a good idea. This summer duvet is very cool and has an active cooling effect. This means that it feels comfortable and cool against your skin, even if you are hot. What distinguishes the temprakon duvet from other duvets is that it has a very effective temperature regulation. That means it helps you regulate the heat. If you're very hot, the active cooling effect will kick in.
The duvet measures 135 x 200 cm and normally costs 2.395 kr. at Better Nights
Summer duvet for baby | Quilts of Denmark Summer duvet
A lovely cool baby that's perfect for warm babies. The duvet is filled with white European goose down, which is also an hypoallergenic material. The duvet is not very thick, so it's perfect for little ones even if it's very hot. Babies can find it hard to live without their duvet, as it also provides them with a lot of comfort, and a summer duvet for babies can be a good solution here. The duvet here is available Pixizoo at the normal price of 500 kr.
Junior duvet: summer duvet with temprakon
This junior duvet for children has a cooling effect. The cooling technology itself was actually developed by NASA for astronauts. Read more about the technology here. The duvet keeps your baby cool if he or she sweats, but also warm if it's cold. However, the duvet is best used as a summer duvet. Also available as babydyne.
Guide: How to get the best night's sleep in the heat
Unfortunately, the hot summer weather means poor sleep for many adults and children. Most people know the feeling of tossing and turning in bed, unable to sleep because it's so hot. Ideally, we should sleep in about 17 degrees of heat, but for many it's impossible to keep that temperature in the bedroom. Fortunately, there are several things you can do to cool down and sleep better.
This short guide gives you concrete tips on how to sleep better in the heat.
Duvet and pillow with cooling effect
Most people already have a summer duvet, which is significantly cooler than a regular duvet. If you're really struggling with the heat, it might be worth considering a duvet and pillow with a cooling effect. Duvets have been developed with a unique technology that cools the body when it gets very hot. They contain tiny microcapsules that can change shape from liquid to solid. This provides an active cooling effect. Both duvets and pillows are available with this effect, and are available for both adults and children. The technology is called temprakon.
Use cooling elements at feet and wrists
If the heat is particularly bad, a few cooling elements in bed can help. Cooling your wrists and feet cools your body quickly and effectively, as the blood from these areas spreads throughout your body. Wrap the coolers in towels to avoid the risk of frostbite. Place them by your feet and wrists so you can rest your feet and hands on them. This will cool your body very effectively and make it easier to fall asleep.
Good top mattress
A good and breathable top mattress is extremely important if you are very hot. A latex top mattress is best. Generally avoid synthetic materials as they do not allow the skin to breathe and absorb sweat. In fact, we can sweat out over 1 litre of liquid during the night, so it's important that it doesn't just lie there and feel wet.
Go to bed later
If it's too hot, it's better to go to bed later, when it's a bit cooler. It's better to go to bed an hour later and then be able to fall asleep than to lie there tossing and turning for hours. Make sure the windows are open when the sun goes down so the cool air can come in.